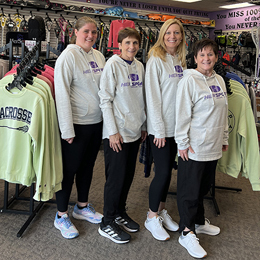 Game On
As opportunities for female athletes of all ages continue to grow, HerSport is there to provide the best equipment, footwear and apparel, along with a friendly and knowledgeable staff.
Deb Gallagher can always tell right away when a young girl is making her initial visit to HerSport, the sporting goods store she owns that has been serving the equipment, apparel and footwear needs of female athletes and active women for the past 25 years.
Usually, first-timers are a little bashful, not sure what to expect and clutching their mom or dad's hand tightly as they shop for their first field hockey stick, lacrosse stick or pair of cleats. Before long, however, they're talking and laughing with the friendly staff, trying out the equipment and enjoying the experience of being treated like the center of attention.
"By the time they leave, they're so excited that this store is for them," Gallagher says. "I tell them, 'Now when you come back, you know exactly where to go. You can go right over to the sticks, pick one up and try it out.' The smile on their faces is just unbelievable and so rewarding for me."
HerSport has emerged as a dependable resource for female athletes, specializing in field hockey and lacrosse along with soccer and basketball, and has also built a strong following as the supplier of uniforms and spirit wear for a variety of teams. But its success wasn't always guaranteed.
Although tremendous strides have been made in the athletic opportunities available for girls of all ages, Gallagher can remember growing up in Delaware County, Pennsylvania, and having to wait until high school for a chance to play organized sports, even though she was passionate about them. Things weren't all that much better in 1998, the year that HerSport first opened its doors in Haddonfield.
But Gallagher and her partners at the time had a vision that the landscape was going to change and that a sporting goods store just for female athletes could find its place. A quarter of a century and thousands of happy customers later, that notion has been proven right.
"That was our mission, to have a store that would cater to the building and growth of women's sports," says Gallagher, the sole owner who oversaw the store's relocation to Cherry Hill in 2013. "I definitely feel there is a strong need that we have fulfilled with the niche of a female specialty store. March 7 was the start of our 26th year, and that's certainly a feeling of accomplishment for me and my staff, who have been so helpful in getting us to this point through the ups and downs of being a small business."
One of the main reasons that HerSport has been able to survive challenges like the pandemic and competition from online retailers is the drive and commitment of its owner. Gallagher first got into the sporting goods industry as an employee for two family-owned businesses after graduating from West Chester University, and continued to work nights, weekends and summers as she started her career as a high school physical education teacher and coach.
She remained involved even after moving on to Haverford College, where she was the head lacrosse coach and assistant field hockey coach for six years. Gallagher eventually left coaching to work full time in the sporting goods industry before coming to South Jersey and helping to launch HerSport.
"Our No. 1 thing all along, from day one, has been customer service," she says. "That is our forte. That is what has gotten us to where we are today and the best way for us to get new teams and customers has always been word of mouth: coaches talking with coaches, parents talking with parents and players recommending us to their coaches."
HerSport is a one-stop shop for field hockey and lacrosse in particular, and has become a destination store that attracts customers throughout the tri-state region.
"I have a strong belief in talking with parents and players about the products and showing them different things to try," Gallagher says. "We even have a turf area in the store where they can try out a hockey or lacrosse stick. We're like an information center for them to compare different brands."
The relationships with youth, club and high school teams have grown exponentially, and Gallagher credits her office manager and top team member, Karin Barlow, for being instrumental in the success of that aspect of the business. Michelle DeBernardi and Brittney Schaffer are also key personnel on the office team and retail staff, along with additional part-time employees.
Put it all together and it's easy to see why HerSport has lasted for 25 years and shows no signs of slowing down.
"As I look toward retirement, I'm hopeful that the business will be carried on by someone who is interested in carrying the torch and feels the same passion—that there is a need for the women-specific sporting goods store in today's market," Gallagher says.
"For me, the experience has been wonderful and it's been great to see kids grow through the store. I don't get to see them much when they're in college, but from grade school to middle school to high school, I see them every year. I left teaching and coaching a long time ago, but I feel like in this store I have been doing more of the same: teaching, coaching and truly developing those relationships."
HerSport
299B Berlin Road | Cherry Hill
(856) 795-7514
HerSport.com
Published (and copyrighted) in Suburban Family Magazine, Volume 13, Issue 12..
For more info on Suburban Family Magazine, click here.
For information about advertising in Suburban Family Magazine, click here.
To find out where to pick up your copy of Suburban Family Magazine, click here.