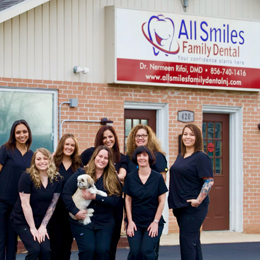 Putting the "Family" in "Family Dental"
Behind All Smiles Family Dental is a team of strong women practicing with a personal touch.
From the front desk to the dentist chair, there is a strong team of outstanding women working to make All Smiles Family Dental a welcoming, personable and trustworthy business for all of its clients. The team not only considers one another family, but also regard their patients as an extension of that family, too.
Ensuring clients are happy and comfortable, after all, is just as important as providing top-tier dental services.
"Every last one of us is so welcoming and friendly," dental assistant Jo-Lin Parker says. "We make people feel seen and heard, like they're more than just patients."
Brianna Wolbert says All Smiles Family Dental has helped her become the type of dental hygienist she wants to be.
"Through kindness, laughter and realism, we have all related and been there for one another more than any other 'employee' can be," she says. "We provide the utmost care for our patients and always remember our patients are priority in everything we do!"
A personal touch
Nicole Legacki has worked as an assistant at the front desk for seven years. She says she tries to make the environment as comfortable as possible for patients—as well as bring some comic relief to the office environment so she's relatable and personable.
Being personal is a common theme for the All Smiles team.
"I try to be understanding, accommodating and personable with each and every patient that walks through our door," says Yasenia Wagner, who also works the front desk.
Office coordinator Suzie Dotzel-Chodnicki handles the financial end of treatment, and ensures there is clear communication with clients.
"Patients being able to speak to me about their treatment and payments shouldn't be uncomfortable," she says. "I try to get to know them personally. It's important to understand where your patients come from and how they feel about being in your office."
Being a small office is an advantage to keeping things personal, according to dental hygienist Christine "Chrissy" O'Neill.
"We are a small practice that cares about patient care and making the patient knowledgeable about treatment," she says. "The office staff gets along well and we work together to give the patients the best care."
Inclusivity is important at All Smiles, too.
"This practice is very inclusive," says dental hygienist Doris A. Lawrence. "We see many different patients from all walks of life."
Family vibes
"I think being a close-knit office sets us apart," Wagner says.
"We are a family-oriented office and we do it all," Nicole "Nikki" Marks adds. "Implants, extractions, root canal therapy, fillings, PRF, PRP, Botox—everything!"
Marks is a dental assistant at All Smiles, and she prides herself on being a caring, professional "people person" in the office. She's hard working—just like her coworkers.
"We work really hard," she says, "but we work together."
The team concurs that Dr. Nermeen Rifai has made All Smiles a place for positivity to thrive, which means quality experiences for patients.
"We connect on a deeper level than just dentistry," Legacki says. "Dr. Rifai makes it a point for everyone to feel comfortable in our office environment."
Thanks to Dr. Rifai, her office staff is always in the know, too.
"Dr. Rifai prides herself in learning the most recent techniques. She's always going to educational courses to ensure her patients have every option available to restore their oral health and beauty," Dotzel-Chodnicki says. "It's important to her that she does the best job possible."
Doing the best job possible starts with earning patients' trust and extending that family feeling so they're completely at ease, understand the treatment they're receiving and trust they're in good hands.
"It's more like a family-run business, rather than just getting patients in and out without developing a relationship with them," Dr. Rifai says. "I'm very personable with my patients. A lot of them have my cell number and they'll text me to say they just got engaged or are getting their braces off."
A personal fact (or two)
As close as the All Smiles Family Dental team is with clients, there are still a few things that may come as a surprise regarding out-of-office life.
Parker and O'Neill, for instance, have a bit of history on the gymnastics mat. Parker can still break out her tumbling skills, and O'Neill can perform a mean cartwheel.
Wagner moonlights as a performer, with about 15 theatrical productions under her belt. Marks admits she's a talented singer, and Wolbert is an avid artist who has won a state competition for one of her paintings.
Lawrence hasn't always been a Jersey girl: She used to live in Texas, southern accent and all. And she's not the only Garden State transplant, as Dr. Rifai was born in Chicago and grew up in California.
Some may know that Legacki met her husband at All Smiles Family Dental (and they're expecting their first baby in August!), but many probably don't know that the office coordinator they know as Suzie has a completely different name.
"My real first name is Kathleen," Dotzel-Chodnicki says, "but my whole family calls me Suzie, which was given to me by my grandma."
All Smiles Family Dental
420 N. Black Horse Pike, Williamstown
(856) 740-1416
AllSmilesFamilyDentalNJ.com
Published (and copyrighted) in Suburban Family Magazine, Volume 13, Issue 12.
For more info on Suburban Family Magazine, click here.
For information about advertising in Suburban Family Magazine, click here.
To find out where to pick up your copy of Suburban Family Magazine, click here.