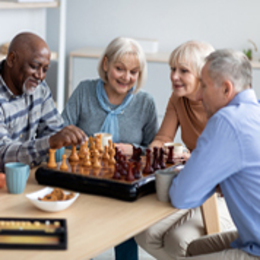 Moving a Loved One into Assisted Living
Five Things to Consider
When it becomes clear that a loved one cannot live on their own or needs more care than family members are able to provide, assisted living communities become a likely possibility.
These days, assisted living communities offer many opportunities for activities, socialization, security and comfort, all of which ensure that elderly residents are thriving and living their best lives; meanwhile, their family members benefit from the peace of mind that comes with knowing their loved ones are well cared for.
The team at Brightview Senior Living, which has three locations in South Jersey, offers their tips on what to consider and how they handle the move to assisted living for residents and family members alike.
Understand how assisted living can help
Dave Bailey, senior community sales director at Brightview Mount Laurel, says that assisted living is designed to support a resident with their activities of daily living: bathing, grooming, taking medications, etc., while also giving them all the independence they want. At Brightview, he notes, "residents live in a community setting where the focus is on engagement and vibrancy."
Tour a prospective senior living community
Tracy Gill, executive director of Brightview Woodbury Lake, strongly encourages potential families or residents to spend time in a community they're interested in by walking through the halls, sitting down for a meal or participating in an activity. For those who take a tour of Brightview, she says, and "it won't be long before they get a vibe that this is where they belong."
Executive Director at Brightview Mount Laurel Lavanda Clinkscales also stresses the importance of taking a tour and talking with residents. "There is no one better to ask about a community than someone who calls it home," she says.
Prepare for the transition to senior living
Clinkscales adds, "At Brightview, we have residents and their families submit a life story, which helps us provide them with their favorite meals, activities they are interested in and an introduction to new friends who share a common bond. Being surrounded by fast friends helps new residents decide on how they want to fill their social calendars, which at Brightview, includes everything from off-site excursions to on-site activities using the myriad amenities at Brightview."
Build a team (with the assisted living community)
According to Bailey, no one has to face that next chapter alone, and those who call the community home should feel like their voices matter in determining the amenities and offerings available to them. "The community relies on input from family members, friends and the residents to design the life that they want within our communities: From input to the types of food we serve, to the kind of trips we take, we want to hear it all. The community is the resident's home and should be the place where they are most comfortable."
Jennifer Steen, executive director at Brightview Greentree in Marlton, adds that the local communities get wonderful support from their home office in Baltimore. "We are always provided with the tools we need to care for our residents." Steen herself keeps a very visible presence in her community. "It's rewarding to have a strong team of not only coworkers, but friends, residents and their family members."
Expect setbacks and give it time
As Bailey observes, "We all know that there will be compromises—maybe it's giving up the space they had at home for the peace of mind they now have of no longer being alone and having the help when they need it. Most residents had accepted a routine that allowed them to be isolated for most of the day but, given a choice, most would thrive with companionship."
Steen adds … "It's been an honor and privilege working for such an empowering company. Winning all of our Fortune Awards for best workplace in aging services, top 100 best company and best work place for women are just one of the many reasons Brightview is so great for all who get to experience life here. All of our associates love what they do and it shows each day!"
Brightview Senior Living
Mount Laurel: 400 Fernbrooke Lane | (856) 457-3822
Marlton: 170 Greentree Road | (856) 528-0818
Woodbury: 752 Cooper St. | (856) 324-3447
BrightviewSeniorLiving.com
Published (and copyrighted) in Suburban Family Magazine, Volume 13, Issue 12.
For more info on Suburban Family Magazine, click here.
For information about advertising in Suburban Family Magazine, click here.
To find out where to pick up your copy of Suburban Family Magazine, click here.