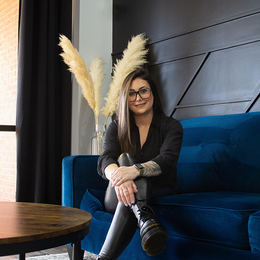 Looking Toward a Glowing Summer
Tanning season is just around the corner, and Shadow Luxury Spray Tan Lounge offers the safest option of customized luxury spray tans by a professionally certified artist.
A health-conscious method of tanning is essential. Feeling confident on New Jersey's beaches and boardwalks this summer shouldn't have to come at a physically damaging cost.
Compared to UV rays and tanning beds, a good spray tan is the healthiest option for skin.
Shadow Luxury Spray Tan Lounge in Washington Township customizes treatments to each client, specializing in airbrush spray tans, opposed to harsh alternatives. Sunscreen should still be applied after the spray tan is set, before going out in the sun. However, looking good this summer can be the product of a self-care day of pampering.
"I love a good girls' night or anything like that. … Just come have fun with your friends; there's nothing better than sipping on wine, having conversations and getting a good spray tan. You feel great after," says Alex Webb, the owner of Shadow Luxury Spray Tan Lounge.
Webb opened her first company in 2019 after working at a law firm and changing career paths to focus on skin and beauty. Webb attended school in 2009 at Rizzieri Aveda in Voorhees, and was certified in spray tans by Novell University in 2019. She became professionally certified in body contouring by Erin Tietsort ("Glow by Erin") in 2022, a professional spray tan artist who has worked with many celebrities, such as Tim McGraw and Ariana Grande. After beginning as a mobile business, Shadow Luxury Spray Tan Lounge opened in February 2022, and promotes a luxury spray tan experience by offering curated services to each individual.
"I loved making people feel beautiful and feel great about themselves I also loved tanning and I couldn't do it anymore because I wound up getting skin cancer," Webb says.
In addition to promoting a lavish airbrush experience, Webb also promotes skin health. She ensures the comfortability and safety of her clients with exclusively UV-free treatments.
"I definitely don't have any beds in here, that's one thing people call me all the time for, asking me if I have the lay-down beds, and I'm like, 'absolutely not,' I'll never, ever have them," Webb says.
The new salon is up to date on the best skincare routines to prepare for a spray tan, such as which soap to use, shaving techniques and exfoliation tips. Webb recommends using a sulfate, paraben-free soap, razors without a moisturizing strip and a dry brush for exfoliation. The spray tans last for seven to 10 days, especially if clients follow Webb's detailed preparation instructions.
Spray tan technology has come a long way, and it is still fairly recent. Webb says that "orange" is not in her vocabulary. The coloring is formulated for each client through a process of determining a client's natural undertone pigmentation, then deciding how light or dark to make the spray tan. It is finalized with finishing powder for protection, which Webb says makes it less tacky. The setting powder also works to neutralize odor and to absorb moisture.
Clearly, attention to detail is important to Shadow Luxury Spray Tan Lounge, from a self-care day to a major event. With wedding season approaching, a spray tan can be a final step for brides to feel their best, stress-free, additionally offering wine to of-age clients. There have been only positive customer reviews online since opening, consistently mentioning professionalism and comfortability.
"I truly support body positivity. I think it's so important to love the skin we're in. Flawed and all. Being a mom of three, I understand how easy it is to pick ourselves apart. We're all perfectly imperfect and I never want people to apologize for their bodies. If anyone understands, it's me. I'm here to help make everyone feel their best selves—inside and out. 'Love your shadow,''' Webb says.
Shadow Luxury Spray Tan Lounge
475 Hurffville-Cross Keys Road, Unit 2
Washington Township
(856) 701-3462
Vagaro.com/ShadowLuxurySprayTanLounge
Published (and copyrighted) in Suburban Family Magazine, Volume 13, Issue 11.
For more info on Suburban Family Magazine, click here.
For information about advertising in Suburban Family Magazine, click here.
To find out where to pick up your copy of Suburban Family Magazine, click here.