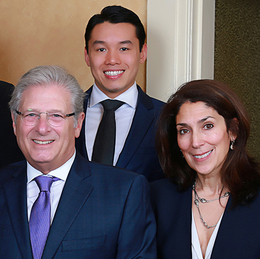 Putting Clients on the Track Toward Recovery
Andres & Berger brings wealth of experience and success to the table when handling medical malpractice cases
As an adjunct clinical professor, Michael S. Berger enjoys teaching at Drexel University's Thomas R. Kline School of Law. Having had strong mentors himself as a young lawyer, the Haddonfield-based attorney finds it satisfying to be able to provide that same type of guidance to others just entering the field.
And with more than 30 years of medical malpractice experience under his belt, Berger can also share the knowledge he's gathered on winning a case and—most importantly—remembering to prioritize the needs of clients.
Berger and his partner, Ken Andres, started Andres & Berger, P.C., in Haddonfield in 1997. Andres unexpectedly passed away in June of 2021, but the firm continued with attorneys Karen J. Berger and Abraham Tran.
The award-winning regional firm focuses on medical malpractice cases in New Jersey and the Greater Philadelphia area, with millions of dollars in settlements. Michael Berger is also certified by the Supreme Court of New Jersey as a certified civil trial attorney, a designation achieved by less than 2% of all attorneys.
"Medical malpractice is what I've been doing for the last 30-plus years," Berger says.
According to Berger, the firm has "considerable experience" with cases involving birth trauma, brain injuries during birth, surgical errors during surgery and nursing errors during postoperative care. Wrongful death cases are primarily hospital cases, and the firm also handles nursing home negligence and cancer misdiagnosis cases.
"We've also handled a number of medication errors leading to severe injury and death," Berger continues, adding these cases include when individuals are both hospitalized and not hospitalized.
Because of the labor-intensive nature of medical malpractices cases, the firm takes a limited number of cases each year. Therefore, not every case that comes across the desk is pursued. When a case potentially has merit, the first step is securing medical records.
"Every case is proved or not proved through the medical chart," Berger says.
From here, things are reviewed by highly qualified experts. These experts make a determination as to whether malpractice is involved with the case.
"We only pursue cases that are meritorious," Berger explains.
Taking a limited number of annual cases is not just practical from a work perspective, but it also enables the Andres & Berger staff to be fully available to clients throughout the entire case, which can last years due to the complexity. It usually takes about three years from filing until a case's trial is set. Cases have also been significantly delayed due to the COVID-19 pandemic. Add on top of that a shortage of judges, and cases have been moving slowly through the courts.
Of course, the team at Andres & Berger ensures things are always moving along on their end.
"The clients are full participants in that they're constantly supplying medical information, medical updates and submitting medical bills. It's a process that involves a lawyer and a client," Berger says. "All of our clients have our cell phone numbers so if they need to contact us, we're always available."
The main goal is to make sure clients feel they can always reach out.
"By having a select number of cases, it ensures personal attention," Berger says.
And it turns out, a lot of the cases they take on are referred by other lawyers.
"One of the reasons lawyers refer cases to us is because they know that their clients and our clients are going to get personal attention, unlike at most law firms," Berger adds.
That personal attention, as well as attention to the details of the case, is what sets the law firm apart from others.
"One of the things I have learned over many years is that I do listen carefully to my clients. They know what happened and what they're going through," Berger says.
Malpractice cases often come along with a great deal of emotional baggage, and Berger says it's important to keep that in mind and to be understanding.
"I have to tell you, I've had many clients over the years that have gone through incredible trauma, and they really do face their trauma with a lot of courage," Berger says.
Being able to succeed and help change clients' lives is what makes the career fulfilling for Berger and his colleagues.
"Most of the clients we have are exposed to severe life-altering injuries. Honestly, it takes money to put people on a better track toward recovery," he says. "It's sad, but there's no other alternative in the system."
Andres & Berger, P.C.
Haddonfield
(856) 795-1444
AndresBerger.com
Published (and copyrighted) in Suburban Family Magazine, Volume 13, Issue 11.
For more info on Suburban Family Magazine, click here.
For information about advertising in Suburban Family Magazine, click here.
To find out where to pick up your copy of Suburban Family Magazine, click here.