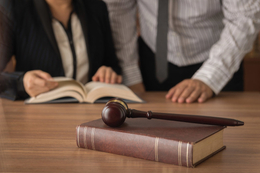 Lawyers of a Lifetime
The attorneys you may need to call on when challenging matters arise
Ask many attorneys and they'll tell you that no one likes picking up the phone and calling them because they know it could be the beginning of a lengthy, not to mention costly, endeavor. But at some point in nearly everyone's lives, they are going to need to rely on an attorney to help settle a particular matter. Perhaps a couple is headed for divorce or maybe an individual is planning for retirement and needs legal guidance on how to best approach their golden years.
Here, we take a look at some of the attorneys that you may have to call upon and how they can help you navigate any number of issues. And in what will become a series of spotlighting these practices areas, this month we spoke with two trusted family law attorneys from the area to find out how they are advising clients in modern times.
Bankruptcy
An attorney specializing in bankruptcy can assist with the many complex stages of the process, handling everything from the work done prior to filing, the assets they are willing to risk all the way to the discharging of debts.
Personal Injury
These attorneys specialize in tort law and represent clients who were injured as result of negligence or an intentional act by another individual, organization or entity.
Family Law
Handling everything from divorce proceedings, to child custody matters and even adoption matters, a family law attorney plays a pivotal role in helping families find resolution to delicate legal matters.
Probate
A probate lawyer not only assists with managing the probate process, but they can also handle estate planning needs such as drafting wills or living trusts, advising on power of attorney and more.
Real Estate
Buying a home can be stressful enough, but when there's a dispute between parties, it can be made even more difficult. But a real estate lawyer can help review documents and ensure proper procedures are not only in place, but are being followed correctly.
Business
A business attorney can cover a wide range of needs, and the best ones anticipate the needs of their client before trouble arises. They can handle issues pertaining to corporate law, banking law, sales law, partnership law and many other needs where the business and legal worlds overlap.
FOCUS ON FAMILY LAW
Attorneys on how they best serve their clients
How does having experienced, compassionate legal representation during a divorce help ensure that the final ruling benefits the entire family?
"It's having someone who helps you understand that when you're getting divorced—or any family law matter—you have options. You have the ability to participate in your own litigation … You have a voice and you can come up with your own thoughts on how something can be resolved. You have someone who understands the time and cost and emotional strain that a case can take on if you have to navigate it through the court system, and who knows there are other ways to do this to keep those costs down and control how long it takes."
--Dawn Kaplan, co-founder/partner
Weinberg, Kaplan & Smith
"When people are emotional, you don't think clearly. My job is to get people out of that headspace and to see that some things are not worth fighting over. I'm not afraid to tell somebody, 'Don't do that. That's not a good decision to make.' While I'm still advocating for what they want.
"You have the before, the after, and sometimes, the during that is painful. This process, it is not fun. No one likes going through it. My job is to make it as least painful as possible and give the best outcome that I can."
--AllynMarie Smedley, founder
Smedley Law Group
Published (and copyrighted) in Suburban Family Magazine, Volume 13, Issue 11.
For more info on Suburban Family Magazine, click here.
For information about advertising in Suburban Family Magazine, click here.
To find out where to pick up your copy of Suburban Family Magazine, click here.