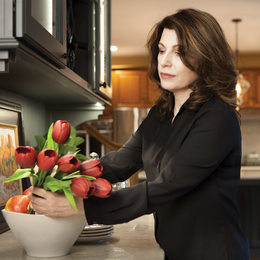 Design with a Purpose
Lenore Frances Spinelli uses her decades of interior design expertise to enhance a home's value and functionality.
A lot of teenagers have aspirations for when they enter into adulthood, but few know exactly what path they will take or career that they will ultimately choose. But that wasn't the case for Lenore Frances Spinelli, who knew early on that she had an intense passion for interior design and witnessing how it can completely transform a house into a home.
When Lenore was growing up, area hospitals would often hold fundraisers that included choosing a local historical residence as a designer show house that would feature the work of area interior designers who would each design a room in the home. Visitors would tour the properties to admire the stunning work and generate money for a good cause.
After seeing how these skilled professionals were able to breathe new life into these historical properties, Lenore was left feeling inspired.
"I wanted to pursue it. As a teenager, I felt I could be one of these designers," she says of her conviction.
Years later, Lenore is in fact one of those designers and for more than two decades has been at the helm of her own successful interior design business, Lenore Frances Home Interiors, offering a luxury design experience during the process and in the end result, for various clients in South Jersey. While she focuses a lot of attention on the older properties, using her keen eye to augment the alluring charm of a historical home, Lenore also does plenty of work on more modern spaces as well. For her, it's about the journey from concept to completion.
"I build confidence by making sure the client feels heard, making sure we are communicating properly and by providing photo-realistic renderings that enable the client to see the end result before moving forward with any demo or product purchases," Lenore says.
Lenore offers different levels of service, staring with a discovery call to go over a homeowner's wants and desires. She does this over Zoom so the client can feel like they are actually meeting her face to face and allow them to get comfortable. From there, an in-home consultation takes place where Lenore will discuss her ideas on how to best proceed.
At that point, the client could take Lenore's recommendations and try things on their own, but most often they decide to opt for her premium signature service where she takes care of all the behind the scenes details to further ease the burden on the homeowner and deliver stunning results. This includes everything from specifying all that a room or rooms may need, making sure orders are placed, items are received in great condition, being on site for delivery and installations, to the placement of accessories and perhaps finding ways to incorporate heirloom pieces into a fresh design.
After all, it's not as easy as binge watching HGTV for a few pointers.
"If a realtor calls me up to stage a home to sell, I don't do that. Staging is a different animal; it's making a home presentable to attract the most buyers. But that doesn't mean it brings their personality into it," Lenore says.
"Interior design is about much more than making a home pretty. It has to be designed so that the home takes care, and accommodates the lifestyle, of the client," she adds.
No matter if clients are remodeling a few rooms or the entire house, Lenore's goal is always to design in way that improves upon the existing space wherever possible. She spares no detail, but also focuses on the bigger picture to make sure her added elements bring cohesion and a healthy infusion of character.
"In the end, you have a home tailor made for your comfort and lifestyle," she says.
It's been a long journey since her days as a wide-eyed teen who wanted to desperately make her mark in the field of interior design. But Lenore wouldn't trade it for the world and the satisfaction she receives after helping a client create their forever home.
"My joy comes from making home your favorite place to be. There's nothing as gratifying as a client sharing how the design work has improved their everyday life by making it more functional, comfortable and pleasing to their eye."
Lenore Frances Home Interiors
Mount Laurel
(856) 552-0096
LenoreFrances.com
Published (and copyrighted) in Suburban Family Magazine, Volume 13, Issue 10.
For more info on Suburban Family Magazine, click here.
For information about advertising in Suburban Family Magazine, click here.
To find out where to pick up your copy of Suburban Family Magazine, click here.