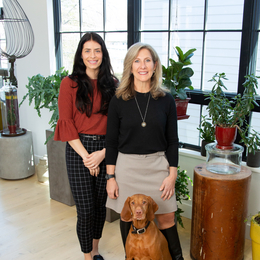 Above and Beyond
Patients in need of orthodontic treatment are best served seeing a specialist, and Dr. Amy James & Associates are happy to provide compassionate care in a warm and friendly setting.
Amy James, DMD, MS, can point to multiple reasons why she ended up with a thriving orthodontic career, from her close relationship with her childhood dentist to her own experiences wearing braces as a teen. Above all else, however, she simply wanted to help people—and a profession that combined her passion for both science and art proved to be the best way she could do so.
More than 20 years after she founded Dr. Amy James & Associates Orthodontists, the Haddonfield practice continues to welcome both children and adults for transformative treatment that creates better smiles and restores their self-esteem. And Dr. James still loves coming to work every day, building lasting bonds with her patients and using the skills she has worked so hard to hone.
"I liked dentistry because it's truly a combination of engineering and science, and it gives you an opportunity to work with your hands and use your artistic side," she explains. "But the reason I was drawn to the specialty of orthodontics is because, unlike periodontists, endodontists and general dentists—who are focused on eradicating a disease process—I was much more interested in the positive aspects. By moving crooked teeth, we're mechanically making people look and feel better, which leads to more confidence and better function."
Offering traditional braces, customized lingual braces and clear aligners like Invisalign, it is the goal of Dr. James and her entire team to find a tailor-made solution for each client who walks through the door and to be a friendly, reliable provider who can answer all of their questions and address all of their concerns.
As board-certified orthodontists who have undergone extensive training and are committed to continuing education, Dr. James and her associate, Mallory Vernacchio, DMD, MS, have the knowledge and experience to handle even the most complex cases. While some general dentists also dabble in braces, Dr. James emphasizes the importance of seeing a specialist, similar to seeking out a dermatologist for skin issues or a cardiologist for heart problems.
"If you need orthodontic treatment, you want to go to a specialist because that's what they do all day, every day," she says. "They're going to have far more experience because that's what they see with regularity and they're going to be more accurate in their diagnosis. The more accurate you are with your diagnosis, the more appropriate the treatment plan.
"Specialists have the benefit of an orthodontic residency program, which is usually 2-3 years of education beyond dental school. There's a lot of value in studying growth and development to learn about topics such as the hereditary impact on the bite relationship. General dentists don't have the same background."
Dr. James & Associates also stands apart from other orthodontists with the time they dedicate to each patient. Nobody ever feels rushed through an appointment and there is a comfortable vibe throughout the visit.
"I have colleagues who see 80 to 100 patients a day," Dr. James says. "They have many technicians, many chairs, and a lot is delegated. My comfort level—and I think it's because I started out as a general dentist before I became an orthodontist—is a model where you can sit with the patient, understand their concerns and their expectations, and give the patient time and attention. I prefer to have the relationship over the volume and I think that's why patients seek us out."
Dr. Vernacchio joined the practice about a year and a half ago after finishing in the top of her class at the Seton Hill University Center for Orthodontics in Pittsburgh. She and Dr. James collaborate on comprehensive treatment plans and stay up to date on each patient's progress, so patients can expect the same continuity of care no matter which doctor they see.
"It's really fun working with another practitioner who is so eager to learn," Dr. James says. "Mallory looks to me as her mentor, but having a doctor who is right out of school and enthusiastic about her professional growth inspires me too. We both do a lot of continuing education, which is required by our licensing, and then we can bring that education back to each other. It's nice to have someone to share ideas with and then we thrive off both of our contributions. I can't say that I'm just her mentor, because I equally get as much energy and information from her."
Dr. James is proud of the rest of her welcoming staff as well, and no visit is complete without seeing her beloved pet Kávé, the official office dog of the practice.
"We call him our happiness advocate," she says. "We have a couple of special needs kids who have really taken to seeing him and they are much calmer knowing he's here. Almost all of our patients are dog owners—they love seeing him and he loves the attention."
Dr. Amy James & Associates
136 N. Haddon Ave. | Haddonfield
(856) 528-8311
AJSmiles.com
Photography by Alison Dunlap
Published (and copyrighted) in Suburban Family Magazine, Volume 13, Issue 10.
For more info on Suburban Family Magazine, click here.
For information about advertising in Suburban Family Magazine, click here.
To find out where to pick up your copy of Suburban Family Magazine, click here.