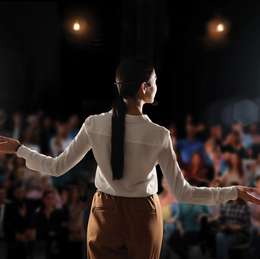 Inspiring Women
Female empowerment can come in many forms and so we asked local women business leaders for their thoughts.
The famed poet Maya Angelou once wrote:
"I am a woman
Phenomenally.
Phenomenal woman
That's me."
They are inspiring words from one of the most inspiring women of our lifetime. And these words ring true today as females from all walks of life seek to empower each other to reach greatness. And in a male-dominated business world where shattering the glass ceiling can still prove difficult at times, it's especially important that women bond together to show collective strength in numbers.
Coming off the heels of Women's History Month, we wanted to continue the celebration by talking with local female business leaders. We asked them about inspiring the next generation and leading by example and the impact a mentor can have on a young woman looking to make an impact in this world. Here's a sample of what they had to say.
Nothing is impossible…
"Everything seems impossible until it's done, which is kind of my mantra. Sometimes the big picture of being a business owner or practice owner seems overwhelming, but like anything, it's all about stepping stones. Just to become an orthodontist takes four years of dental school and then three more years of orthodontic school and it seems daunting, but you start with the first class and then the next thing you know, the first semester is under your belt. Then a year of school is under your belt, and then your first board exam is under your belt. Anything can seem impossible until it's done and it's about taking any big project, breaking it down into components and then tackling each component." – Dr. Amy James, sole proprietor, Dr. Amy James Associates & Orthodontists
Don't give into fear and lead by example…
"Don't be afraid. Don't be afraid of starting. Don't be afraid of failing, because we only learn through our failures. Believe me, through the pandemic I learned what was failing. …. [And] be a good leader. You have to be the one who knows it all. Whatever opportunity lies in front of you, create a plan, execute it and learn every aspect of that business before you open up that door." – Lisa Petrie, owner, F45 Training Crosskeys
Get your experience, inspire others…
"If you are trying to start your own business, it's imperative that you work in the field first and get your legs under you, because you won't know what you don't know. … And you shoudn't be hesitant to give other women confidence and lift them up. If we don't take care of each other and lift each other up, we get the short end of the stick. If we are lifting everyone else up, then who is going to lift us up?" – Lenore Frances Spinelli, owner, Lenore Frances Home Interiors
Embracing being a role model…
"It is an amazing feeling to know that I can be to someone what I lacked in my youth—outside of my mom and aunt. When I was growing up, there were very few strong, athletic women in team-related sports on television, which really changed with Mia Hamm." – Dr. Andrea Davis, founder, Davis Physical Therapy and Sports Rehab
Strive for independence…
"My father inspired me to become a dentist. He always raised us to depend on ourselves and growing up there' been a huge change from men being leaders to now equality between men and women. He was really big on making it on your own and not depending on anyone else." – Dr. Nermeen Rifai, owner, All Smiles Family Dental
Appreciate the journey…
"I always think of the story of the tortoise and the hare: slow and steady wins the race. If we're running and running we'll have no energy and we miss everything flying past us on the way. If you take your time and let life happen the way it should, you can focus on things in the moment and appreciate it more when you finally get to your destination." – Hope Doms, owner, Wair Studio Salon
Published (and copyrighted) in Suburban Family Magazine, Volume 13, Issue 10.
For more info on Suburban Family Magazine, click here.
For information about advertising in Suburban Family Magazine, click here.
To find out where to pick up your copy of Suburban Family Magazine, click here.