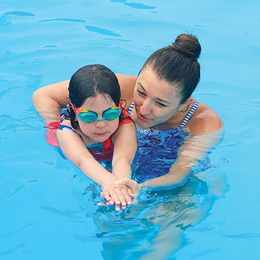 Njswim Turnersville: Teaching Kids an Essential Life Skill
Children become safer, more experienced swimmers when they have the benefit of classes, and a new South Jersey location helps them develop that ability.
It's no wonder families are flocking to Njswim, where their experience and swim-instruction education is second to none. All locations are staffed with experienced, certified swim teachers who have completed coursework in lifeguard training, water safety, first aid, personal fitness training, psychology and early childhood education.
Water safety is a top priority at Njswim. For more than 20 years, the swim school has advocated for children learning to swim as the No. 1 defense against the tragedy of a child drowning. Learning to swim is an essential life skill that Njswim recognizes as the core of its mission. Today, the swim school teaches more than 5,000 students per week in seven locations across New Jersey: Brick, Florham Park, Lakeside-Roxbury, Manasquan, Sparta, Turnersville and Warren.
The newest location in Turnersville is a state-of-the-art swim school that is family- and water-baby friendly with changing rooms, stroller parking and hair-drying stations. The 30-by-70-foot indoor pool is heated, with top-of-the-line water and air filtration systems. Parents enjoy watching their child's lesson from the comfortable viewing area, and there are multi-purpose studios for toddler through adult programs, as well as pool parties.
SUMMER AND YEAR-ROUND SWIM LESSONS
Njswim offers flexible year-round rolling memberships allowing families to jump in at times that best suit their busy schedules and have spots reserved as they go through the year. Njswim Turnersville features a very popular "intensive Summer Swim" program, a five-day program designed to help children improve more quickly than with weekly lessons. It includes a 3:1 student-to-teacher ratio, ensuring each child gets the attention they deserve. A week of intensive swim gives students more than a month's worth of lessons with amazing results. This program was created to help swimmers of all ages and abilities improve their current skills, from beginner to advanced. This year, we are offering 11 weeks of summer fun and water safety, giving families more options and flexibility! Families can sign up for one or more weeks with no long-term commitment.
The summer programs have limited space and sell out quickly, but you can register now if you're already enrolled in a year-round Njswim program. Summer Swim programs are open for registration to new students beginning March 1.
If you really want your child to be able to swim by this summer, now is the best time to enroll in swim lessons. This way, your child has benefited from several months of lessons and will be both more comfortable and safer in and around the pool or at the beach. Since summer swimmers happen from winter swimming, we encourage families to consider starting well before the warm weather arrives so their child will be confident and safe by June. Njswim offers quality, year-round swim lessons with "warm water, cool teachers, happy kids."
WATER BABIES
Njswim offers year-round swim lessons for people of all ages and abilities. The award-winning Water Babies curriculum is for 3- to 15-month-old babies and is taught entirely with parental assistance. This program is designed to provide families with a safe and positive introduction to an aquatic environment with the goal of achieving a relaxed demeanor in the water for both the children and parents. The next progression is for children of 16 to 30 months, with a goal of weaning children from parental assistance while they develop with every lesson.
SWIM LESSONS FOR KIDS OF ALL AGES
Njswim has created a safe approach to swim lessons that helps children of all ages become proficient swimmers. Njswim lesson programs are for all ages and developmentally suitable to keep kids interested in swimming and building strength as they become independent swimmers. Swimming is a life-long activity to be enjoyed as children grow. It all begins with learning how to swim—a priceless life skill every child should know.
Njswim Turnersville
3501 Route 42, Unit 420, Turnersville
(609) 221-8435
NJSWIM.com
Published (and copyrighted) in Suburban Family Magazine, Volume 13, Issue 9.
For more info on Suburban Family Magazine, click here.
For information about advertising in Suburban Family Magazine, click here.
To find out where to pick up your copy of Suburban Family Magazine, click here.