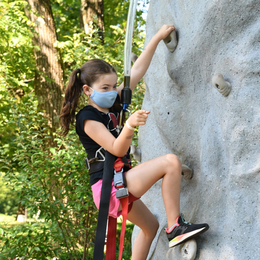 Leading the Way
The Girl Scouts of Central & Southern NJ celebrate a decade of courage under the guidance of CEO Ginny Hill.
For the past decade, Ginny Hill has been at the helm of Girl Scouts of Central and Southern New Jersey (GSCSNJ). She is a leader in every sense of the word. Today, over 13,000 Girl Scouts and 10,000 adult volunteers in our region participate in Girl Scouts—the largest girl leadership program in the world. Over the decade, Ginny's leadership has enabled the organization to remain innovative with programs that help ensure tomorrow's leaders are equipped with the confidence, courage and character that will contribute to their success in the future.
In addition, in 2023 she will usher in a new way to experience Girl Scouting that incorporates a flexible/hybrid structure, community engagement and supports the local troop leaders. "I believe that a girl's choices are limitless. I am passionate about empowering young girls and showing them how capable they can be. I firmly believe that confidence is the key to unlocking a person's potential, and my goal is for girls to understand their value and trust in themselves," says Hill. "As a leader in the community, I'm always encouraging girls to explore new things and push themselves beyond their comfort zone. Whenever I witness a girl take on something new, I am proud to know that I was part of her journey toward believing in herself and taking risks."
With Hill at the helm, GCSNJ has developed innovative programs tailored to today's modern Girl Scouts. Today's badge programs and community projects are focused on sustainability and environmental protection, financial literacy, community service projects, and creating an environment where mental wellness and belonging are prioritized. The Girl Scouts themselves have expressed that these are some of their most important challenges and priorities. In 2022, many GSCSNJ Girl Scouts made these priorities a focus of their Gold Award Projects.
Girl Scout Gold Awards encourage girls to create lasting change by taking action on issues important within their communities or worldwide. The award challenges each Girl Scout to develop a project from start to finish that reflects sustainable development practices while helping others understand complex community issues like human rights violations, environmental conservation or mental wellness. These Gold Awards provide invaluable experience for young women looking for ways to impact the world around them before even graduating from high school.
"I advise our Girl Scouts not to be afraid of making mistakes or taking risks. Life's lessons don't have to be hard—practice and encourage 'fun failure,'" Hill says. "I hope they celebrate their confidence and bravery when trying something new, and if a mistake is made, express the idea that no one should let it hold them back from trying again. I firmly believe that with self-confidence as your strongest ally, you can achieve amazing things. So go for it—take chances, trust yourself and never stop believing you are capable."
Over the last decade, the Girl Scout movement has worked diligently to create and support opportunities for young girls to explore projects in science, technology, engineering and math (STEM). "We even have a Girl Scout Robotics Team—the Dream Squad—heading to the Lego Robotics World Championships in April 2023," adds Hill.
Other STEM programs focus on conservation, protecting the outdoors, and even looking into space. Again, it's about allowing Girl Scouts to experience projects and finding a passion and confidence that carries them forward.
In 2023, GSCSNJ will explore new ways to connect the community to the Girl Scout movement. The pandemic taught many lessons, and one is programming needs to be more flexible and accessible. Girl Scouts will look for innovative ways to engage with the community and provide community members with a new way to experience Girl Scouts.
We look forward to rolling out new ways for Troops to meet and new resources to support the adult volunteers who are critical to the movement. With this type of increased presence, Girl Scouts will be able to provide opportunities to a broader audience and serve communities previously challenging to serve.
Over the past decade, Hill has dedicatedly led GSCSNJ toward becoming one of the most successful organizations throughout New Jersey and beyond. Thanks largely in part due to her innovative planning strategies and commitment toward providing quality educational programs for every girl regardless of circumstance—today's modern Girl Scouts now have access to tools needed to become agents of change within their own communities. It's no wonder why so many families entrust their daughters to this amazing organization—it truly speaks volumes about Mrs. Hill's leadership skills.
Girl Scouts of Central & Southern NJ
40 Brace Road | Cherry Hill
(856) 795-1560
GSCSNJ.org
Published (and copyrighted) in Suburban Family Magazine, Volume 13, Issue 8.
For more info on Suburban Family Magazine, click here.
For information about advertising in Suburban Family Magazine, click here.
To find out where to pick up your copy of Suburban Family Magazine, click here.