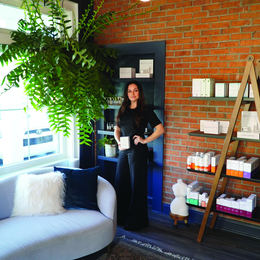 Uncovering Beauty
Skintegrity, a spa in Haddonfield, digs into the science of skin to offer medical grade technologies and services without the downtime
"It's a very warm, loving, healing space."
That is how owner Kate Filiberto describes Skintegrity, a boutique spa nestled on Ellis Street in Haddonfield. The modern, contemporary space offers high-end, medical grade skin services from a team of dedicated estheticians who are more like family than coworkers, which may be why, at just four years young, Skintegrity has found a welcome home and growing success in the South Jersey community.
"I think that there's a great need for self-care and a safe place to receive treatments where you know you're going to a very clean spa with highly educated estheticians, and there's a lot of care taken for each client and their skin," Filiberto says.
"It becomes more than just a facial with a peel," she continues. "We like to be a safe place for clients to come in and be vulnerable. We like to help nurture not only their skin, but also their self-confidence."
After completing the skin care program at Rizzieri Aveda School and working in medical aesthetics and high-end European spas, Filiberto fulfilled a dream when she opened Skintegrity. The spa specializes in medical grade services without the downtime, and Filiberto has spent a tremendous amount of time curating the technology and skincare lines that Skintegrity utilizes.
"We partner with medical grade skincare lines and train on cutting edge technology to resurface and energize the skin so it can be its healthiest," Filiberto says. "I have painstakingly researched the technologies that we have, the skincare lines that we partner with, and I'm very proud to work with them because they are so effective."
Medical grade results
One of Skintegrity's coveted services is Ionix, a highly sought-after facial technology not easily found in this area.
"It's a state-of-the-art energy-based system, so you're energizing the cells of the skin, the nerves, the muscles, and really creating a change with no downtime," Filiberto explains, adding that each modality of the Ionix device is comfortable.
Ionix—along with the other medical grade technologies and skincare lines offered – gives longer-lasting results versus going to a spa that does not offer medical grade products and services.
Medical grade ingredients will actually change the skin, Filiberto explains. And this isn't just with what is used in-house at Skintegrity, but also with retail products the spa offers.
"Clients use it every day, and they start to really see changes in their skin. It's more rewarding and it's worth spending the money if you're seeing the results," Filiberto says.
A top-notch team
The Skintegrity staff is like family—an aspect especially important to Filiberto, who says there's no room for negativity in the workspace.
"The workplace should be fun. It should be professional. And we should all be moving forward as a team to grow and to help each other," Filiberto explains.
To that end, the Skintegrity staff is continually training in its technologies and skincare services. This starts with new hires training one-on-one with Filiberto.
"They work on my skin so I can feel their touch," she says, "and then I work on them to show them what they can improve upon."
There is consistent group training as well, keeping the team highly skilled and knowledgeable in Skintegrity's offerings.
"We're always striving to expand our repertoire and our knowledge," Filiberto says. "It gives more value to each service without having to increase the prices."
Client value
"We're very much invested in a deeper relationship with our clients," Filiberto says. "It becomes almost like a professional friendship. We are very personal in the treatment room … It really does lend toward trust and a deeper connection."
When relaxing and unwinding under the expert hands of an esthetician, clients tend to open up. This is part of the reason Skintegrity also works with Project SARAH (Stop Abusive Relationship At Home). The team trains with the nonprofit to know how to provide resources to those who need it. Further, Skintegrity keeps Project SARAH postcards in its bathrooms for those who may want to anonymously reach out for help.
"It's just another way that we're trying to support our community," Filiberto says.
After all, it's a community that supports Skintegrity, too. According to Filiberto, Haddonfield has been "incredible" from the beginning. This includes the small business support from Downtown Haddonfield and the borough, which works to form relationships between the community and the borough's small businesses.
"Even during the pandemic, the community reached out. They supported us," Filiberto says. "I'm forever grateful to Haddonfield and the surrounding communities."
Eyes on the future
According to Filiberto, the future will bring the possibility of more medical grade servicing, such as the minimally invasive microneedling procedure and rejuvenating laser treatments, to Skintegrity's offerings. The spa will continue to expand and grow, she adds, and continue to offer its hallmark top-of-the-line services.
"We believe in merging a luxurious European facial with medispa results," Filiberto says, "and a welcoming experience from start to finish."
Skintegrity
112 Ellis St. | Haddonfield
(856) 281-9642
SkintegritySpaNJ.com
Published (and copyrighted) in Suburban Family Magazine, Volume 13, Issue 8.
For more info on Suburban Family Magazine, click here.
For information about advertising in Suburban Family Magazine, click here.
To find out where to pick up your copy of Suburban Family Magazine, click here.