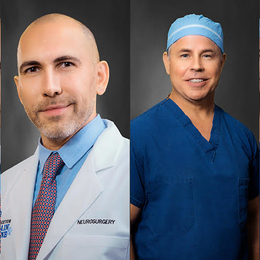 Prioritizing Patient Care
The advanced team of health professionals at Princeton Brain, Spine and Sports Medicine is dedicated to ensuring each of their patients receives personalized treatment delivered with compassion.
Neurological injuries and conditions can be daunting and difficult to navigate, so when they do occur, it's critical to find skilled, experienced specialists capable of delivering high-quality care.
R.J. Meagher, MD, and James Barrese, MD, are two of Princeton Brain, Spine and Sports Medicine's neurosurgeons who have worked with a variety of patients requiring different kinds of medical intervention and support. They recently sat down with Suburban Family and answered questions regarding the group's expertise and what patients should consider when selecting a care team.
What neurological conditions and injuries do you treat?
We treat a wide variety of conditions, mostly spine. That's a combination of degenerative problems, and I see a lot of patients with injuries, especially motor vehicle accidents. I also treat a lot of patients with brain conditions such as brain tumors, hydrocephalus, hemorrhages and brain trauma. – Dr. Barrese
More than 80% of an average neurosurgeon's work is related to the spine. There are a greater number of patients with spinal conditions to treat, most of which are degenerative conditions like spinal stenosis. Of course, we treat more complex problems like trauma, tumors, terrible infections, congenital abnormalities and brain conditions. – Dr. Meagher
How are you different from orthopedic surgeons?
Many of our orthopedic colleagues tend to find bigger ways to meet surgical goals that can be done with simpler methods. In particular, we are proud of our minimally invasive skills. Surgery has evolved somewhat over the past 30-40 years. We're operating in smaller spaces so that people recover faster, there's less blood loss and infection rates are lower. We have those skills in hand now and many of our colleagues in the surrounding areas do not. – Dr. Meagher
What approach does Princeton Brain, Spine and Sports Medicine take that sets it apart?
We treat our patients as family. We never immediately rush to surgery, we always consider all the options. We like to make sure that we walk our patients through the decision-making process. We like to take a more precise approach and a more conservative approach, often offering minimally invasive options and less aggressive surgical options. – Dr. Barrese
What are the benefits to this approach?
We try to do more limited decompression surgeries and avoid large fusion surgeries, ultimately resulting in faster recoveries, better outcomes, less post-op pain, less complications and less need for revisions. – Dr. Barrese
We're operating in smaller spaces so that people recover faster, there's less blood loss and lower infection rates. – Dr. Meagher
What are some of the latest advancements in neurological care?
One of the advancements is the application of deep-brain stimulation for epilepsy. And more in the spine world, we've now started to incorporate image guidance and navigation. At Inspira, which is one of our main hospitals, we use a robot device that helps with navigation, and it uses image guidance to help with the accuracy of screw placement during fusion surgeries. – Dr. Barrese
What do you hope to see in the future of brain and spine care?
I hope to see further refinements in the quality and accuracy of the navigation techniques and the incorporation of different types of augmented reality. Imaging is a big part of neurosurgery especially. For example, taking out a brain tumor, trying to distinguish and differentiate between normal tissue and abnormal tissue. There are a number of technologies that can utilize augmented reality incorporating that into the operating microscope. – Dr. Barrese
I'm hoping that more and more surgeons will start to use some of the minimally invasive techniques that we use because they really are better for patients. And I think if they can be more uniformly adopted, that would be better for our society in general. One of the reasons that hasn't happened yet is that there aren't enough surgeons in training programs to teach younger surgeons how to do these things. That's slowly changing. And so I think the techniques that we use now will supplant what other people consider to be conventional techniques within the next 10 to 15 years. – Dr. Meagher
Where can patients find the specialists of Prince Brain, Spine and Sports Medicine?
We're not just in one location, we have multiple partners within our group. We have a number of offices throughout South Jersey, and we have a whole team of physician assistants that help us. We take pride in doing good work and we want people to be happy. We hold ourselves accountable, and we hold each other accountable. – Dr. Meagher
Prince Brain, Spine and Sports Medicine
Serving South Jersey and Pennsylvania
New Jersey: (609) 921-9001
Pennsylvania: (215) 741-3141
PrincetonBrainAndSpine.com
Published (and copyrighted) in Suburban Family Magazine, Volume 13, Issue 8.
For more info on Suburban Family Magazine, click here.
For information about advertising in Suburban Family Magazine, click here.
To find out where to pick up your copy of Suburban Family Magazine, click here.