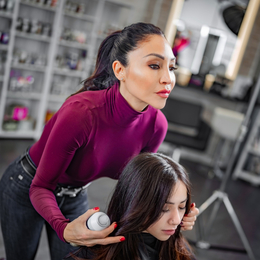 Healthy Hair Equals Happy Hair
Hope Doms has been in the hairdressing industry for three decades and has spent the last five years reinventing it with her team at Wair Studio Salon.
In 1993, Hope Doms began her career as a hairstylist, following in the cosmetological footsteps of her grandmother. Thirty years later, she is the proud owner of Wair Studio Salon, a luxury boutique salon that focuses on the impact and importance of healthy, nontoxic hair care products by only using and selling hair products that are sustainable and organic.
"I fell in love with it and realized that these products work just as good, if not better, than all the other hair products out there that have ammonia, PPD and resorcinol in them, so I just kind of went 100% in," Doms says. "When I opened the salon, I decided to go with a cleaner, nontoxic environment."
Doms has worked all over the country with many brands and noticed that some have ingredients that cause allergic reactions and more skin irritation. This inspired her to open a salon that has less exposure to harmful chemicals. This a game changer for her talent and guests who are concerned about what they are applying to their scalp and also breathing in while services are performed, ultimately creating a better client experience, another focus for Wair Salon.
"We want to be sure everyone feels like they're catered to. I tell my clients, 'This is your time to be here. This is when you're supposed to relax,'" Doms says. "We take pride in not rushing you out the door. Haircuts are booked for 45 mins to 1 hour. At Wair, We consider hair an art form and it cannot be rushed."
To explain why more natural ingredients and fewer chemicals are an essential part of hair care and styling, she compares the relationship that each client has with their hair to the relationship they nurture with the rest of their body and its well-being.
"Everyone is now focused on what we put in our bodies," Doms says, pointing out the fact that people go to great lengths to get organic and unprocessed foods to fuel their bodies, but don't mind the chemicals we put on our skin and scalp.
"This seals the deal when it comes to really living in that lifestyle of healthier living, and just making an extra effort to focus on what we are putting in our body."
Clients of all ages indulge in the small boutique feel of the salon and the tremendous results that Doms and her experienced team provide. Services include Haircutting, Styling, Hair color and Extensions, the former providing the most unique thing about the salon—the Calligraphy Cut.
Most clients with long hair go to the salon every four weeks because of split ends and inaesthetic regrowth, but Doms says that the calligraphy cut, although more expensive than a traditional cut, is well worth the investment.
"I recommend clients with long hair spend the extra money since the Calligraphy haircut lasts longer than a traditional cut. The Calligraphy Cut grows out more beautifully and with movement. You can go longer in between appointments; I recommend 8 to 12 weeks instead of 4 to 6 weeks."
This specialized technique cuts each hair on precise angles, resulting in fuller, lighter and healthier hair while optimizing natural movement and color radiancy. It's an intricate look that not many hairdressers in the area, or even the country, can execute.
Hope is the only certified stylist at the salon able to perform this service, so pre-booking is highly recommended 6 to 8 weeks in advance.
Whether you visit Wair Studio Salon for a root touch-up, a balayage or the specialty cut, rest assured that you will receive the utmost care and quality, because that's the standard Doms set when she opened the salon in 2018 for herself, her team and her clients.
"When you walk in, you don't feel like a stranger," she says. "Many of our clients say they love coming here because they feel like they're part of the family."
Wair Studio Salon
65 East Route 70, Suite 1B
Marlton, NJ
(856) 334-8231
WairStudioSalon.com
Published (and copyrighted) in Suburban Family Magazine, Volume 13, Issue 8.
For more info on Suburban Family Magazine, click here.
For information about advertising in Suburban Family Magazine, click here.
To find out where to pick up your copy of Suburban Family Magazine, click here.