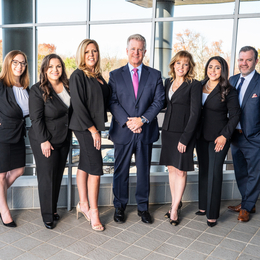 A Team Approach
The close-knit partners at Weinberg, Kaplan & Smith and their growing roster of dedicated family law attorneys work together to produce the best results for their clients.
In many law firms, the names on the door and on the fancy letterhead represent individuals who are strictly professional colleagues, with no interaction outside the office and rarely even collaboration on their cases. That's not to say the business model can't be a successful one—it's just not the way the team at Weinberg, Kaplan & Smith chooses to operate.
Founding partners Dawn Kaplan and Amy Smith have a relationship that goes back almost 20 years, and they have also been close for quite some time with Michael Weinberg, who came on board three years ago. The trio complements each other well with their different interests and strengths, while holding onto the same ideals and banding together to tackle any challenges that arise.
"Dawn and I joke that we're like sisters at this point," Smith says. "We started together at another firm in 2005, and then we opened this firm in 2012 with Joe Weinberg, Michael's father. We were always friends with Michael too, and knew him well when he was working at a different firm because we had cases together. When he decided to join us here, it was a natural transition.
"We all practice law similarly and we're friends outside of work. We discuss our cases frequently and we brainstorm together, which is really a benefit to the clients because if something comes up that one of us has a question about, we all talk it through."
After celebrating its 10th anniversary in 2022, the firm enters its second decade with a skilled and experienced group of attorneys well versed in all facets of family law. Although the team recently suffered a devastating loss when partner Luke Griffith passed away from cancer, it remains committed to keeping his memory alive by giving the same type of personal attention that he gave to clients and addressing their immediate concerns, long-term security and the best interests of their families.
Weinberg, Kaplan & Smith is also excited to enhance its offerings and further serve clients by adding Ted Baker, of counsel, and associates Melissa Gullo and Carolina Iglesias. Baker has extensive experience with cases involving the New Jersey Division of Child Protection and Permanency, formerly known as DYFS, while Gullo is a seasoned litigator and Iglesias is a dedicated family law attorney who speaks fluent Spanish.
"We were looking for compassionate, hard-working people who are willing to fight for the clients, because sometimes they really need an attorney to be their voice and help them when they can't help themselves," Smith says. "Everybody in the firm fits that model. We're able to handle all facets of family law and we are a one-stop show now. We also do mediation, which a lot of people are interested in to try to resolve their cases amicably."
An area of particular interest to Smith is cases involving domestic violence, dating back to her time as a prosecutor in Burlington County. The lingering effects of the pandemic, along with economic struggles, have led to a rise in those cases in recent years.
"There are so many domestic violence cases and victims, and trying to be their advocate and help them is important," she says. "It's always been an area of family law that I am especially focused on because obviously I feel bad for the victims and I want to help them, but additionally there are also people who are wrongfully accused of domestic violence, so I do both sides of it."
No matter what issues a client is facing, the firm's attorneys strive to give straightforward, honest advice and apply their legal know-how to the specific facts of the case. They call their office a "no-judgment zone" and attempt to find the best outcome for all parties.
"We've probably seen it all, and I saw even more when I was a prosecutor," Smith says. "It's not our job to judge, it's our job to help people move forward with their lives and start a new beginning. The client that comes in on the first day grows, develops and becomes confident, and they're just different at the end of the case. Being able to be a part of that, it's a really important job."
It's a job that Smith still loves and is committed to, while also balancing a wonderful home life with her supportive husband and their two teenage daughters. She and her partners are pleased with the current state of the firm and optimistic about the future.
"The three of us are super proud of where the firm has been and where we're going," Smith says. "We're continuing to grow and we have a really amazing team of lawyers and support staff. We all have the common goal of helping our clients who are going through one of the most difficult times of their lives."
Weinberg, Kaplan & Smith
8000 Sagemore Drive, Suite 8301, Marlton
(856) 795-9400
WKSNJLaw.com
Published (and copyrighted) in Suburban Family Magazine, Volume 13, Issue 8.
For more info on Suburban Family Magazine, click here.
For information about advertising in Suburban Family Magazine, click here.
To find out where to pick up your copy of Suburban Family Magazine, click here.