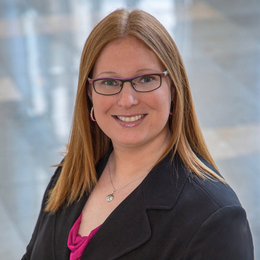 Where High-Quality Care Meets Compassionate Support
Led by Dr. Lisa Allen, the breast cancer team at Capital Health is dedicated to providing the best treatment during and ongoing support after a patient's surgical procedure.
For Dr. Lisa Allen, there was no question she was going to become a surgeon.
But it wasn't until a fateful rotation during her med-student days where she found herself working with a breast reconstructive surgeon that she decided to focus exclusively on patients with breast cancer.
"I was amazed at the resilience and strength of women going through a breast cancer diagnosis and treatment, who were still working and raising kids," she recalls. "Whatever stage they were at in their life, they were going through this very big, life-altering diagnosis and treatment, and it was humbling to watch them recover and thrive through the process while taking care of all the other important details of their lives. They were true super heroes. As a young woman, I was really moved by that."
Today, Dr. Allen is a fellowship-trained breast surgical oncologist and director of the Capital Health Center for Comprehensive Breast Care, a role she accepted 11 years ago immediately after completing her training at MD Anderson Cancer Center's "world-renowned breast program." On any given day, she is running Capital Health's own program, working closely with center leadership to continually expand and improve their offerings, ensuring high standards of care and mentoring the medical students in her rotation—along with providing surgical care and thoughtful, emotionally informed support to patients with both benign and malignant breast disease.
"I am passionate about taking care of people," she says. "I want to walk the journey with patients and provide a sense of calm. I've been told my entire life that I'm very good at making people feel comfortable and helping them see the brighter side of things, and I like that I can do that for our patients."
But she's quick to credit the team around her—which includes nurse and financial navigators, social workers, nutritionists, physical and occupational therapists, as well as genetic testing, counseling and research departments—for ensuring the best possible patient outcomes, both in treatment and the options available to them during and after surgical intervention.
"We have an extensive support staff working with patients every step of the way," Dr. Allen affirms. "We have all the multidisciplinary specialties including breast and reconstructive surgery, medical oncology, radiation oncology, radiology, and pathology. Everyone gets together weekly for our multidisciplinary conference, where every patient diagnosed at Capital Health gets presented to the multidisciplinary group to review imaging and pathology. We develop a treatment plan for each individual patient. The team is also fully invested in offering complimentary services, such as reiki, acupuncture and massage, both at the hospital and through our partnership with Unite for Her. We celebrate with our patients at survivorship days, provide assistance and advice at support groups, and provide educational opportunities throughout the year."
And it's not just the patient-facing team tirelessly working for patients' benefits: Dr. Allen says that the hospital system is as dedicated to its staff as those hard-working individuals are to supporting every patient who trusts their treatment with Capital Health.
"I came here because I wanted to develop a program that provided patients with specialized cancer care with compassion, and the reason I stay is because Capital Health is really invested in the community—our neighbors—and they want to be a hospital that's there for the people who live in this community," she explains. "When I ask for additional members of the support staff or additional equipment for diagnosis and treatment, the hospital has been extremely supportive in providing what is needed to run a successful program. The goal is to do what's right for the patient and team taking care of them so we can all work together to provide successful outcomes."
Dr. Allen cites the SmartClip machine as a recent example of how beneficial it is for patients when physicians have access to the kind of advanced medical tools that can make a difference in the patient experience while undergoing treatment for breast cancer. The machine, an "extremely generous gift from a patient and her family," uses a localization clip with GPS to identify any lumps or abnormalities in breast tissue that can't be seen or felt at the time of surgery. According to Dr. Allen, it is "definitely the most accurate" system she's used so far.
But what is most crucial in the diagnosis and treatment of breast cancer is early detection. This often starts with outreach and information, which is why community investment by way of cancer education can save lives.
As Dr. Allen notes: "The African American community's risk of dying from breast cancer is higher than the general population's. These patients are diagnosed at younger age and at more advanced stages. Because of these statistics, the American College of Radiology made a recommendation that African American women should undergo an evaluation using a risk model to see whether or not they are at high risk for breast cancer by the time they are 30 years old, especially if they have a family history of breast or ovarian cancer. Many women are also not aware of general breast awareness when doing a self-assessment for breast cancer: In addition to feeling for lumps, it's also about knowing what your breasts look and feel like so when you do notice changes, you can act right away. The sooner you get evaluated and diagnosed, the less treatment you may need."
Capital Health
Locations throughout New Jersey
(609) 394-6000
CapitalHealth.org
Published (and copyrighted) in Suburban Family Magazine, Volume 13, Issue 8.
For more info on Suburban Family Magazine, click here.
For information about advertising in Suburban Family Magazine, click here.
To find out where to pick up your copy of Suburban Family Magazine, click here.