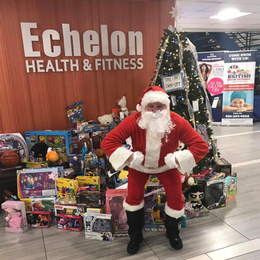 Sweat Equity
The team behind Echelon Health & Fitness continues to put time and effort into improving its members' experience, and now the club is expanding and reaching even more South Jersey residents.
Building bonds with the surrounding communities has always been important to the team at Echelon Health & Fitness, whether it's through a unique program centered on local businesses or offering outdoor classes in its parking lot in the early days of the pandemic so people could keep exercising during lockdown.
But for owners David Chung, Susie Chung and Jeff Quinn, one of their favorite ways to stay connected has always been by helping children around the holidays, and they are proud to be holding their fifth annual toy drive this month. In partnership with Toys for Tots, a campaign run by the U.S. Marine Corps, and several local churches, Echelon is collecting new, unwrapped toys for underprivileged children at its Voorhees location. Anyone who donates will receive a free bronze membership in Voorhees, which entitles them to three visits per week.
"Every child deserves a toy or two during the holidays," David Chung says. "That's why we do this every year and aim to collect thousands of toys. This is a way to give back to our community and families that need help. The smile on kids' faces during the holidays is priceless."
The toy drive is just one way that Echelon continues to rise to the occasion and have an impact locally, even in the face of adversity. It's no secret that among the many industries heavily impacted by COVID-19, health clubs were near the top of the list for facing the most challenges. Forced to close their doors for several months early on in the pandemic, some never recovered, with nearly a third of all gyms across the United States ending up going out of business. Even in those that survived, it is common to this day to see broken-down equipment, fewer classes offered and a rotating staff.
The Chungs and Quinn, however, have always understood that for many people, the gym is a sanctuary: a place to escape for an hour or two, forget about impending deadlines at work or hectic schedules for the kids, and simply focus on themselves and their own health. That is why they have remained committed to providing the best environment possible for their members, even during an incredibly difficult time for their business.
"That's our core value: We're always trying to improve our members' experience by offering a clean environment with great equipment, programs and services," Quinn says. "Unfortunately, the 30% of gyms that closed, besides COVID being a major factor, I would guess that they did not reinvest back into the gym and community and that's a possible reason they didn't survive. It's sad.
"There are so many choices, more than ever—you have big-box gyms, you have independent studios, you have home workouts. If you're not laser-focused on the members' experience, then they're just going to go elsewhere."
Echelon Health & Fitness is not only surviving but thriving, with a second location set to join its original club in Voorhees. The new facility,on the Black Horse Pike in Audubon, will serve that town along with Haddonfield, Collingswood, Oaklyn and Camden. Itwill begin accepting presales in December, with a spring opening to follow.
Anyone who signs up will immediately be able to take advantage of Echelon's signature program, MemberPERX, in which members can receive discounts at more than 800 local businesses. The goal is to expand the program to 200 new businesses in the Audubon area. Since MemberPERX was created in 2016, members have saved over $500,000.
"When we came up with the program, we knew it was an added benefit to the membership," Quinn says. "But now, with inflation, everything costs more, so our members are using PERX and saving more money than ever, and at the same time helping local businesses. People are saving money on everything from getting a haircut to eating dinner, buying a car, going to the pet store, and on and on."
The owners and staff members of participating businesses receive a free membership to Echelon, further strengthening the bonds within the community.
Inside the gym itself, Echelon is known for its variety of classes for all fitness levels in three different studios, including group classes, hot yoga and cycle, along with aqua conditioning in the pool. There is a new recovery area featuring HydroMassage chairs as well.
Thrive Personal Training—a nationally renowned program developed by respected trainer Mike Boyle—also sets Echelon apart from other clubs.
"We are at or slightly above pre-COVID numbers, and Thrive is a big part of that," Quinn says. "The members who do Thrive are so much more likely to see results because they have the coaching and the accountability. Everyone has a treadmill, everyone has machines, but we have two programs in Thrive and PERX that no one else has in South Jersey."
Echelon also offers a heart rate monitor called MyZone, a smart device worn on the chest or wrist in which members can earn effort points depending on how intense their workout is.
All of these programs added together equal a health club experience that is unlike any other in the area. Echelon is excited to have an even bigger impact with its new gym in Audubon, and could possibly expand to two more South Jersey locations in the near future.
"We're coming to Audubon to spread awesomeness, and that's to local businesses and the community," Quinn says. "We want to duplicate what we've done in Voorhees and develop strong bonds with the schools, other organizations, the local governments, the fire and police departments. Our goal is to paint Audubon blue with Echelon colors."
Echelon Health & Fitness
1160 White Horse Road | Voorhees
130 Black Horse Pike | Audubon
(856) 454-2976
EchelonHF.com
Published (and copyrighted) in Suburban Family Magazine, Volume 13, Issue 7.
For more info on Suburban Family Magazine, click here.
For information about advertising in Suburban Family Magazine, click here.
To find out where to pick up your copy of Suburban Family Magazine, click here.