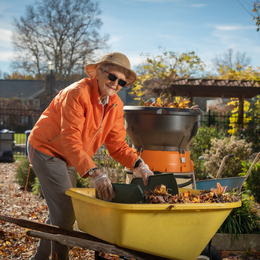 Happy Growing
Planting the seeds of a healthy retirement at The Evergreens.
The natural world offers physical, mental and emotional refuge. In nature, soothing attractions for our senses, from the sweet perfume of flowers, the music of birds' songs, the warmth of the sun, or the energy of a breeze can lift spirits and give people the peace they need to recharge and explore new interests.
At The Evergreens, an Acts Retirement-Life Community in Moorestown, Mother Nature has an avid fan club, with a lively community garden and active residents keen on making the most of the scenic campus.
George Boehmer has always had a bit of a green thumb. Whether it was in the rose garden at his former home or in his current garden plot, he's enjoyed a real love of horticulture since childhood.
"I used to spend summers on my grandparents' farm in South Jersey. That's where I really developed an interest in gardening," he says.
These days, George's talent for growing beautiful things is one he shares with his friends and neighbors at The Evergreens. The community's garden and greenhouse provide ample territory for residents to propagate houseplants, grow vegetables, cultivate beautiful flowers and keep two hives of bees happy enough that they produce delicious honey.
"We sell honey when we harvest it in the fall," says George. "And visitors to The Evergreens really enjoy getting a taste."
Along with producing honey, George and his fellow gardeners have collaborated with the culinary staff at The Evergreens to introduce farm-to-table dishes with ingredients grown on-site.
Delicious meals made with ingredients he's helped grow are not the only thing that makes life at The Evergreens so sweet for George. As a longtime local resident and former schoolteacher, he loves being close to the community he's been part of for decades. Having The Evergreens as a retirement option kept him in the heart of town and connected.
"There are such wonderful people here," he says. "The Evergreens has also brought together such a diverse cross-section of residents. I really enjoy getting to know all my neighbors."
One of those neighbors, and fellow gardener, Margo Foster, often works side by side with George in the garden and takes a particular interest in preparing the soil. "Great-tasting vegetables come from terrific soil," says Margo. "It's easy to take soil for granted. This time of year, as the plants begin to die with the approaching cold, I concentrate on mulching. Every garden can benefit from it. I love tucking our beds in with mulched leaves for their winter sleep."
Fitness director Theresa Horn leads a group of eager residents through morning stretches near the garden. "Everyone can use some fresh air and sunshine," says Theresa. "It's a natural antidepressant. Outdoor exercise can help ward off seasonal affective disorder depression and anxiety because sunshine naturally increases serotonin, a hormone that affects your mood. And exercise itself produces endorphins, another feel-good hormone that boosts your mood and reduces pain."
The commitment to healthy living, the profound sense of well-being, and the spirit of community and friendship are found not only in The Evergreens Garden but throughout the campus. Jim Petty, senior vice president for strategy and mission for Acts Communities, is proud to add: "We've been very successful offering the best of today's healthy lifestyle while providing long-term peace of mind and security. But it's the communities themselves, the social networks built among residents, the relationships with staff, and the pervasive dedication to service and compassion that extend through every part of living here."
As a continuing care retirement community (CCRC), The Evergreens offers more than just maintenance-free living today, but long-term comfort and security. And with Acts Life Care, residents know they'll pay for future care in today's dollars should they ever need it.
That's important because less worry means more time to smell the roses and make the most of watching them grow.
Find out how you can plant the seeds of a marvelous retirement.
The Evergreens, an Acts Retirement-Life Community
309 Bridgeboro Road | Moorestown
(888) 521-3972
AboutActs.com/SubFamilyMag
Published (and copyrighted) in Suburban Family Magazine, Volume 13, Issue 7.
For more info on Suburban Family Magazine, click here.
For information about advertising in Suburban Family Magazine, click here.
To find out where to pick up your copy of Suburban Family Magazine, click here.