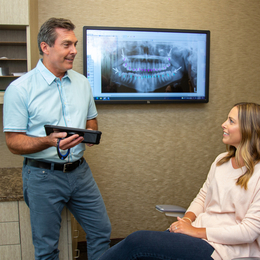 Kadar Orthodontics: The Right Choice for an Awesome Smile
For nearly 30 years, Dr. Tom Kadar has been providing affordable, compassionate care to patients of all ages in need of braces.
A great smile is an asset both personally and professionally. Getting your great smile comes down to selecting the right orthodontist. Making the wrong choice can result in permanent damage to your teeth and your wallet. To make the right choice, you should consider cost, experience, ease of treatment and, most importantly, the results.
Cost: In today's tight economy, paying for braces without dental insurance can be difficult. At Kadar Orthodontics, you can get the smile you've always wanted —on your terms. With a down payment as low as $250, Kadar Orthodontics makes sure your new smile is affordable.
With their Payment Planner, you choose the down payment and schedule, including the monthly payment amount, term and date of payment. Payments can be automatically drafted from your checking account or billed against your debit/credit card.
Experience: Dr. Tom Kadar has created thousands of great smiles here in South Jersey. In fact, he has been straightening teeth for almost 30 years. During this time, Kadar Orthodontics has evolved with the technological advancements, from cemented brackets and wires to clear aligners. In the late 1990s, Kadar Orthodontics was one of the first practices in the Delaware Valley to offer clear aligners.
Fast forward to today: The technology used to manufacture removable aligners has evolved significantly. At Kadar Orthodontics, it no longer takes weeks to get started straightening your teeth—it's all done in a single day with their Same Day Start Program.
This program utilizes virtual technology to perform a remote consultation before a patient visits the office for the first time. This allows Kadar's board-certified orthodontists to create the treatment plan and prepare everything before the first in-person visit. This virtual consult enables Kadar Orthodontics to deliver a same-day start for traditional braces, appliances and removable aligners. When the treatment plan calls for removable aligners, Kadar's in-house lab can manufacture them on the same day. Kadar utilizes advanced 3D scanners and printers to create their custom Ksmile™ aligners. Their expert clinicians place the aligners and provide care on day one … not weeks later. Plus, in-house production of aligners gives Kadar's orthodontists the flexibility to make adjustments to aligners when needed to ensure treatment stays on track without logistical delays. For more complex cases such as crowding and airway abnormalities, Dr. Kadar often uses advanced appliances or braces in conjunction with removable aligners to achieve ideal results. This hybrid approach provides their patients with the latest treatment methods to minimize pain, tooth extractions and treatment times.
Ease of Treatment: Regardless of the type of braces or appliances utilized, the team of professionals at Kadar Orthodontics monitors and adjusts each patient's treatment plan based on growth, development and tooth movement and the patient's facial pattern. To make it easier on your schedule, both in-office and virtual appointments are available throughout the day including early mornings and evenings.
Innovations in orthodontic technology have reduced the number of appointments required to complete a treatment plan. "Virtual visits give our patients a way to check in from home without visiting the office," says Dr. Kadar. "This saves them a lot of time."
With two board-certified orthodontists at a single location, there's no need to travel to different offices. Team Kadar is there when you need them, 24/7, the doctors and licensed professionals you know and trust.
Results. Year after year, Dr. Kadar and his team receive recognition from both peers and patients as being one of the top orthodontists in the Delaware Valley—a distinction Dr. Kadar proudly acknowledges.
"We love what we do and we want to be caring and approachable," he says. "We strive to make a connection with each family we treat. I think that's why we treat multiple siblings and parents within a family as well as next-generation patients. For us, it's the greatest compliment when a patient recommends us to their family and friends—that's when we know we've done our job well."
By combining their budget-friendly payment plans and proven processes with the latest in virtual technology, Dr. Kadar has enabled his patients to start their journey to straight teeth even during the COVID lock-down and the tough economic times that have followed. Visit GoKadar.com and request a free, virtual consultation to get started today. At Kadar Orthodontics, it's never been faster, easier or more affordable to get the awesome smile of your dreams.
Kadar Orthodontics
431 Egg Harbor Road | Sewell
(856) 582-1400
GoKadar.com
Published (and copyrighted) in Suburban Family Magazine, Volume 13, Issue 7.
For more info on Suburban Family Magazine, click here.
For information about advertising in Suburban Family Magazine, click here.
To find out where to pick up your copy of Suburban Family Magazine, click here.