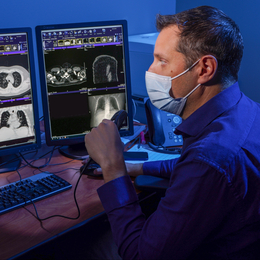 Increasing the Odds
Over the past year, the team at Inspira has been utilizing cutting-edge Monarch bronchoscopy technology to deliver the early-stage lung cancer detection that gives its patients a better chance at beating the disease.
Early in his medical journey, Charles Shieh, M.D., was inspired by the promising prognoses that early detection can offer cancer patients.
"I actually went into my training at Yale wanting to be a heart surgeon but during the course of my training, I was inspired by how earlier detection in treating lung cancer can really change the trajectory for patients," says Dr. Shieh, thoracic surgeon and medical director of lung cancer at Inspira Health. "If lung cancers are detected early, the patient is often able to live a normal lifespan. That's the major inspiration that steered me toward general thoracic surgery."
It's an impactful realization that's stayed with Dr. Shieh, and one that he's often reminded of since Inspira debuted the Monarch bronchoscopy platform last year as one of the country's first 100 hospitals to employ the robot-assisted navigational technology.
The minimally invasive early-detection system has already been utilized in more than 150 cases, helping Inspira's team provide the medical intervention—and hope—that come with detecting elusive early-stage lung cancer nodules before they begin their aggressive spread.
"The earlier that we can detect lung cancers, the better the outcome is for the patient because we can intervene earlier, whether that be surgically or other modalities," Dr. Shieh affirms, adding that numerous studies over the years have examined lung cancer patient survival rates across its stages. Findings have indicated that for patients at stage 4, the latest stage, "the five-year survival rate is in the single digits." Conversely, stage 1A lung cancer, the earliest stage, has a survival rate "well above 80%, and in some cases over 90%."
Dr. Shieh explains that the main difference between prior procedures and any robotic-assisted navigational bronchoscopy technology is that "the robotic arm provides what's called 'steerability,' they can go through tighter angles" for more advanced precision and control. It's also able to explore "the extreme depths of the lung, so that we are able to essentially get to any spot in the lungs."
"The main advantage of such a platform is that as humans, we all have minute movements when performing procedures, whereas a robotic arm is generally very stable," he continues. "That stability allows for more precise positioning of instruments, resulting in greater accuracy of tissue diagnosis than the older generation of advanced bronchoscopy techniques."
It's an incredible update to a procedure that once relied on more invasive, less accurate approaches.
"It used to be that when patients had a spot on their lungs, they would have to undergo either a needle biopsy from the outside in via interventional radiology procedures, or they would undergo traditional bronchoscopy," says Dr. Shieh. "And in a traditional bronchoscopy, it can be difficult to obtain diagnostic tissues particularly in peripheral locations in the lung. With this new technology, we are certainly upping the game. There has been a very good response from many physicians who are now able to diagnose lung cancers at earlier and earlier stages."
"It is routinely a same-day procedure," Dr. Shieh confirms. "The procedure itself takes about 30 minutes, and the patient may go back to work the next day."
As Dr. Shieh notes that Inspira's cancer services take "a proactive approach" to disease treatment, Monarch has proven to be a beneficial addition complementing a treatment philosophy that emphasizes awareness and champions the benefits of early detection.
"We want to reach out to the community so that potentially deadly illnesses like lung cancer can be caught early on and can be treated," he says. "Our lung cancer screening program, which uses low-dose CT scans, together with our robotic navigational bronchoscopy system, help us achieve a greater rate of detection of ever-smaller lung nodules."
It's why he advises patients to speak with their primary care physicians about their eligibility for a screening, especially since not many know just how life-saving the benefits of lung cancer screenings can be.
"We hear about things like mammograms for breast cancer and colonoscopies for colon cancer, but the public may not know or be as familiar with lung cancer screenings so that's something that, especially with November being Lung Cancer Awareness Month, we're helping people to be more aware of," says Dr. Shieh.
Inspira provides robotic navigational bronchoscopy procedures at its hospitals in Vineland and Mullica Hill, and lung cancer screenings at eight locations in Cumberland, Gloucester and Camden counties.
Inspira Health
(800) INSPIRA
InspiraHealthNetwork.org
Published (and copyrighted) in Suburban Family Magazine, Volume 13, Issue 7.
For more info on Suburban Family Magazine, click here.
For information about advertising in Suburban Family Magazine, click here.
To find out where to pick up your copy of Suburban Family Magazine, click here.