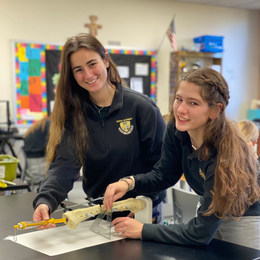 Discovering Their Passion
Thanks to unique programs in health sciences and engineering, students at Padua Academy can pursue their interests and start out on the journey to careers that they love.
Because she has experienced Padua Academy as a student, a teacher and a parent, Lisa Kowalski is perhaps better suited than anyone to speak to the lasting impact the all-girls Catholic high school in Wilmington, Delaware, can have on young women. But her best advice to families and prospective students in South Jersey is to just come see for themselves, because it truly is a place where the spirit of sisterhood and emphasis on academic excellence can be felt immediately upon walking through the doors.
"The general culture is something that is hard for me to explain," Kowalski says. "You have to spend a day and actually be here to understand what makes it so different. I've taught in coed schools before, but I feel an all-girls school takes away the distraction of the boys and allows them to be themselves, to excel and to not be afraid of outshining a boy in the classroom. The kids are very supportive of each other, and the teachers are supportive of the kids. It's just a great environment."
That sense of acceptance and camaraderie has helped Padua thrive since its founding in 1954, along with the administration's commitment to always push education forward with exciting and innovative programs. Experiential learning is a major part of the curriculum, and students are encouraged to hone their talents and interests, pursue their passions and even discover the fields they would like to devote their careers to.
Health sciences and engineering have increasingly drawn the interest of Padua students, and the school offers pre-med and biomedical programs, with a robust family of courses that includes biomedical engineering, sports medicine, and anatomy & physiology. Girls can participate in the unique medical shadowing program or take part in the dissection club or Health Occupational Students of America (HOSA).
"There are a lot of different career programs here, including a phenomenal business program, but it seems like there's been an uptick in interest in the health sciences," says Kowalski, who wears many hats, including engineering department chair, teacher for both math and biomedical engineering, and faculty proctor for HOSA and the medical shadowing program.
"Our girls really do seem to care, they have empathy, and they want to see the results of what they're doing, and this is just making careers in medicine more accessible to them. They know they can become a doctor, a physician's assistant or a nurse, because they've seen graduates from Padua go on and do that."
The list of recent graduates who have become doctors includes Kowalski's daughter Rebecca, and her other daughter is pursuing a career in occupational therapy. Their interest in those fields started at Padua, and led their mother to become more involved in developing unique offerings.
The medical shadowing program gives students the chance to visit participating health care systems like Christiana Care, St. Francis Hospital and Upper Bay Surgery Center, where they can join doctors or nurses for meetings, medical rounds or even a surgery.
"Medical shadowing allows Padua students a special opportunity to immerse themselves in the medical field and develop their passion for health care," says Shannon Finney, a student who recently participated in the program. "Medical shadowing provided me with a unique experience that ultimately helped me to confirm my interest in medicine and to pursue an education and future career in the medical field. I was able to witness live laparoscopic sleeve gastrectomy surgery on two patients, an incredible experience that Padua helped offer me."
Kowalski adds that they are seeking collaboration with a local veterinarian as well, for students who wish to pursue a career in animal medicine.
HOSA meets twice a month throughout the year and gives students an opportunity to hear from guest speakers in the medical field, and they can also attend conferences and take part in competitions. Another popular extracurricular activity is the dissection club, which has about 50 members.
"Basic biology used to do a ton of dissections in the past, but they have moved away from that to more of a virtual platform," Kowalski says. "But a lot of the kids want a hands-on experience so they offer it as a club. The biggest dissection they do is a pregnant shark, and they're also going to do a pregnant cat and a fetal pig."
In Kowalski's biomedical engineering class, students also look forward to practicing suturing techniques on pigs' feet based on a lab about Achilles tendon repair.
All of these experiences make a Padua education stand out from other schools, and can be invaluable in helping students discover what they want—or don't want—to focus on in the future. For faculty members like Kowalski, they also make teaching fun and strengthen the bond with their pupils.
"In the math classroom, you don't get as many opportunities for experiential learning," she says. "But teaching a lab-based class like biomedical engineering is so much fun because the kids love doing it. There's no homework involved, it's more about the problem they see and how we can fix it.
"This is my 35th year in education, and if you had told me even 20 years ago that I would be doing these kinds of things, I never would have believed it. It's nice to be in an environment where you're given the green light to try new things."
Padua Academy
905 N. Broom St. | Wilmington, Delawar
(302) 421-3739
PaduaAcademy.org
Published (and copyrighted) in Suburban Family Magazine, Volume 13, Issue 6.
For more info on Suburban Family Magazine, click here.
For information about advertising in Suburban Family Magazine, click here.
To find out where to pick up your copy of Suburban Family Magazine, click here.