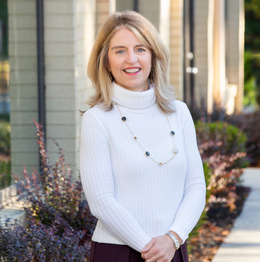 A Trusted Ally
Because of her own personal journey caring for her ailing mother, elder law attorney Marianne Johnston aims to be a compassionate confidant for all of her clients.
For more than two decades, Marianne Johnston was a litigator in the world of corporate law, until one day in 2009 when a serious family matter arose that caused her to pause and reevaluate her career and the impact she was making on the world as an attorney.
On that fateful day 13 years ago, Johnston had learned that her mother had been diagnosed with dementia. An only child and without other family members available to help, she began to feel an avalanche of emotion while trying to sift through all the legal and care issues surrounding her mother's diagnosis.
Having been thrust into that situation without much preparation gave Johnston a better appreciation for the process of caring for a sick family member and how to protect their assets and legacy. That is when the light bulb went off and she decided to pivot and pursue a career that would allow her to focus on the complex legal issues of aging.
"I decided at that point to switch gears in my career and start over. I didn't know much about this area of law, but I have to say, it's been a wonderful transition," Johnston says of the decade since she's made the change. "I had great experiences and worked with terrific people [in corporate law], but it's a lot different working with the general counsel of a company regarding legal problems than it is with members of the public. I've become more emotionally tied to my clients."
As of last April, Johnston has found a home at the esteemed Begley Law Group in Moorestown and now focuses her practice in the area of estate planning, advising clients (including younger ones, as Johnston points out this area of law is pertinent to clients of all ages) on how to fulfill their wishes of caring for loved ones and protecting their legacy for the next generation. Additionally, Johnston encourages her clients to prepare for the unexpected by having documents in place which permit others to act on their behalf if needed.
Johnston also works in the realm of guardianships and in the more encompassing area of elder law, often advising clients on asset protection planning when the risk of having to finance the exorbitant cost of long-term care looms is in their future. When the children or spouse of an individual in declining health seeks advice, Johnston views herself not only as an attorney, but also a confidant.
"I provide legal analysis and solutions, but an important part of my work is showing compassion and care and connecting our clients with other professionals who may assist them beyond legal matters," says Johnston.
And since she's joined the Begley Law Group, Johnston has learned a tremendous amount about this area of law thanks to the experienced team—starting with the head of the firm, Thomas D. Begley Jr., whom she credits as being a trusted mentor.
"Tom wrote the book on basically every area of elder law and disability law, so to have him and the other attorneys here as a resource when developing a strategy or solving a client's problem is great" and has further cemented that she is exactly where she is supposed to be.
The many clients who Johnston encounters not only have glowing things to say about the firm, but also the representation she provides and the personal bond she forms with each one. In fact, many have said they specifically sought her services because of her own personal story with her mother and the level of comfort they felt putting their own family matters in her capable hands.
"You hate to say 'I know how you feel' when you don't know how a person feels," says Johnston. "If someone is going through cancer, I don't have that experience. But I do have the experience of watching a loved one deteriorate from dementia, and it's a living hell. So, I think having clients who know that I've been in their position, in a lot of ways, is the reason why they feel so comfortable reaching out to me for advice."
Forming those strong connections and lasting bonds are by far the most gratifying aspects of the job for the long-time attorney.
"The most rewarding part of this job is when someone says to me, 'Thank you so much, I feel better.' And it's because they feel like they have a roadmap and advice to address the issues before them," she says.
But at the end of the day, Johnston circles back to the main reason why she decided to pursue this area of law and why she finds it so fulfilling. With her voice cracking a bit, she relays how she wanted to honor her late mother, a wonderful woman who gave so much to this world.
"This is really a tribute to my mom," Johnston says. "I feel like she would be very happy with what I've chosen to do with my career."
Begley Law Group
Moorestown
(856) 242-8599
BegleyLawGroup.com
Published (and copyrighted) in Suburban Family Magazine, Volume 13, Issue 6.
For more info on Suburban Family Magazine, click here.
For information about advertising in Suburban Family Magazine, click here.
To find out where to pick up your copy of Suburban Family Magazine, click here.