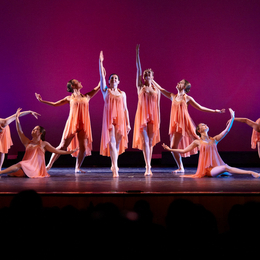 Building Dreams—Lessons for Life
Dance is a beautiful art, however, for those that are passionate and truly take in all it has to offer, it's much more than that.
The Bowman School of Dance has brought the joys of dance to students in South Jersey for more than 65 years and serves as the oldest school of its kind in Cherry Hill. Teresa Andris, the owner of Bowman, was once a student there herself. A lifelong dancer, she received her Master's of Education from Temple University's Dance Department, studied in New York and is an Independent choreographer and master teacher in the tri-state area.
Andris prides herself in the quality and communal feel that the school has maintained from the time it opened to when she took over in 1983—and still boasts today.
Only the Best
Like any lesson, a student is only as knowledgeable as their teacher. The same goes for dance, which is why Andris insists that the best and most experienced faculty join her in teaching students at Bowman.
"Through the years, we've always had a beautiful faculty who are very well-trained in their areas of both performance and education," Andris says.
The Bowman School of Dance faculty provides lessons in modern dance, hip hop, musical theatre, jazz, tap and what Andris admirably refers to as "the foundation of most other forms" of dance, classical ballet.
Along with a vast amount of dance styles, the school offers lessons for all ages and skill levels, whether you're a beginner in preschool, a beginner in adulthood, or on track to become a professional dancer.
"We have a wide variety of class offerings. The main thing is, we're going to deliver the art form the way it's supposed to be delivered, whether you're headed for the professional track or dancing for health and recreation," Andris says. We're striving to meet each student where they are and then bring them forward."
Defying Odds
As a small business embedded in the heart of South Jersey, the Bowman School of Dance was a perfect target for the COVID-19 pandemic's disastrous economic impact.
"We could have gone either way with our business, but I did feel that it was necessary for all of the students who were home and isolated and used to being here to have a place to express themselves," Andris says.
The school stayed open throughout the height of the pandemic while also operating within CDC guidelines to ensure each dancer's safety. Andris says that Bowman began online classes through Facebook and then Zoom in March of 2020, before eventually hosting classes outside that summer. Although they didn't have their annual June concert in 2020, Andris knew that just being there for her students meant everything to them.
"We just buckled down and did anything and everything and with the students. Our motto was we're going to focus on what we can do, not what we can't do, and we're going to do it safely as possible."
With all safety precautions in place, Bowman slowly but surely began to reopen indoor classes that fall, and its students were even more eager to dance than before.
The Impact
Despite the trials and tribulations that Andris and her team at the Bowman School of Dance faced, she knew that staying open was crucial for her students.
"What hit me in the very beginning [of the pandemic] was when I heard somebody say 'You gotta keep your community together.' So that struck me. And we have this community of amazing students and parents, families who felt like their kids weren't able to go anywhere." Andris says that Bowman became a safe escape where students of all ages could find comfort during such dubious times.
"Dance is like a piece of hope every day. You get back in there, you start fresh. You explore something new. You focus on something new or something you want to accomplish. And if it doesn't go your way, you come back and try it again."
Even with the worst of the pandemic seemingly behind us, Bowman continues to change the lives of its students. Andris says that learning to dance helps students not only in the art form itself but also in other areas throughout their lives.
"The benefit for a lot of dancers is in the mind, body and soul. It's an entire experience that puts an imprint on their lives and contributes to the way they live their lives." Andris says that dance has a crucial "show up thing" that teaches dancers the importance of dedication and accountability in all aspects of their lives.
"Dance is about so much more than the art form. It's more. It's life lessons."
The Bowman School of Dance
74 Kings Highway North, Cherry Hill
(856) 667-0447
TheBowmanSchoolOfDance.com
Published (and copyrighted) in Suburban Family Magazine, Volume 13, Issue 6.
For more info on Suburban Family Magazine, click here.
For information about advertising in Suburban Family Magazine, click here.
To find out where to pick up your copy of Suburban Family Magazine, click here.