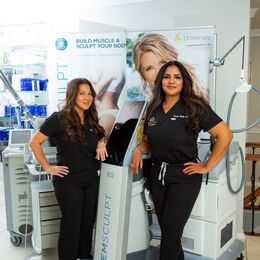 High-Quality Care Meets Cutting-Edge Technology
The team at Malik Medical Aesthetics & Wellness Center is dedicated to delivering the advanced treatments that help clients look and feel their best.
At Malik Medical Aesthetics & Wellness Center, everyone is obsessed with aesthetics. That's why Medical Director Dr. Pooja Malik, Practice Director Tina Hawk, and the entire staff are committed to the ongoing training and continuing education that ensures they're at the forefront of the industry's constant evolution. It ensures they know what procedures will yield the natural results, minimal invasion and diminished downtown that clients want.
Additionally, Dr. Malik has trained her peers all over the country, providing both a far-ranging industry perspective and insight into what patients want.
"To help other providers in this way brings me a great sense of pride and joy," says Dr.Malik. "As for my patients, seeing them love my work and appreciate all the time and effort I put into staying on top of all the latest advancements and trends is so rewarding."
Read on to learn more about the treatments available at Malik Medical Aesthetics.
What are some of the more popular laser treatments you offer, and what does each entail?
A South Beach laser is a two-part process designed specifically for patients looking to slough off sun-damaged skin, improve tone and texture, and treat dark spots, fine lines and wrinkles. A BBL is a type of light therapy used to enhance and brighten your complexion by treating skin concerns and stimulating your body's production of collagen; it's used to treat sun damage, rosacea and dull skin. A Micro Laser Peel is a 2940 erbium laser resurfacing treatment with a unique resurfacing technique focused on improving the overall quality of the skin. A Micro Laser Peel can effectively target textural issues, wrinkles, acne scars and other imperfections
Are certain laser treatments better for certain skin types, ages, etc.?
There are many lasers available and we have many different treatments, so we pride ourselves on having something for everyone. We do a thorough evaluation of the patient's skin type, main concerns and downtime required to determine and customize the best treatment plan for them.
Folks may be familiar with Botox but what other kinds of injections, fillers, etc. are available, and how do they differentiate?
This is an exciting time in aesthetics where a lot of new developments are happening. Just in the injectable arena, we now have four toxins that are approved and a fifth longer-acting one hitting the market soon. We also have a lot of new injectable fillers to choose from, which work differently and help in customizing each patient's treatment.
With laser and injection treatments, is there a lot of recovery downtime?
Botox or Newtox give no downtime. We love the BBL treatments: no downtime, improvements seen within weeks. With the Micro Laser Peel, you will start to heal between three and five days after your treatment, but your skin will continue to improve over time. Most patients see continual improvement for up to six months after their first treatment.
Some may associate these types of services with aging clients, but are they also popular with younger clients?
We are in the business of making people feel and look their best at any age. Acne scars are common and usually develop due to severe acne between 15-25 years of age. These are causes of significant anxiety, and one's self-esteem may be affected. The acne shall be treated aggressively to minimize such scars.
With the holidays nearing, is this a popular time of year for these services?
Winter is the best time for laser treatments! The winter months lessen our skin's exposure to sunlight since we are often covered up. Some lasers have only a few days of healing before you start to see results.
You don't want to start laser treatment right before summer season kicks off. When you undergo skin resurfacing treatments that remove the outer layer of dead skin cells, you need to give your body time to heal. As your skin heals following wintertime treatments, you look younger and more vibrant throughout the winter and well into summer.
You and your team work hard to stay on top of the latest trends and breakthroughs in the industry. How important is continuing education to you?
The world of aesthetics is constantly changing so continuing education is key. I believe if one doesn't keep up with the changing environment of the cosmetic world, we cannot give amazing results to our patients. This is what I see in my trainings as a Guru Trainor for the RHA collection of fillers. I spend time with other practices and their new injectors, and stress the importance of continuing education.
Malik Medical Aesthetics & Wellness Center
201 Bridgeton Pike, Mullica Hill
(856) 478-4700
MalikMedicalAesthetics.com
Published (and copyrighted) in Suburban Family Magazine, Volume 13, Issue 6.
For more info on Suburban Family Magazine, click here.
For information about advertising in Suburban Family Magazine, click here.
To find out where to pick up your copy of Suburban Family Magazine, click here.