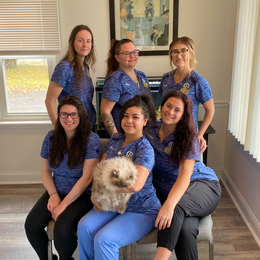 All Creatures Great and Small
Since 2005, Dr. Sheila Maier has led the team at the Animal Hospital of Somerdale as they deliver compassionate care to South Jersey's pets of all sizes.
As a lifelong animal lover, Dr. Sheila Maier always knew that veterinary medicine was the only professional path for her.
"I volunteered at shelters and veterinary hospitals from a young age, and continued to work in the field through college," she recalls. "I've dedicated my whole life to the animals."
In 2005, after working for other vets throughout her career, Dr. Maier bought the Animal Hospital of Somerdale, which she says is one of the few individually owned veterinary practices in the region.
"My clients and I, we make decisions together. … In a corporate situation, those standards are much more set, there's really no leniency in what you can or cannot do," says Dr. Maier. "You're most likely going to see the same doctor when you come to see me, unlike places where you have 10, 15, 20 doctors and might not see the same one twice. We've established a wonderful, family-oriented type of practice."
As the sole owner since that purchase 17 years ago, she has diligently grown the animal hospital by expanding its services and ensuring that its staff comprises caring, experienced professionals.
After all, dealing with patients of all sizes, species and physiologies, to say nothing of having to be "a jack of all trades," requires not only a vast array of medical knowledge but also the soft skills of gently treating patients that don't understand how shots, evaluations and procedures might be scary and uncomfortable in the short term but are administered with their long-term health in mind.
"A veterinarian is every doctor combined," she says. "We can be the dentist, psychiatrist, surgeon and cardiologist, so we're really very lucky that our field is so broad. There's such a variety and people can specialize their field, but I chose the broad, general practice—so I see them all, big and small."
Dr. Maier has also seen a number of changes in her profession over the years. While she says that animal medicine is still not as developed and supported as its human counterpart, there are more treatment options and better technological capabilities than there were a decade ago, befitting the shift in more people regarding their pets as beloved members of the family.
"The specialty veterinarians are becoming more and more common," she says. "The diagnostics—the CAT scans, the MRIs—were really not available in a lot of local places 10 or 15 years ago. We've certainly broadened our specialty services and our diagnostics, but there's still a far, far way to go in comparison to human medicine."
She's also noticed that veterinary medicine has seen a dramatic—and heartening—uptick in female practitioners.
"[Women] actually got a little boost getting into veterinary school because they wanted more women in the field," says Dr. Maier. "Over the years as I've been practicing, it's completely changed: It's female-dominated now, so women are taking over the field. I think women are busting out in all fields, more than we ever were, and that's a wonderful thing."
To that point, the Animal Hospital of Somerdale has an all-women staff, including practice manager Kaitlin Dominach, Dr. Maier's daughter-in-law. Dr. Maier has been resoundingly supportive of her team's professional growth, helping to develop their technical skills and sending many to veterinary school, with two members currently enrolled in a program and another applying. She also ensures that staff pets receive veterinary care at-cost.
While Dr. Maier says she was the lone animal lover in her family growing up, her daughter Serena Renaud has inherited that passion for taking care of South Jersey's furry, feathered and four-legged family members. And once Serena graduates in the spring, Dr. Maier is more than ready to start positioning her daughter to start taking over the practice.
"I couldn't be any happier to have my daughter taking over the practice: She's been in this office since she was a baby girl, she's spent her whole life here, she's already working with patients as an assistant and technician, so she's ready to go," Dr. Maier says. She adds with a laugh that having a rock-solid succession plan doesn't just give her peace of mind, but she knows that clients are already confident in Serena's veterinary skills, since "some days, people are even looking for her instead of me."
Dr. Maier knows that handing off the Animal Hospital of Somerdale to a second-generation veterinarian who grew up in the world of animal medicine means that she's leaving the clients she loves in the most capable, compassionate hands.
After all, it takes a special kind of person to successfully navigate the job's hardest, emotionally demanding days to reap the rewards of nurturing the animals they love back to health and giving South Jersey's families more time with the pets they love.
"It's a lot that we deal with," Dr. Maier admits. "But on a good day, the patients are responsive to our treatments and everybody's happy. A good day is healing, success and life and happiness."
Animal Hospital of Somerdale
408 N. White Horse Pike, Somerdale
(856) 346-4242
AskTheVet.org
Published (and copyrighted) in Suburban Family Magazine, Volume 13, Issue 6.
For more info on Suburban Family Magazine, click here.
For information about advertising in Suburban Family Magazine, click here.
To find out where to pick up your copy of Suburban Family Magazine, click here.