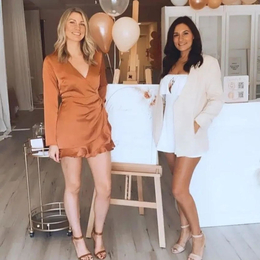 A Spa for Your Skin
The team at Sykes and Lanno Beauty deliver lovingly individualized treatments to help every client discover their healthiest, most radiant skin.
Owners and practicing estheticians Sara Sykes-Moore and Melissa Lanno founded Sykes and Lanno Beauty (SLB) in 2018. They, along with experienced team members Missy and Tracey, are here to deliver the latest and greatest in nourishing, highly personalized services to help you love the skin you're in.
SLB is a facial spa focusing solely on skin health, and was developed in response to the limited skin-health resources available when it first opened its doors to the South Jersey community. Sara and Melissa wanted to bridge the gap between the day-spa experience and the medical-spa setting, and developed their own philosophy for skin care for those seeking an in-between setting.
That philosophy includes approaching skin health as absolutely essential in maintaining youthful, glowing skin. "Think of your skin as you do your body," Lanno advises. "It requires essential supplements to function optimally and, if we do not provide it with these nutrients, problems, conditions and concerns not only arise but also are exacerbated."
SLB is not a medical spa, though. "We do not have any physicians onsite and do not provide any medical licensed procedures. What we do provide is an immense amount of knowledge backed by years of practice and expertise." says Lanno.
What additionally sets SLB apart is the team's unique approach to skin care that helps it "treat every concern with the correct treatments" according to Lanno.
Clients are greeted with an open-concept environment, which is bright, clean and aesthetically pleasing. Each room is separated by ceiling-to-floor-length drapes, allowing each client to customize their experience. "Many of our clients love to open the drapes, talk to one another, have open conversation among the practitioners and clients. We pride ourselves on the relationships not only among providers but also fellow clients," Lanno explains.
As far as treatments go, after completing a form clients are accompanied to one of the skin-care spa's beautiful treatment rooms where they have an in-depth conversation with an esthetician to develop a treatment plan. During treatment, the esthetician will analyze how the skin responds and reacts, how products penetrate the skin and how the skin feels to the touch. The client then receives a customized home-care regimen and their next treatment is booked.
SLB has created its own product line in response to the inconsistencies in mass-produced beauty products. As Lanno points out, "Quality differs greatly among different well-known product lines, and we wanted to make sure that the products we launch always meet the SLB standard: highly concentrated, limited to no additives, proper penetration ability."
"The entire SLB line will provide the skin with the essentials that will instantly create a balanced, healthy barrier," she continues. "Most clients are overwhelmed by the amount of products that are on the market, and by what they hear may work from friends or what they see on TikTok. Understanding your specific skin type, daily habits/routines, eating habits, menstrual cycles and mental health can help ensure we recommend the mots accurate products specific to each client."
SLB's three bestsellers and top-rated services are:
REVEAL: An oil-based cleanser to ensure all makeup, dirt, sweat and environmental factors are gently washed away.
Balance: A hyaluronic acid (HA) serum naturally found within the body. Lanno says to "think of HA as a big sip of water, for your parched skin," aiding in binding moisture to the skin, plumping and smoothing out dehydration lines.
Calm: A beautiful squalene and abyssinian blend of oils that rate extremely low on the comedogenic scale, which measures the ability an oil has to clog your pores. With a "1" rating, it will ensure that no breakouts or congestion occurs from the use of this product.
Additionally, SLB's oxygen infusion facial rebalances dehydration levels within the skin, which can be caused by extreme skin impairment for a variety of reasons, such as season changes or after exfoliation.
Delivering diligently individualized service isn't the only thing SLB is passionate about: According to Lanno, "There is absolutely nothing greater than community."
As Marlton is not only where SLB is located but also where Sykes-Moore, Lanno and their families call home, the pair is dedicated to being active in the community. Lanno and Sykes-Moore are on the Economic Board of Evesham, and SLB has been providing services and support to the Marlton Rec Council, Girl Talk, local schools, Marlton's travel soccer team, and Cherokee High School's students and clubs. In turn, the community has supported SLB by voting it BEST OF THE BEST in Burlington County in both 2021 and 2022.
Lanno credits the spa's atmosphere and client care for why it's become a part of so many clients' self-care routine. As she says, "SLB is where you feel safe, comfortable, seen, heard and beautiful in your bare skin."
Sykes and Lanno Beauty
27 N Maple Ave, Unit 4, Marlton
(609) 232-2088
SykesAndLanno.com
Published (and copyrighted) in Suburban Family Magazine, Volume 13, Issue 6.
For more info on Suburban Family Magazine, click here.
For information about advertising in Suburban Family Magazine, click here.
To find out where to pick up your copy of Suburban Family Magazine, click here.