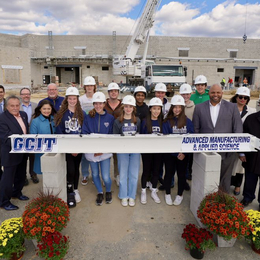 A Bold Step Forward
Gloucester County Institute of Technology continues to provide innovative education, and its new Academy of Advanced Manufacturing and Applied Science opens the door to a wealth of opportunities.
When Dan Pacifico first started teaching at Gloucester County Institute of Technology (GCIT) more than 10 years ago, he immediately saw the potential in a school that strived to provide the best future possible for its students, whether that meant continuing on to higher education or entering the workforce with the particular skills and experience necessary for a fruitful career. At the time, GCIT was still somewhat of a hidden gem, even in the communities it serves, but that has changed drastically, with families from Washington Township to Woolwich clamoring to take advantage of everything it has to offer.
"I've always been a big fan of career technical education (CTE)," Pacifico says. "Over the last decade or so across New Jersey and right here in Gloucester County, we've refined what that is and created something that people really want to be a part of. It serves the students well and gives them a lot of different options. Early on, some people might not have even known we were here or what we did, but now the word is out and the trajectory is positive."
GCIT has long provided a well-rounded education with the full high school experience, from highly regarded athletic programs to activities, clubs and dances. But the school continues to find new ways to innovate, and its latest endeavor is the perfect example.
Ground was broken last summer on the Academy of Advanced Manufacturing and Applied Science, which will be housed in a brand-new building on the campus of Rowan College of South Jersey (RCSJ), right next door and within walking distance of GCIT. A hybrid of computer science, engineering, digital design and logistics, it is aimed at students who are interested in creating and managing advanced technical systems and will be centered around concepts such as innovation, automation, robotics, 3D modeling and printing, the internet of things and modern manufacturing technology.
"Nationally and locally, there was definitely a lot of data backing the need for this type of employee," says Pacifico, a teacher of information technology and graphic design who will head the academy. "It's the next iteration of CTE and STEM learning, so students will have all the science, math and world language courses, etc., and they'll also have this specialized curriculum, which is called IGNITE. It covers a lot of different skills that are required in the field, from automation to 3D modeling, CNC machining, mechanical systems, data analytics, industrial-level 3D printing, and much, much more."
State employers and manufacturing leaders helped drive the idea for expansion and GCIT was happy to fulfill the need, especially since it will eventually allow 200 more students to be accepted into the school. The first class in the fall of 2023 will have 50 incoming freshmen, although they are looking for ways to incorporate upperclassmen as well, perhaps with a college-level course.
Academy students will still be part of GCIT, but will spend most if not all of their school day in the new building, which is about 50% completed.
"It's a state-of-the-art building designed and built for this program, in addition to being a full-time academic school with a cafeteria, a multi-purpose room, science labs and multiple labs for advanced manufacturing," Pacifico says.
The IGNITE curriculum allows students to explore career possibilities and earn college credits along with industry-level certifications through the Smart Automation Certification Alliance. Pacifico was sent to the Indiana headquarters of Amatrol, the supplier of the curriculum, to become certified, and he is excited to teach students how to use high-tech equipment such as a robotics arm and Smart Factory technology.
"This is hands-on equipment that is industrial level, though condensed to be classroom-ready. It's the real deal and I think it will be exciting for students to see and get their hands on," he says. "What's unique about the curriculum is that there's also a virtual element. It's highly engaging for students and they'll have some flexibility to be able to revisit something in a virtual setting before using the hands-on equipment."
There has been an added excitement level at GCIT this fall, and some of the older students have even told Pacifico they wish they were starting as freshmen next year so they could start at the academy. RCSJ is in the process of developing an accompanying degree program, so students will be able to continue their education in college or use their certifications to enter the workforce.
"This new iteration of career and technical education and skilled-trade training is really going to set students up for success," Pacifico says. "As it evolves and RCSJ launches its degree pathway, it's going to be a win for everybody. The individual student will be the focus, but the local community and the business community will benefit. Hopefully we continue to attract new families and new businesses to the area, and we continue to diversify the types of employers in the region."
Gloucester County Institute of Technology
1360 Tanyard Road, Sewell
(856) 468-1445
GCIT.org
Published (and copyrighted) in Suburban Family Magazine, Volume 13, Issue 6.
For more info on Suburban Family Magazine, click here.
For information about advertising in Suburban Family Magazine, click here.
To find out where to pick up your copy of Suburban Family Magazine, click here.