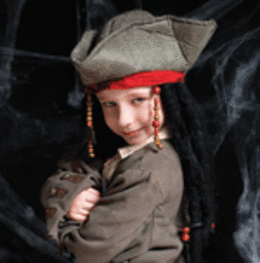 You Say It's Your Birthday?
From preschoolers to high schoolers, here are 13 great places to celebrate.
From preschoolers to high schoolers, here are 13 great places to celebrate.
Pirate, princess, snowboarder. Acrobat, home-run slugger, scientist. While the list of professions may sound like a child's answer to the infamous question, "What do you want to be when you grow up?," they're actually just a handful of the countless things your kids can experience when they're celebrating a birthday party in the South Jersey area. Match the type of party with your child's personality, and give yourself the gift of a hassle-free experience. In most cases, you provide the guest list and show up with your camera. The party venues do everything else, so you have time to spend with your child—making memories that will last a lifetime.
For the Pint-Sized Adventurer

Betty and Milton Katz Jewish Community Center
Cherry Hill
(856) 424-4444, ext. 147
KatzJCC.org
The 110,000-square-foot campus is as big and vibrant as a metropolis, and the seasoned party professionals have options for kids of all ages. Younger kids will delight in the arts and crafts, sports and pool parties that include time in the Imaginarium, the complex's fabulous indoor climbing apparatus. Tween and teens will appreciate XRKade, an interactive gaming party that lets you get down to Dance Dance Revolution, snowboard and enjoy a handful of other games. From $350 for 20 kids; also open to nonmembers.
Kid Junction
Mount Laurel
(856) 273-9500
KidJunction.com
Kid Junction is a dynamic play complex for younger children that features themed rooms, a gym with kid-sized treadmills, a dress-up area, family-friendly arcade games, a mock grocery store and a climbing arena. Parties are all-inclusive affairs. For $365, the birthday boy or girl and 17 friends receive tokens for games, 90 minutes to romp around the complex and a 30-minute pizza party with a custom cake.
For Your Daydreamer
Enchanted Dreams
Haddonfield
(856) 429-9909
EnchantedDreams.biz
Does your daughter dream of being a belle of the ball? Is your son on a hunt for lost treasure? Wannabe princesses, divas, pirates and kings dress up, sing and play structured games during their two-hour fantasy party, while parents sip on coffee and tea. The $395 party package for up to 14 children, ages 3 to 8, includes food and beverages, an 8 x 10-inch group photo and a craft session.
Sweet and Sassy
Cherry Hill
(856) 665-PINK
SweetAndSassy.com
Sweet and Sassy offers a Pajama Jam for your tween that brings together all the benefits of a sleepover without the hassle of pulling an all-nighter. The party girl and her friends arrive in their jammies and spread their sleeping bags out for a two-hour adventure in glam. It starts with mini-facials, party up-dos and nail polish and includes party games like popcorn limbo. A super-deluxe version of the event includes a trip around town in a hot-pink limo. Starting at $279 for 9 kids.
For the Sportin' Kind
Sahara Sam's Oasis Indoor Water Park
West Berlin
(856) 767-7580
SaharaSams.com
The surf's always up at a Sahara Sam's birthday party for teens and tweens who can't get enough of riding the waves and waterslides at the 13-acre water park/entertainment center. Starting at $320 for up to 10 guests, all party packages include admission to the park, a party host, a private party room and food and drinks.
Bounce U
Blackwood; (856) 228-2834
Cherry Hill; (856) 429-6400
BounceU.com
Bounce U has two locations for a high-energy, calorie-burning birthday celebration. A two-hour private party offers 75 minutes of private playtime in the two bounce rooms—which feature eight different giant inflatables—and 45 minutes in a private party room for pizza and cake. Goodie bags, invitations and balloons are included in your party for 25 guests, at $405 on weekdays or $450 on weekends.
Tall Pines Day Camp
Williamstown
(856) 262-3900
TallPinesDayCamp.com
Located on 66 pristine acres in the Pinelands, Tall Pines is known for its reputation as a world-class day camp—but it's also the setting for the perfect party. In these natural surroundings, your child can choose activities that include boating, pedal karts, swimming and loads of sports. Starting at $250 for a two-hour fete, the party includes food and drinks. Parties are offered May through September, weather permitting.
Big League Dreams
Medford
(609) 654-4555
PlayBLD.com
Score big by booking a party at Big League Dreams, where your child can channel his or her inner Phillie at a two-hour party on indoor ballfields modeled after popular major league ballparks. Starting at $345, parties include food and drink, time playing on a professional-grade ballfield and party coordinators who ump the game in addition to serving cake.
For Your Nature Lover
Camden Children's Garden
Camden
(856) 365-8733
CamdenChildrensGarden.org
Butterfly lovers will find their birthday paradise at this whimsical natural playground. Reserve the Butterfly Tent and watch the little ones delight in observing species of the winged insects in their 1,200-square-foot home. Guests of your two-hour party can also explore the Dinosaur Garden, the Tree House and ride the carousel or train. Besides the butterfly lovers, the garden typically draws train and dinosaur enthusiasts. "We had a little boy who loved trains," says education director Valerie Frick. "All of the kids got a whole lot of rides on trains that day." Tent rental ranges from $70 to $95, while admission is $3.50 for children and $5.50 for adults. A party planner will assist in all aspects of hosting parties, which run from March through November.
For Your Creative Genius
Artrageous Creations
Moorestown
(856) 727-0090
ArtrageousCreations.net
The paint-your-own pottery and craft studio offers Artrageous parties for your pint-sized Picassos. Starting at $200, parties include all the materials needed to create invitations and masterpieces that are worthy of the Louvre. A two-hour party for 10 guests includes use of a private room with an attendant, as well as your choice of art projects that include clay, picture tile, pottery, tie-dye and fused glass.
Garden State Discovery Museum
Cherry Hill
(856) 424-1233
DiscoveryMuseum.com
As if an hour and a half playing at South Jersey's gem of a children's museum weren't enough, your party could include a visit from a Mad Scientist for some mind-blowing lab experiments. Could an internship at Doofenshmirtz Evil Incorporated be in your child's future? Find out at these themed parties that cost $17.95 per child.
Fun Flicks
Throughout South Jersey
(856) 552-0467
FunFlicks.com
Your teen and his or her entire entourage can camp out under the stars for the main event: a screening of his or her favorite film on a jumbo inflatable movie screen. Starting at $299 for the rental, Fun Flicks will take care of the set-up and clean-up of the equipment. You just pick the movie, make the popcorn and provide the red carpet.
Published (and copyrighted) in Suburban Family, March 2010.
For more info on Suburban Family, click here.
For information about advertising in Suburban Family, click here.
To find out where to pick up your copy of Suburban Family, click here.