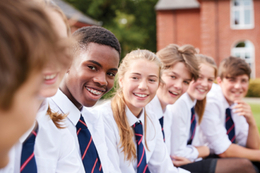 Steeped in Tradition
A look at some the unique and time-honored rituals at area private schools.
Besides offering a top-notch education and numerous extra-curricular activities, private schools are known for their beloved traditions which are often rich in history and a major part of life on campus. To find out more about what takes place at schools across the region, we spoke with several school officials to see what kind of experiences their institution offers and how they bring people together.
"There's this tradition where the seniors arrive by canoe for the first day of school. Then the following day, each of the sixth through 12th grades goes off on a three-day trip. We can do those trips because of our small size, and we do them to connect with our values and our mission of all being known and loved and encouraged."
—George Sanderson, head of school, Doane Academy
"As a former Social Studies teacher, I am fond of the quote attributed to Mark Twain that history does not repeat itself, but it rhymes. Many of our traditions are generational, from sister to sister, mother to daughter, granddaughter to grandmother. While they all take on a flare for the latest and greatest trend, they are all deeply generationally rooted in the sisterhood of Merion Mercy."
—Paul Clementi, dean of students, Merion Mercy Academy
"The unique traditions of the Our Lady of Mercy Academy (OLMA) community are loved by our students. The Big/Little program, Sisterhood Days, holidays at OLMA, Unsung Heroes, Spirit Week, dances and prom, Junior Ring Mass, Senior Trip, Farewell & Mary Day are just a few traditions that take place here. These events unite the OLMA community in celebration of the school's mission and spirit. What results is a strong sense of camaraderie that leads to lasting friendships and cherished memories."
—Nicole Donovan, director of admissions, Our Lady Of Mercy Academy
"Something like homecoming comes together with different floats and skits every year, but hasn't really changed in decades. Or our uniforms might change in styles and materials over time, but they preserve the color scheme and traditions of underclassmen wearing the same colors. I think it's the perfect blend of new ideas from our journey and the traditions that alumni come back and love to see that we're still doing."
—David Moffa, principal, Holy Cross Preparatory Academy
"At Padua Academy, the tradition of community service is a literal cornerstone of our 'school with a soul.' Countless volunteers were responsible for building the girls 'a school of their own' and so for almost 70 years, our students have been paying it forward by giving back to those in need in our surrounding area. By contributing their time and talents, they embody our foundational principles and put into practice Padua's transformational education rooted in the Catholic faith."
—Jennifer Bell, communications coordinator, Padua Academy
"School traditions endure when their purpose is understood. At Paul VI, the intent of a tradition is honored by being flexible with the details. For example, the school talent show seemed redundant in the wake of so many performance opportunities. Paul VI now hosts coffeehouses, giving students whose talents fall outside the traditional musical theater mold a chance to shine. Acoustic guitar, poetry recitation, acapella singing—these art forms have a home, an audience and coffee!"
—Kathleen W Stewart, admissions director, Paul VI High School
"Some of our favorite traditions at St. Joan of Arc School include our Friday masses with our parishioners, Theater Week, Christmas Bazaar, Prayer Partners, Family Spaghetti Dinners and our summer SJA Carnival. Some of these are in-school traditions and some extend to our surrounding community. All these traditions help build up our own SJA Family, and they also bring us closer to our parish and local community."
—Mary Clare Brandt, director of admissions and marketing, St. Joan of Arc Elementary School
"As a college preparatory school with students from over 50 different schools, the first tradition we focus on is that of providing a robust transition into our school. From optional workshops over the summer, to a new student and parent barbecue, and multiple orientation days filled with team-building and friend-finding—Archmere plans all of the events leading up to the first day of school with the student in mind. … Other events that make Archmere special include individual class retreats and Kairos retreats, outdoor, collegiate-like activity fairs to encourage signups to our 50+ clubs and activities, a spirited Green & White Night in which teams (including faculty and staff) compete in an evening of sporting events, and dances such as MORP (which is prom spelled backwards as it takes prom and flips it upside down with neon dress code and a requirement to arrive stag)."
—Leah daPonte Lightcap, director of admissions and enrollment, Archmere Academy
"Westfield traditions stem from the Quaker SPICES, principles of Simplicity, Peace, Integrity, Community, Equality and Stewardship. Traditions like the "Buddy System" create a strong sense of community. The annual clean-up at Palmyra Cove Nature Park is a tradition that teaches stewardship. Westfield's mission is to create 'the world we seek for children.' These traditions are central to a program that helps students grow in competence, confidence, and conscience."
—Lily Taylor, director of communications and development, Westfield Friends School
Published (and copyrighted) in Suburban Family Magazine, Volume 13, Issue 5.
For more info on Suburban Family Magazine, click here.
For information about advertising in Suburban Family Magazine, click here.
To find out where to pick up your copy of Suburban Family Magazine, click here.