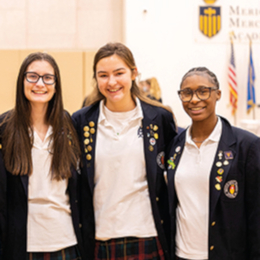 Top 5 Reasons to Cross the Bridge for an All-Girls Education
At Merion Mercy Academy, you come as you are and leave as you were meant to be.
Just across the bridge, down the road from Saint Joseph's University, and within a few miles of the Philadelphia Art Museum lies Merion Mercy Academy's welcoming suburban campus. Since 1884, the all-girls Catholic college preparatory high school sponsored by the Sisters of Mercy has been educating girls from across the region. It is one of the few all-girls, independent Catholic institutions that are close enough to serve New Jersey students. It's not surprising that the school boasts more than 30 Garden State students who enjoy a full and dynamic school life as leaders, thinkers, problem-solvers, athletes, performers and engaged learners.
1. It's Close and Accessible
With our new private bus system it is easier than ever to get to Merion Mercy from South Jersey! Whether you live in Mount Laurel, Cherry Hill, Haddon Heights, Moorestown, Williamstown or a town nearby or in-between, one of our two bus routes will make it convenient to get to and from campus in a timely fashion. Carpools with older students and their parents offer another means of transportation and also provide opportunities for bonding. Director of Admissions Eileen Killeen says, "Between the busing service and carpools, getting to MMA has been working well for N.J. families for more than 30 years."
2. It Celebrates Diversity
Merion Mercy is real, relevant and reflective of the world. Drawing from nearly 100 feeder schools and more than 80 zip codes, the community is diverse and culturally rich. Students' hometowns span across the Philadelphia region, from Philadelphia, Delaware and Montgomery counties in Pennsylvania, as well as Burlington, Camden and Gloucester counties in South Jersey. Students expand their worlds and form relationships with other students beyond their own backyards.
3. All-Girls Education Sets the Stage for Lifelong Confidence
In an all-girls environment, young women grow in confidence, develop leadership skills, value the freedom to pursue their unique talents, and thrive in academic and extracurricular programs that have been created with them in mind.
In a 2022 enrollment marketing survey, parents overwhelmingly stated that confidence is the main attribute they wish for their daughters at graduation. This is naturally achieved at MMA where girls grow to be confident and comfortable in themselves and their abilities as they fill every student role in the school and are surrounded by female role models and mentors at every turn.
Our students also grow in confidence as they meet academic challenges. The International Coalition of Girls' Schools states that "80 percent of girls' school students report most of their classes challenge them to achieve their full academic potential compared to only 44 percent at co-ed public schools."
4. Provides Catholic Identity through the Lens of Mercy
Merion Mercy's mission incorporates five core values, aligning with the Sisters of Mercy's approach to educating women. These include compelled by Mercy, educational courage,
inspired by faith, principled leadership, and a voice for dignity and respect. Students are educated to learn and to actively live Mercy, which means kindness in action. Mercy empowers us to seek justice; leading change to better our world, standing up for the right thing and serving those less fortunate. As a Catholic community, we are rooted in Gospel values and not only study our faith but live it.
5. Offers a Personalized Approach to Education
Merion Mercy provides a robust college prep curriculum, but is also attentive to the needs of the whole person and how 21st century learners grow and thrive. MMA customizes schedules for each student and offers a unique hybrid approach, allowing for more collaboration and meaningful project-based learning. Rotating class schedules each day better meet the needs of the majority of students who are involved in after-school activities and sports. This schedule also features weekly advisory meetings, two opportunities for co-curricular activities (there are more than 70 to choose from) and "What I Need" time, as well as a weekly community gathering.
A Merion Mercy girl is more than prepared for college!
Merion Mercy Academy
Merion Station, Pa.
Merion-Mercy.com
Admissions@Merion-Mercy.com
(610) 664-6655 ext. 166
Published (and copyrighted) in Suburban Family Magazine, Volume 13, Issue 4.
For more info on Suburban Family Magazine, click here.
For information about advertising in Suburban Family Magazine, click here.
To find out where to pick up your copy of Suburban Family Magazine, click here.