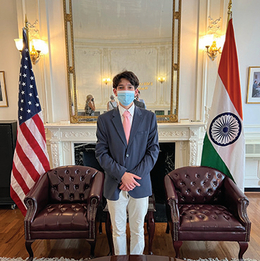 Stars
Outstanding members of the local community.
STAR STUDENT
Asher Boiskin
A Cherry Hill East student, Boiskin became the first American to travel to 35 countries in 24 hours, beating the previous Guinness World Record of 13—all within a $200 budget and without ever setting foot outside the U.S. after discovering that embassies belong to the countries they represent, not their host nations. Boiskin made 35 of his 49 scheduled appointments in Washington, D.C., and has applied for another record: most embassies visited by an American citizen in 24 hours.
STAR TEACHER
Lisa Dolby
Already named Delsea Regional High School's 2022-'23 Teacher of the Year, the English and special education teacher was recently announced as New Jersey Education Association's Gloucester County Teacher of the Year. In 2014, she founded the Delsea Fairy Godmother Fund to help disadvantaged students participate in their senior year activities. Dolby, a Delsea alumna herself, also encourages her students to participate in learning and service projects for their and the community's benefit.
STAR CITIZEN
Josiah Pippel
Moorestown native Pippel has advanced to the national finals on NBC's American Ninja Warrior for a chance to win the $1 million top prize. 16-year-old Pippel began his ninja training almost a decade ago once his parents suggested he give it a try since he didn't enjoy "traditional" sports. This is his second appearance on the show: Pippel first competed last season—becoming the youngest contestant in the televised competition's 14-year history.