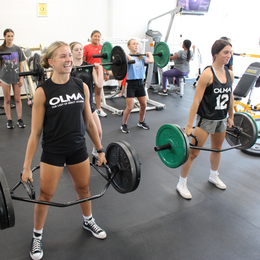 A Winning Approach
Through athletics, Our Lady of Mercy Academy is helping prepare its students for life's challenges.
In 2016, enrollment at Our Lady of Mercy Academy (OLMA) hovered just above a hundred students. But in the handful of years since, the college preparatory, all-girls Catholic high school has more than doubled its student body and in turn grown its rigorous academic programs as well as its athletic offerings.
In fact, OLMA recently added four sports (field hockey, bowling, golf and sailing) while also adding four additional levels (two JV, two freshmen) to its athletic program. With more students on campus, admissions director Nicole Donovan says it was a no-brainer to extend the offerings to give students a more well-rounded high school experience.
"Nearly 80% of our student body participates in sports throughout the year and athletics play a major role in their experience here at OLMA," Donovan says.
Brian Coyle, fitness instructor and head basketball coach, agrees that having a more robust athletic program is paying dividends, and in more ways than one.
"Because we have so many sports, we can really touch every student here and to me, that's the most exciting part," says Coyle. "We have so many kids with various talents and we want to touch upon those talents. We want to win, but we are also trying to build young girls to become strong women throughout the course of their lives."
And not only are these young girls participating in sports, but they are competing at a high level as several of the school's sports teams have made great strides and accomplished many feats of late.
The tennis team returns three all-conference first-team all-stars in Jackie Carey and the doubles team of Bella Martinez and Amani Malickel. After winning a South Jersey championship two years ago, the program's success has moved the team to the bigger Cape-Atlantic League American Division.
Traditionally, the soccer team has been the most celebrated at OLMA and this year the team welcomes new coach Sean Alford. All-star Drew Coyle leads the team along with returners Carley Volkmann, Summer Rusciano, Avery Dortu, Brooke Callan, Sophia Curcuru, Isabella Infranco, Isabella Losado, goalie Liz Giamboy, Addison Mello, Reagan Germanio and Lauren Terista.
Also a champion two years ago, OLMA's field hockey team is poised to continue its winning ways with the likes of Madelyn Bernhart, Isabella Elentrio and goalie Julie Tola. Other key contributors include Anya Fitzpatrick, Grace McMahon, Gabby Eaise, Mina Lockhart, Tori Ravoni, Gabby Celli, Alex Sirakides and Annalise Kipers.
Over on the volleyball side of things, senior Miranda Holder is a four-year starter along with all-star Riane Regucera. Sophia Sacco, Annalise Kuppel, Lara Barrasso and Carlina Fiocchi further give the Villagers depth and experience on the floor.
And attendees of St. Augustine football games surely know the cheerleading team and their highlight halftime performances. The squad currently has 24 members including seniors Madi Brown, Katie Driscoll and Lexi Stefano, all of whom have been alongside coach Kaitlin Reeves since day one.
To help these prime performers get ready for their upcoming seasons, OLMA recently launched a new summer strength and conditioning program. In addition to offering a facility where the student-athletes can lift weights and cardio train, the program was designed to build camaraderie and provide support.
"The biggest thing with this program was to offer every student, not just the athletes, a way to grow physically, as well as mentally and socially, while building sisterhood," says Coyle.
What's more, OLMA launched a sports leadership academy in 2019, offering a series of workshops for the students designed to foster an environment of accountability within the sports teams. It's all part of the dedicated approach to use sports as a tool to prepare OLMA's young ladies for their future.
"Building upon those leadership skills is something they can use while they are playing and then once they leave OLMA," says Donovan. "With the academy and fitness program, our girls are prepared physically and mentally and equipped with necessary leadership skills to handle challenges that come their way."
With that type of atmosphere being created, it's no wonder why OLMA's student body and faculty are buzzing with excitement these days. "There's no doubt the culture in the school is better than it's ever been," Coyle says.
Ready For Action
Our Lady of Mercy Academy is home to several topnotch athletic programs
Fall Sports
Cheerleading
Cross Country
Field Hockey
Soccer
Tennis
Volleyball
Winter Sports
Basketball
Bowling
Indoor Track
Swimming
Spring Sports
Crew
Golf
Lacrosse
Sailing
Softball
Track & Field
Visit OLMANJ.org, click the athletics tab and then choose schedules for a complete roundup of each sport's upcoming season
Our Lady of Mercy Academy
Newfield
(856) 697-2008
OLMANJ.org
Published (and copyrighted) in Suburban Family Magazine, Volume 13, Issue 3.
For more info on Suburban Family Magazine, click here.
For information about advertising in Suburban Family Magazine, click here.
To find out where to pick up your copy of Suburban Family Magazine, click here.