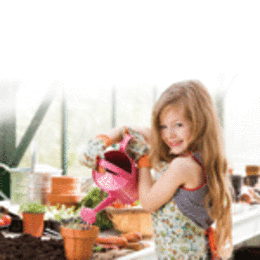 Save It For a Rainy Day
When it's too wet to go outside and the Wii's on the blink from overuse, it's time to get the kids over to some of the area's best indoor activity centers.
"The sun did not shine. It was too wet to play. So we sat in the house all that cold, cold, wet day." No matter how old your kids get, those immortal opening lines of Dr. Suess's The Cat in the Hat sum up every family's conundrum on a rainy non-school day. But when there's nothing at the Cineplex and no one feels like bowling or skating, what, exactly, can you do to keep the kids engaged and not booooored during those endless drenched afternoons? We've got quite a few ideas…
The Play's the Thing
Indoor playgrounds—warehouse-like spaces filled to the rafters with safe yet engaging climbing, sliding, jumping and obstacle-course equipment—have gained traction of late. Take Mount Laurel's Kid Junction, which has daily open-play hours for kids to go wild in its impressive spread that includes games, playrooms and even a sports arcade. There's also a special age-appropriate Toddler Town for tykes 3 and under that's anchored by a soft-engineered flooring to make parents feel safe.
The inflatable craze is taken to new heights over at Pump It Up in Marlton, which boasts two huge rooms of bounce house-type equipment, including the Slippery Slope, the only climbing-wall challenge of its kind in the tri-state area. For kids who'd rather eschew the "jump"-suit for a bathing suit, Coco Key Water Resort at the Mount Laurel Marriott offers up a ton of watery fun: spiral slides, a river-raft ride, activity pools, whirlpools, even a safe harbor designed specifically for young dog-paddlers—all a lot more appealing than splashing in sidewalk puddles.
Farm Fresh
Not everything that happens at a farm occurs outside. Johnson's Corner Farm in Medford may be known for its acres of Jersey fruits and veggies, but there is plenty to do there that keeps visitors out of the rain. A covered-wagon ride, for instance, during which riders stay dry as they tour the seasonal crops. Children can learn even more at the farm's greenhouse, where produce and flowers are born. When all that is done, kids will want to flock to Johnson's bakery and farm kitchen, stocked heartily with seasonal muffins, pies and donuts.
Springdale Farms in Cherry Hill offers a slew of year-round, hands-on indoor lessons for kids to learn about harvesting and planting. Boy and Girl Scout troops have been known to stop over here to earn their farm-related badges. And when the rain clears up, kids will have the education and confidence to get back outside and experience nature the way that New Jersey's farmers do.
The Active Athlete
Being stuck indoors is a nightmare for most kids—but none more so than those who like to be active all the time. Over at Sports and More in Sewell, the athletic-minded can run, jump, dribble and flip to their heart's content. The indoor establishment houses three high-school-sized basketball courts and volleyball courts, plus a wide area for cheerleading and gymnastics, filled with training equipment like balance beams, trampolines, gymnasts' rings and uneven bars.
Monkey Business in Turnersville marries the idea of the inflatable indoor playground with the rigors of a gymnastics studio. Along with the blown-up bounce houses, slides and obstacle courses, there's a goofy Velcro wall, where kids can dress up in Velcro suits and stick themselves on any way they want. Much better than being a cranky fly on the wall at home when there's nothing to do but stare out the window at the rain.
The Right-Brain Stuff
Creative kids and teens who want to indulge their artistic tendencies frequent Color Me Mine in Voorhees, a pre-made pottery venue. The storefront stocks hundreds of different objects—plates, mugs, piggy banks, clay figurines—that young Picassos can paint any way they want. And when the rainy day's over, they've got a souvenir to remind them of all the fun that can be had when the clouds roll in.
When you go...
Kid Junction
Mount Laurel
(856) 273-9500
KidJunction.com
Pump It Up
Marlton
(856) 797-9663
PumpItUpParty.com
Coco Key Water Resort
Mount Laurel
(866) 754-6494 CoCoKeyWaterResort.com
Johnson's Corner Farm
Medford
(609) 654-8643
JohnsonsFarm.com
Springdale Farms
Cherry Hill
(856) 424-8674
SpringdaleFarms.com
Sports and More
Sewell
(856) 401-8111
SportsAndMoreFun.com
Monkey Business
Turnersville
(856) 227-JUMP
MonkeyBusinessNJ.com
Color Me Mine
Voorhees
(856) 782-6567
ColorMeMine.com
Published (and copyrighted) in Suburban Family, April 2010.
For more info on Suburban Family, click here.
For information about advertising in Suburban Family, click here.
To find out where to pick up your copy of Suburban Family, click here.