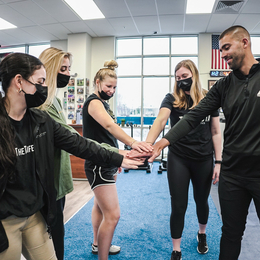 A Competitive Edge
Highly motivated physical therapists help highly motivated athletes return to the game stronger than ever at Trifecta Therapeutics' two locations.
The human body at peak performance is capable of pulling off some incredible athletic feats with seemingly no effort at all.
But as Dr. Jeremy Boyd points out, "athletes are human, too, and don't just bounce back from an injury."
Dr. Boyd owns Trifecta Therapeutics, a sports rehabilitation and performance center with two South Jersey locations. He's also the only Orthopedic and Sports Manual Therapy Fellowship-trained and dual-board certified physical therapist in the state, a distinction that underscores just how seriously Trifecta takes its role in helping athletes reclaim their A-game.
Befitting a practice specializing in athletes' recovery, Trifecta embraces teamwork to holistically treat the whole patient, consulting with their coaches, primary care physicians, parents and sports therapists to completely understand an injury's nature, ultimately getting them back to the life and sport they love without any lingering maladies.
"We don't see a lot of 'frequent flyers:' We want to educate our clients for life and help them by empowering them for their entire lifespan," Dr. Boyd notes. "We want to be that last stop that treats the root cause of your issue."
Trifecta harnesses that teamwork approach with its exercise equipment and environment, too. After all, redirecting a completive drive to the pursuit of recovery is a natural motivator for competitive individuals.
"You're in an environment of true sports rehab that has the equipment to challenge you," Dr. Boyd notes, "and being amongst other patients who are also pushing themselves to get better creates a culture that, I think, has a lot of therapeutic benefits."
And while a lot of thought, training, education and experience continually go into "The Trifecta Way" of treating each patient, a lot of passion does, too.
"We pour our hearts and souls into every client," Dr. Boyd affirms.
Five Reasons to Trust Trifecta Therapeutics with Your Sports Rehab
1. It's physical therapy for athletes, by athletes.
It's not just identifying treatments that put players back at the top of their game: It's also knowing what kind of support, advice and goals they need to reclaim their active lifestyles.
"All of us being athletes who have been injured, we understand what you go through in that process of going to rehab, the mental struggles and wanting to come back stronger," says Dr. Boyd. "It's tough for a therapist to create that bond if they haven't experienced it themselves."
2. The Trifecta Way provides psychologically informed care.
"It starts with a thorough evaluation of the patient that usually goes over an hour," Dr. Boyd says. "We're looking at the body and how it moves, we're using our hands to find anything that triggers pain. That healing touch, putting your hands on people, has some psychological benefits. … It helps just knowing that someone's doing their best to take care of you."
After that initial evaluation, pain assessment and delving into deep-rooted fears help the Trifecta team get to the heart of the matter—after all, the old adage that sports is 90% mental rings especially true in sports medicine, which is why plumbing those psychological depths is such an important step.
3. Sports rehabilitation has psychological advantages.
Any athlete knows the heartbreak of the most well-trained body being sabotaged by fear, self-doubt or an ill-timed moment of hesitancy, which is why cognitive behavioral therapy informs Trifecta's approach.
"The biggest thing that's missed out in almost all of medicine but especially the physical-rehab side is that cognitive piece," explains Dr. Boyd. "We treat a lot of active individuals who've gone through significant injuries, and that injury is almost always on their mind: If they tore their ACL on a soccer field, they think about it every time they step onto a soccer field.
"A lot of times in rehab, people just do their exercises—they don't have meaningful conversations, they don't get things off their chest," he continues. "If you only work on the physical side of things, you're never going to quite reach your recovery goals."
4. It offers a competitive edge, too.
"To get back to your sport as quickly, safely and effectively as possible, you want elite, high-level care," Dr. Boyd says. "It's that combination of a highly driven therapist pushing a driven individual and exposing them to modes of training that prevent further injury and overall make them stronger than ever."
That approach pays off, he says, noting how many Trifecta-treated athletes "are setting PRs, getting all-state honors, they're coming back better than before," despite some significant setbacks like torn ACLs, hamstring strains and rotator-cuff repairs.
5. The Trifecta Way can change your life.
Reading through Trifecta's online reviews made Dr. Boyd realize that "a lot of people said our physical therapy wasn't the norm, that it was life-changing for them."
He continues: "We're not just treating you now, we're looking at your whole body in case something predisposes you to injury in the first place, especially if it's a recurring one. Our main mission is looking 10 steps ahead to treat the whole person."
Trifecta Therapeutics
Cherry Hill: 2060 Springdale Road, Suite 400
Glassboro: 107 Rowan Blvd.
(856) 347-0333
TrifectaTherapeutics.com
Published (and copyrighted) in Suburban Family Magazine, Volume 13, Issue 3.
For more info on Suburban Family Magazine, click here.
For information about advertising in Suburban Family Magazine, click here.
To find out where to pick up your copy of Suburban Family Magazine, click here.