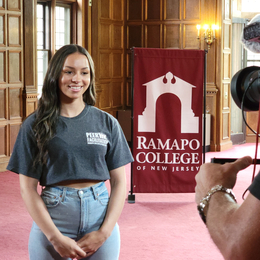 Life on Campus
Ramapo College will be part of Amazon Prime's The College Tour series this fall, offering prospective students an inside look at a hidden educational gem.
One of New Jersey's best kept secrets is about to be shared with the world.
This won't be the first time, however, that Ramapo College of New Jersey—a self-proclaimed "hidden gem" of Bergen County—has made its way into the limelight. In 2020, Ramapo College was named to Condé Nast Traveler's list of the 50 Most Beautiful College Campuses in America. In 2021, the school was listed in GradReport's top 10 best state colleges. Over the past 4 years, Ramapo College has been consistently voted #1 Best College Dorms in NJ by Niche, placing it in the top 2% of all colleges and universities nationally
This year, Ramapo College will join the ranks of the top colleges and universities featured on The College Tour, a program for prospective students filmed exclusively through the lens of current students. The school's episode will be available this fall.
"At Ramapo, we know we have an amazing story to tell," Christopher Romano, Ed. D, Ramapo's vice president of strategic enrollment, outreach and engagement, says. "And The College Tour is a great partner to help tell the Ramapo College story."
The College Tour is a series that focuses on a different college or university each episode, and the school's story is told by 10 current students.
"Ramapo College has been on our radar for a while, and we couldn't wait to produce this episode. There are so many unique aspects that make this institution so special. … In the episode we talk about how the students at Ramapo not only think critically about the world; they are inspired to lead boldly in it," host and executive producer Alex Boylan says.
Ramapo held a video audition with "an incredible cast of submissions" to find the 10 featured students: Kaylee Babasade, Kaitlin Balasaygun, John Boyle, Josh Caggiano, Emile Eeckhout, Danny Gurniak, Luka Marjanovic, Maya Peacock, Janea Tozer-Murphy and Juliana Venezio. Four hail from Central and South Jersey—Balasaygun from Freehold, Boyle and Peacock from Marlton, and Tozer-Murphy from Cape May—and two others are from overseas–Eeckhout from Belgium, and Marjanovic from Bosnia and Herzegovina.
"The 10 students we chose—their stories, the areas they represent, their lived experiences—they really represent the diversity of Ramapo College," Romano says.
Babasade, Balasaygun, Caggiano and Eeckhurt are also student-athletes, balancing top grades with commitment to their respective sports.
"When I heard that we had four of our amazing athletes who were selected, I was so excited for them," Rachel L. Pinton, Ramapo's assistant director of athletics for communications, marketing and branding, says. "I thought they chose well-rounded athletes to represent Ramapo from the academic side and the athletic side."
As an NCAA Division III school, Ramapo athletes do not get scholarships.
"It's all about the love of the game," Pinton, who played soccer at Ramapo before graduating in 2001, says. "They practice every day, they have games multiple times during the week, they have to juggle their academic schedule and studies. They definitely have to be dedicated so they can be 100% across the board."
One of those athletes will share what it's like to be a Roadrunner and play a sport at Ramapo on The College Tour. Many of the other students will focus on the curriculum or speak about their respective majors—computer science and economics, elementary education and theater.
The College Tour provided a framework for topics, but once a student received their assigned subject, it was up to them to decide what to say.
"In the world of admissions, the best recruiter and the best way for a prospective student to figure out the right college for them is to see it through the eyes of another student," Romano says. "To see that kind of authenticity, I think, really cements it."
This concept of hearing about college exclusively from current students has helped put The College Tour on the map. According to Boylan, the program's team receives thanks daily from high school teachers and counselors, "and that means a lot," he says.
"There is something special about working with higher education and students," Boylan adds. "We truly feel like this show has purpose and we work very hard to make sure every episode is authentic, compelling and drives young people to go to college."
Once Ramapo's episode is finalized, it will go to the college first for premiere viewings and a chance to share it with the community. It then launches on TheCollegeTour.com, The College Tour app (available for Android and Amazon devices), and The College Tour streaming channel. Finally, the season will launch on Amazon Prime, TUBI and other premium streaming channels. Keep an eye out for the Ramapo College episode on these websites and channels this fall.
Ramapo has also posted a bonus "Ask Admissions" video featuring Romano and Boylan on its website, https://www.ramapo.edu/the-college-tour/, which is also shared via The College Tour's social channels.
Romano hopes the very special episode shows prospective students around New Jersey, the United States and the world that Ramapo College is where they want to be.
"Obviously the hope is that the secret is out," Romano says. "I always say at Ramapo we love being the best. The 'kept secret' part is what we want to change."
Ramapo College of New Jersey
505 Ramapo Valley Road
Mahwah
(201) 684-7500 | Ramapo.edu
Published (and copyrighted) in Suburban Family Magazine, Volume 13, Issue 3.
For more info on Suburban Family Magazine, click here.
For information about advertising in Suburban Family Magazine, click here.
To find out where to pick up your copy of Suburban Family Magazine, click here.