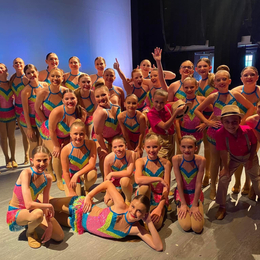 All the Right Moves
Steeped in tradition and family values, Mulford Dance Studio builds lasting connections through artistic expression.
It was 1953 when Nancy Mulford first opened a small dance studio in the heart of South Jersey, offering ballet and tap lessons for area children.
Seven decades later, the Mulford Dance Studio, located on the Black Horse Pike in Mount Ephraim, has continued to grow and thrive, adding many forms of dance and seeing thousands of area children walk through its doors—some going on to professional dance careers.
"There is such a family feeling here, yet with professionalism," says Nancy's daughter, Kim Mulford Farmer, now the owner and artistic director of the Mulford Dance Company. "We want to give our students a professional experience. Our teachers are all professionally trained and complete continuing education classes regularly."
Mulford Dance Studio specializes in educating students of all ages from beginner to pre-professional level. The studio offers a variety of classes including Creative Dance, Ballet, Pointe, Hip-Hop, Jazz, Tap, Polynesian, Contemporary and Gymnastics/Tumbling. The studio has also partnered with Standing Ovation Theater Company to offer a musical theater program. There are both recital and non-recital track classes available.
The studio also offers a full schedule for adults, including ballet, jazz and hip hop, as well as the High Steppers, a group of older women who perform tap routines, in addition to the popular Barre Above, a ballet workout class, now with two certified teachers.
Going Beyond the Recital
Mulford Dance Studio is well known in the South Jersey and Philadelphia area performing in parades, shows and competitions all over the region. Students have gone on to dance with the Philadelphia Eagles, 76ers, Soul and Kixx, the Koresh Youth Dance Ensemble in Philadelphia, the Russian Ballet Theatre, Disney, Sesame Place and the Widener Dance Team.
Mulford has also served as associate choreographer for the annual Philadelphia Thanksgiving Day Parade since 1994, as well as choreographer for the Mummers Fancy Brigade and String Band through 2019.
"Our students perform in the Thanksgiving Day Parade every year," Mulford Farmer says. "We have also participated in the Cherry Blossom Parade in Washington, D.C. So our students get many performance opportunities outside the recital stage. We try to provide that as much as we can."
Dance as Sport, Art
Dance can offer many things for everyone from toddlers to older adults, Mulford Farmer says. The art of dance goes beyond athleticism, requiring artistic expression and building confidence.
"I love to hear 'dance is a sport.' That's great, and it is," Mulford Farmer says. "Dance requires skill, physical ability and being competitive, too. We do participate in competitions each year, and that part of it is good; it teaches students to push themselves. But for me, first and foremost, dance is an art. It is a way of expressing your inner thoughts and feelings. The beauty of it and the way you can tell a story, or not tell a story—it can all be abstract. That is how I experienced dance growing up."
For young students especially, just walking into a dance studio alone can be a challenging step forward, Mulford Farmer says. The studio offers a dance class called "All by Myself" for children ages 2 to 3, offering the youngest students their first opportunity to learn dance steps on their own.
"Our dance teachers embrace each child's different qualities and allow those differences to shine," Mulford Farmer says. "When children feel comfortable and have awareness of their body, their confidence and self-esteem in other areas will bloom. Music is a big part of the class which inspires creativity and that builds confidence."
For older students, there are continuing opportunities to learn and grow. The studio offers multiple themed camps in the summer and on select Saturdays throughout the year, as well as multi-week dance intensives for children ages 7 to 18 with outside professional teachers.
"New this year, we started the Leadership Academy," Mulford Farmer says. "This offers an opportunity for students at the studio ages 10 to 18 to help at different events held at the school, like open houses or assisting younger students."
Mulford Dance Studio is also partnering with the nonprofit Luke's Place in Audubon, an agency offering programs and services to the special needs communities in South Jersey.
"They danced at the studio this past year, taking hip-hop classes every other week," Mulford Farmer says. "We are really proud to offer that."
Celebrating a Legacy
As the studio marks seven decades of serving students in the South Jersey region, Mulford Farmer and her staff plan to celebrate.
"We want to make this a really special year," she says. "For next year's recital, we hope to bring some alumni back."
Some days running a dance studio can be hectic, Mulford Farmer admits. But she is reminded often of why she continues her mother's legacy.
"Even when things feel so hectic with the day to day of running the studio, you'll be standing in the lobby and it hits you," she says. "A little one will say something to you, or you see two young students together talking about a dance step, or a young student is thrilled to learn something new. You see that little light bulb turn on, and you think, 'That is why I'm here.' It's so special."
Mulford Dance Studio
Mount Ephraim
(856) 931-1830
MulfordDance.com
Published (and copyrighted) in Suburban Family Magazine, Volume 13, Issue 3.
For more info on Suburban Family Magazine, click here.
For information about advertising in Suburban Family Magazine, click here.
To find out where to pick up your copy of Suburban Family Magazine, click here.