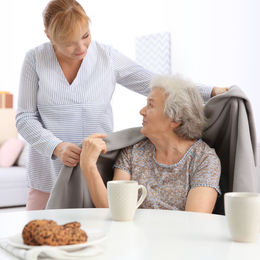 Helping Hands
Becoming a caregiver for your aging loved ones can be stressful, but there's plenty of help available to guide you through the process.
For many people, there will come a point in their life when they are not only working hard to support and care for their children, but also their aging loved ones. And because there's no clear roadmap to becoming a caregiver, as everyone's situation and needs are different, those thrust into the role often find themselves filled with heightened uncertainty and anxiety.
And it's common for caregivers to experience immense pressure along with feelings of guilt that they are maybe not doing enough or neglecting other responsibilities as they become more singularly focused.
Suburban Family spoke with several area experts to gain a clearer picture on the stress that can befall the sandwich generation and found out that while it's easy to become overwhelmed by the responsibilities of caring for your aging loved ones, there is plenty of ways to help one navigate the situation and assure all parties can continue to live fulfilling lives.
A Place to Call Home
When it comes to our aging loved ones, many of them have spent a lifetime in the houses they helped turn into homes. They feel comfortable in their surroundings, they know where to access everything and there's a great sentimental attachment.
But, there may come a time when a change is needed. Perhaps a parent has reached an age where living alone causes great worry for their children who are constantly wondering about their well-being. Or their health care needs are as such that they require routine attention and assistance. Maybe they can no longer drive to the supermarket for groceries or to their regular appointments. In this case, an in-home caregiver can provide much-needed support to help with any number of needs and situations.
But before you entrust a total stranger with the responsibility of caring for your family member, you should do lots of research and ask plenty of questions, according to Debbie Grady, owner of Homewatch CareGivers of Haddon Township.
"One of the things we find all the time is that people don't want to leave their home, they want to stay where they are. And we absolutely recognize one of the hardest things to do is to let someone in their home and to trust them," she says.
As a result, Grady advises making sure those shopping for an in-home caregiving agency make sure they are licensed by the state, have proper insurance and are fully accredited at the very minimum. At Homewatch Caregivers, they also conduct a 50-state background check on all caregivers and do so on a yearly basis.
"Without good caregivers, we are nothing, so we want to make sure we are sending the best people. … We are not going to send anyone into your house that we wouldn't send to our own mother's house," Grady adds.
For those times when remaining in one's home is not viable, there are a number of other places for them to enjoy their golden years. Senior living and continuing care retirement communities (CRCC) are two options that allow for the elder generation to enjoy many of the freedoms of home life with added amenities and plenty of activities to keep them engaged and enthused.
Samantha Lawrence serves as regional director of operations for Brightview Senior Living Communities which has three locations in South Jersey, including Marlton, Mount Laurel and Woodbury. She says once a loved one moves into a senior living community, your relationship with them is less strained and becomes more familial once again.
"Once the stress of cooking, cleaning and physically caring for your loved one is lifted from your shoulders, your visits become about going for a walk, sharing a meal, joining an activity, etc. While you'll always be a valued partner in their care, giving the heavy lifting to the team at one of our communities brings laughter, hugs and making memories back to the forefront," says Lawrence.
And the social aspect of being surrounded with other seniors has shown to quite beneficial, especially for those who may have lost a spouse or don't have many family members nearby.
"Surrounding oneself with peers during this chapter of life can be exceptionally powerful," Lawrence says. "Through attending meals and activities with others, this truly stimulates conversation and exceptional support as each individual processes the challenges and successes that the senior years can tend to present."
Debbie Tedesco, director of admissions and outreach with Acts Retirement-Life Communities, feels similarly. "Studies have shown that having friends and being socially active are keys to a longer, healthier life," she says.
The Evergreens, a CCRC located in Moorestown and one of Act's campuses, offers its residents a wide range of clubs and activities. Tedesco says that while some may have pre-conceived notions about living in such a community and worried that they'd be shut off from society or lose their independence, the fact is nothing could be further from the truth.
"Residents often say I wish I had done this sooner," Tedesco says. "It provides a safe environment and peace of mind knowing that all levels of care are provided for a predictable monthly fee for the rest of their life."
Tedesco adds that the Acts' communities are looking a lot more at health and well-being and having residents create the life they want.
"A CCRC is not an institution, it's their home," she says. "Some people still work and some drive, and they can share an active lifestyle with others. The times are changing, and baby boomers are more active and we are changing along with them."
Focus on Health Care
Thanks to advancements in modern medicine and the cutting-edge treatments now available, the average life expectancy has increased. But as the older population grows, so does the need to care for them, which can add to the stressors of being a primary caregiver.
According to statistics provided by the Centers for Disease Control and Prevention, more than 20% of New Jersey residents age 45 and older have reported to being a caregiver for a friend or family member. In an attempt to keep their loved one's best interests at heart, their input is vital in everything from choosing the right health care providers to assessing the best individual treatment options.
Premier Surgical Network's Dr. James H. Frost says he makes it a point to include caregivers in all treatment discussions because it is "so important" for them to know what kind of familial support is available.
"When we have, say, an older woman who comes in with her daughter, I make sure the daughter is involved in all discussions of the patient's care," Frost says. "You have two pairs of ears hearing everything, which is very useful, especially with older patients."
This is also why the doctor gives his cell phone number to his patients. If an older patient goes home and doesn't remember all of the details of their consultation, family members can call Frost directly for more information.
"Right away that family can make a group phone call. Everybody can listen in, and it becomes a much easier thing, not only for the patient, but for the family and me to just go over everything and cover the bases. That way we have a plan and we can go forward."
Financially Speaking
From a financial perspective, it's imperative to have a team in place that can help manage and guide caregivers through the process of making sure goals are clearly defined and routinely being met.
"I think it's really important to have a team in place, it takes a lot off your plate. When you are thinking about caregiving in any situation, you have a medical team, but it's also important to have a financial team in place as well," says Kelli Brack, a financial advisor with Edward Jones in Marlton.
Brack often partners with CPAs, attorneys, mortgage consultants and other professionals to collaboratively help families. "If you have a strategy in place, that's a huge relief and something you, your spouse and your children don't have to think about."
And while Brack can review documents to make sure they are up to date, research trust options and provide other assistance to help one get a clearer picture of their financial situation and set the best path forward, she says it all starts with family members having a frank discussion about how they'd like their end-of-life care to be managed.
"This may be one of the last things you can do to show your loved ones that you really love them and take stress off their plate," Brack says. "If you receive a devastating medical diagnosis, for instance, the last thing you want them to worry about is how they are going to pay for it, what's going to happen to your estate, who's going to get what.
"Having these kinds of conversations aren't always comfortable, but it's never 'too early' to have them. Unfortunately, there is a time when it's 'too late.'"
Published (and copyrighted) in Suburban Family Magazine, Volume 13, Issue 2.
For more info on Suburban Family Magazine, click here.
For information about advertising in Suburban Family Magazine, click here.
To find out where to pick up your copy of Suburban Family Magazine, click here.