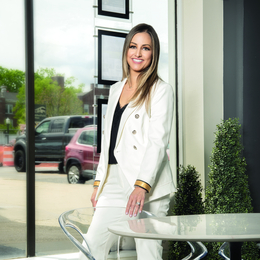 Right Where She Belongs
Liz Rocco is proud to be operating her own business, AM Realty Advisors, in her hometown and continuing a family tradition of entrepreneurship.
When Liz Rocco first decided to pursue a career in real estate more than a decade ago, there were many qualities about the profession that appealed to her. While she appreciated the flexibility it offered and the exciting and unpredictable nature of the industry, there was one draw that really sealed the deal: The opportunity to build meaningful, lasting relationships with people who would be depending on her during one of the most important times of their lives.
Now, all these years later, her long history of successful transactions and grateful clients has proven that she made the right choice, and it's no wonder that her referral base continues to grow.
"All of my clients end up being a friend," she says. "They're not just another number for me, and I'm not a pushy salesperson. I want people to find a home that they love, and if it takes them a year to find a house, that's just fine. I'm not out there for the money—I'm out there to make good relationships and to make everyone happy."
Early on, Liz honed that approach while working for a well-known firm in a corporate setting. But in 2015, she and her husband Joe—a real estate attorney who also has his realtor's license—fulfilled a longtime dream and started their own company, AM Realty Advisors. The name was inspired by their two children, daughter Annabella and son Marco.
Originally focused on commercial real estate in Pennsylvania near Joe's law firm, the company expanded to their hometown of Haddonfield in 2019, when Liz left her previous job and dedicated herself to growing the family business while continuing to provide the highest level of service to her clients. Not surprisingly, AM Realty Advisors has flourished, building on the success stories that both Liz and her husband were exposed to at a young age.
"Being a business owner is where I feel I really thrive the most," she says. "I come from a family of entrepreneurs and we all own businesses. I like being the leader and running a company. I feel like I fit here doing this better than I did when I was just an agent at a bigger brokerage.
"My husband has the same background with entrepreneurs on his side of the family. That's why we decided to run a business and we weren't afraid of it. He grew up that way and I grew up that way, so we dove right into it."
The Haddonfield location started with just three agents in a small office on Kings Highway, but has since expanded to about 20 agents and took over additional space downstairs, which they recently renovated. The couple opened a third office this year in Lavallette at the Jersey Shore, where they spend much of their summers.
With an eclectic mix of seasoned agents and fresh faces, along with three attorneys and a paralegal on staff, the entire team has bought into the philosophy shared by Liz and Joe.
"We're a small brokerage, we're family-owned and we're always available," she says. "You can call Joe or I anytime with any questions, weekends and nights included. Everybody has a different real estate background, and that's why we included advisors in the name of the company, because we're a team and you can ask any one of us for advice in a certain area."
Liz loves that she can still be a wife and a mother to her two children while running the business, and a typical day might include getting her kids ready for school, a few hours of work in the office, scouting out local neighborhoods and bringing buyers to showings. She focuses more on her own business in Haddonfield, where her knowledge and connections are a benefit to clients, but the company has agents working all over South Jersey.
The turbulent market of the past two years has made her busier—and more important to her clients—than ever.
"You have to have that experience, because there are so many things that get thrown at you and you have to be able to move fast," she says. "If you're taking buyers around, you can't wait a week to decide. You have to know all the different angles and the ways to get yourself under contract and to finally get to the closing table. I've been through a lot of different scenarios, and of course there are always new ones that pop up. But we figure it out and get through it."
Real estate is never easy to predict but Liz envisions that in five years, AM Realty Advisors will still be going strong in Haddonfield with its personal approach, and the company's presence at the Shore expanding. No matter how the markets are faring, she will continue to be the guiding hand her clients need.
"People are always going to be buying and selling," she says. "The market is always changing, the world is always changing, and you have to evolve with what's going on. It keeps you on your toes."
AM Realty Advisors
6 Kings Highway E. | Haddonfield
(609) 933-7420
AMRealtyAdvisors.com
Photography by Gary Mattie
Published (and copyrighted) in Suburban Family Magazine, Volume 13, Issue 1.
For more info on Suburban Family Magazine, click here.
For information about advertising in Suburban Family Magazine, click here.
To find out where to pick up your copy of Suburban Family Magazine, click here.