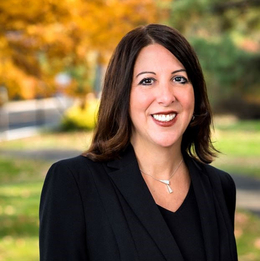 A Strong Advocate
As a dedicated family law attorney, Kathleen P. Stockton offers clients more than just legal representation.
When it comes to family law matters, Kathleen P. Stockton understands that experience and compassion go hand-in-hand.
Stockton, the founder of Stockton Family Law, LLC, has walked countless clients through matters ranging from divorce, alimony, pre-nuptial agreements and domestic violence to child support, adoption or custody issues. She has been a family law practitioner in New Jersey since 1999 and has handled countless family matters in the South Jersey area.
"Family law is so important," Stockton says. "Divorce can be a trying time for people. People count on me to help them navigate through an exceedingly challenging time. It takes compassion and energy. I just love that challenge. The issues in some cases may be similar, but every case is different."
After graduating law school, Stockton served as a judicial law clerk to the Hon. Lee B. Laskin before joining a law practice where she eventually became a partner of the firm. Stockton is one of a select few attorneys designated by the Supreme Court of New Jersey as a certified matrimonial law attorney.
After founding her own firm in Moorestown, Stockton prided herself on learning as much as she can about her clients, their background and experience. She has handled numerous complex divorce matters involving multimillion dollar business interests. In a considerable number of trials where custody was the primary issue litigated, Stockton successfully obtained an order awarding primary physical custody for her clients. She has also been successful in upholding domestic violence final restraining orders at the appellate division level, continuing the protections afforded to her clients under the New Jersey Prevention of the Domestic Violence Act.
She has assisted hundreds of clients in reaching fair and equitable settlement agreements, avoiding the costs of lengthy and expensive litigation.
"Any way I can help them, I do," says Stockton, who also provides legal advice and representation for domestic violence victims who are unable to afford counsel. "It gives me such a sense of satisfaction that I am helping people and putting them on a springboard, onto that next step in life."
Family law also requires flexibility, Stockton says—something she learned firsthand as the COVID-19 pandemic upended the way cases were mediated and litigated.
"Initially, I had worries," Stockton says, reflecting on the early days of the pandemic. "In addition to changing the way we do things, the pandemic also highlighted the stressors for some relationships, making for more challenging cases. We have been able to adjust. I give credit to the judges, court staff and the attorneys who helped make it all work so client issues were still addressed. Today, our business is now a combination of in-person and virtual, meeting clients where they are. Some things that are positive came out of this for family law."
Stockton, who also has a background in psychology, brings her personal experience to her work.
"Family law takes patience and creativity," Stockton says. "It is challenging and rewarding to listen to problems and produce solutions. The goal is always to resolve. As a mother and a stepparent, myself, I bring those experiences to the table. I understand the experiences of blended family."
Family law matters can also involve intense emotions. Stockton also works to help clients through the most challenging moments, navigating any concerns about the unknown.
"Clients sometimes come to us with a lot of fears," Stockton says. "This is a challenging time and they may not know what to expect. For us, there is no problem too big. I assure people they may not know the path, but they will come out OK on the other side. I try make the process as easy as possible. But I am also ready to fight when its needed."
New clients can expect a friendly and experienced staff who will address any concerns, Stockton says.
"Our staff is so experienced," she says. "They are compassionate and comforting, answering any questions they have. Family law is not just divorce, and we are there to help. My clients know they can reach me anytime."
Stockton's professional background and record of success are a testament to her tenacity and ability to resolve even the most complex and high-conflict cases peacefully and efficiently.
"That new client experience is always one where we want them to feel comfortable," Stockton said. "I grew up in a blue-collar household; I can relate to clients from all walks of life. We treat everyone with respect, always. Divorce can be such an overwhelming time. We make sure clients know they can always follow up with questions. We are always there to answer any concerns. A client will always know what the next steps are."
Stockton Family Law
704 E. Main St. | Moorestown
(856) 412-5052
StocktonFamilyLaw.com
Published (and copyrighted) in Suburban Family Magazine, Volume 13, Issue 1.
For more info on Suburban Family Magazine, click here.
For information about advertising in Suburban Family Magazine, click here.
To find out where to pick up your copy of Suburban Family Magazine, click here.