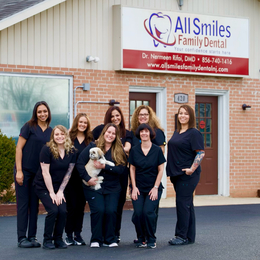 A Reason to Smile
At All Smiles Family Dental, Dr. Nermeen Rifai uses a straightforward and sophisticated approach that leaves patients flashing their teeth.
As a dental professional, Dr. Nermeen Rifai is well aware of the stigma attached to her profession and that, unfortunately, many folks still associate a trip to the dentist with a painful experience. But helping put anxious patients at ease is something that Dr. Rifai prides herself on, and she's had great success in helping them overcome their trepidations by listening intently to their concerns and then thoroughly explaining the best approach for treatment.
"With anxious patients, you need to sit and talk to them and find out what their history is. Obviously, there was an event that happened previously that made them feel [this way]," she says.
That welcoming atmosphere is evident to anyone who walks through the doors at All Smiles Family Dental, where Dr. Rifai and her staff work diligently to provide a highly personalized level of care that extends beyond the typical doctor-patient relationship. It's an aspect of the job that Dr. Rifai finds extremely rewarding.
"Forming a personal relationship [with a patient] is very important because they don't tend to see you as a doctor, they see you as one of them. I don't even wear a white coat because some people then see you as the 'dentist' and automatically think you are going to hurt them. I'm very down to earth and one of them, basically. The No. 1 thing that keeps them coming back is that relationship they have with you," she says.
And no matter what dental issues one may be faced with, All Smiles Family Dental offers an array of services to help improve one's smile, whether that entails repairing a single tooth, full-mouth reconstruction or anything in between.
"People come in and say 'I'm really upset with my smile, I don't know what's wrong, I don't know what to do with it,'" Dr. Rifai says. "There could be a variety of options. It could be a slight adjustment where we level out their gum margins or maybe they need a few white fillings to fix a slight defect they are not aware of. Or we could do crowns, implants, dentures … a lot of times people feel like the situation is a lot worse than it actually is, so they just keep putting off going to the dentist when, in reality, it could just be a very easy fix."
Unfortunately, the pandemic caused many folks to further delay visiting their dentist. That's problematic not only for their dental health, but also their health overall, as poor dental hygiene can lead to other major issues, like an increased risk of developing heart disease. By procrastinating, patients are prone to extra buildup of calculus and plaque around their teeth and gum tissue, which can be extremely detrimental.
"As they're eating, these deposits get into their body and bloodstream … you don't necessarily have to have a weakened immunity, but anything can get dislodged into your bloodstream, leading to a clot or inflammation of the heart," says Dr. Rifai.
In addition to the various dental care treatments available at All Smiles Family Dental, patients will also find several cosmetic services that can further help brighten their smile and boost their self-confidence. For instance, the practice's highly effective whitening system produces noticeable results, especially when compared to the over-the-counter options you'd find at your local pharmacy.
"We have a pretty intense whitening system, and depending on what's going on with a patient's teeth, a patient will usually see results that are 10-16 shades lighter. It makes a huge difference because they can automatically see the brightness when they are talking and smiling," Dr. Rifai says. "The self-kits, if you are lucky, you'd see 1-2 shades lighter, if that. With ours, you are getting a dramatic result; you're talking yellow teeth to bright-white teeth."
Additionally, as a member of the American Academy of Facial Esthetics, Dr. Rifai also offers a series of cosmetic treatments ranging from Botox and dermal fillers to lifting threads and non-surgical rhinoplasty. It's all part of the All Smiles Family Dental's commitment to help patients put their best face forward.
Of course, it all starts with proper dental health, and that's why Dr. Rifai strongly encourages regular visits to the dentist to ensure that potentially small issues don't become major concerns that require extensive repair.
"There's a domino effect; one thing happens to one tooth and the tooth right next door gets affected. The longer you leave the problem untreated, the more it spreads," she says. "It's important to maintain proper hygiene and regular dental visits in order to make sure everything is stable because the entryway to your body is through your mouth."
All Smiles Family Dental
420 N. Black Horse Pike
Williamstown
(856) 740-1416
AllSmilesFamilyDentalNJ.com
Published (and copyrighted) in Suburban Family Magazine, Volume 13, Issue 1.
For more info on Suburban Family Magazine, click here.
For information about advertising in Suburban Family Magazine, click here.
To find out where to pick up your copy of Suburban Family Magazine, click here.