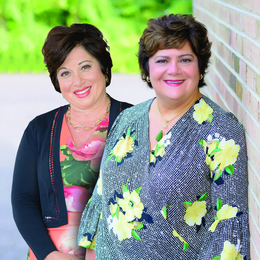 Mediating High-Net-Worth Divorces
While no two divorces are alike, a separation between two wealthy individuals is a little more complicated—but the experts at Advanced Mediation Solutions are here to help both parties get their fair share.
Each divorce is as unique and complex as the couple dissolving their marriage, their reasons for doing so and their individual circumstances.
The complicated finances of a high-net-worth couple seeking to end their union can further muddle an already tricky situation, requiring not only a personalized solution but also the experience—and empathy—of a seasoned professional mediator guiding both parties toward an equally satisfying resolution.
Advanced Mediation Solutions' co-owners Carmela DeNicola and Roseann Vanella are among New Jersey's few professional mediators offering their services full-time. They've noticed that mediation has become an increasingly attractive option, especially for those with complex financial situations looking to tidily uncouple without putting their families and finances through the ringer. Rather than prolonging the inevitable end with costly, contentious litigation, mediation's flexibility and capacity for customization often yields a mutually favorable outcome in about six months, on average.
"In a case where each party would hire their own attorneys and then litigate ... the whole atmosphere is not collaborative, especially in these cases where there are enough funds and assets that could drag this out for years and years and years, and then it's more about one person trying to deplete the other," says Vanella. "In the case of mediation, we're working with both of them to figure out the best possible solution while still preserving their wealth or their businesses, in a fraction of the time and cost that typically these parties would go through when they litigate."
To ensure that two parties can pursue a divorce cooperatively and on equal footing, it's especially important to establish what DeNicola and Vanella call a "balance of knowledge" in their mediations so each party can make fully informed decisions about the future.
"Because both participants are involved in the decision-making process, we do a lot of work to make sure both parties are well-educated because, usually in these circumstances, somebody is intimately involved with all the financial ins and outs, and the other person is a little bit less—or a lot less—knowledgeable," DeNicola explains. "That is often a roadblock to moving a divorce forward. It's a reason why a lot of people lawyer up, because there isn't trust, and it's really because they're not informed about the finances."
Working with Advanced Mediation Solutions means that high-net-worth divorces are approached from a level playing field, never moving ahead in the process "until we feel that both parties are educated and understanding," according to Vanella. But collaboration doesn't stop with clients: She and DeNicola tap into the wisdom of outside experts, like business valuators or financial professionals, to knowledgably navigate complexities such as a shared business, insurance and health-care costs, inheritances, trusts and even overseas assets without showing a bias toward either party.
"We'll involve a neutral third-party expert who is highly experienced in issues that relate to business owners and high-net-worth individuals," she continues. "An example is, we will go through and figure out how to structure an agreement that will best benefit them for tax purposes, for preserving their assets and their wealth."
One of those neutral financial experts and collaborator Stacey Udell, principal with HBK CPA/Business Valuation, says that "working with a joint financial expert allows the parties to get to a resolution quicker because there aren't competing objectives, saving time and money."
High-net-worth separations come with different lifestyle factors, assets, income sources and other thorny details that merit a closer look and additional outside insight. As an additional benefit of choosing mediation is that it doesn't preclude either party from seeking additional counsel, clients have even more options in the decision-making that guides the outcome of their divorce.
By endeavoring to understand where each client is coming from and how they view their future—as well as emphasizing that a divorcing couple doesn't have to be forcibly friendly through the mediation process as long as they're committed to an outcome that works for them both—DeNicola and Vanella have seen mediation's success play out time and again with all kinds of clients.
"There's no scenario where a couple with complex finances and high-net-worth could not mediate," says Vanella. "They just have to be willing to do it and be open and transparent."
DeNicola and Vanella each have extensive corporate experience predating their time at Advanced Mediation Solutions and both have been divorced, too, making them uniquely sensitive to and adept at handling wealthy couples' divorces.
"We always strive for each party being satisfied at the end of the mediation, and not having this sense of win-lose—nobody's going to be exuberant, but they're both satisfied with the outcome," Vanella notes. "That is what allows individuals to move on with their lives after divorce."
DeNicola agrees, adding that the proof is in how, even after living through something as disruptive and difficult as a divorce, Advanced Mediation Solutions' clients leave genuinely positive feedback. "I think what speaks directly to that is, if you look at our Google reviews, you can see that they actually are satisfied with the outcome and the results."
Advanced Mediation Solutions
75 N. Haddon Ave., Haddonfield
(856) 669-7172
AdvancedMediationSolutions.net
Published (and copyrighted) in Suburban Family Magazine, Volume 13, Issue 1.
For more info on Suburban Family Magazine, click here.
For information about advertising in Suburban Family Magazine, click here.
To find out where to pick up your copy of Suburban Family Magazine, click here.