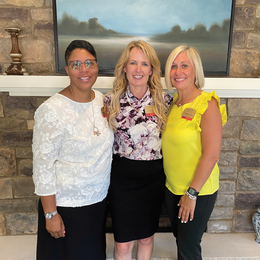 The Female Influence at Brightview Senior Living
Your loved ones are in good hands with these women at the helm.
With various locations around South Jersey, Brightview Senior Living cares for hundreds of aging residents in a compassionate community while employing dedicated associates in an award-winning environment. The combination of providing a safe home for loved ones and rewarding workplace for associates has earned Brightview Senior Living accolades from Fortune, including being named No. 1 in "Best Workplaces for Aging Services" for two years in a row, and one of Fortune 100's Top Companies to Work For—the only assisted living provider on the list.
These recognitions don't come as a surprise to anyone who has explored a Brightview community, but the credit goes to the qualified people behind the scenes who strive every day to raise the bar on care for our aging family members. One of the many things these communities have in common is the female leadership steering the ship. Suburban Family spoke with the regional director of operations and each local community's executive director to find out about their commitment to their career and why Brightview is such a special place to live and work.
Samantha Lawrence
Regional Director of Operations for Brightview Senior Living
Experience in industry: 21 years in senior living; 6 years with Brightview
Job responsibilities: I oversee eight Brightview communities in New Jersey (Paramus, Tenafly, Wayne, Randolph, Warren, Mount Laurel, Woodbury Lake and Greentree [Marlton]). I support the communities' efforts in resident and associate satisfaction/engagement, work with our regional director of sales to develop customer-oriented and strategic personal visit processes and marketing efforts, and guide the overall financial and operational performances of each community. I also have a large role in succession planning and associate development, connecting with professional partners where a relationship will be mutually beneficial and ensuring that we are responsive to the feedback we receive from our residents, families and associates.
On the Fortune 100 Recognition: I am so proud that at Brightview, it is very clear that everyone has a voice, that work/life balance is practiced and not just preached, and that diversity overall is at the forefront of all conversations. As women, we often feel pulled to have multiple priorities, between work, family and commitments outside of work, and it is not just normative to share the importance of each of those aspects of our lives within the workplace, but it is encouraged and celebrated to do so. We have inspiring and strong women in several higher leadership positions, including our CEO Marilynn Duker, and this representation allows for balanced thought at the top and it trickles down to benefit all associates.
Making a difference: It is so important to me that all of our residents feel that Brightview is truly their home where they are fortunate to spend the next chapter of their lives and that they receive exceptional care and service. Additionally, they and their families have placed an immense amount of trust in our people and product, and that is not a responsibility I take lightly. It is essential that each leader in the communities for which I am responsible partners with me and shares that vision and value to ensure a vibrant, positive and well-executed resident experience. Equally as important, I feel a tremendous responsibility to ensure our communities are great places to work. If our associates do not feel engaged, purposeful and invigorated by their work, the aforementioned goal to make sure our communities are great places to live becomes impossible. Ensuring the community leaders feel heard, feel their on-site ownership is respected and celebrated and that they have what they need to do their jobs successfully, our front-line associates will feel the same, and the rewards come tenfold!
Lavanda Clinkscales
Executive Director, Brightview Mount Laurel
Why she's in this field: [It's because of] my grandmother. She was suffering from a terminal illness and I became part of her caregiver team. During this process I knew that my purpose was taking care of the senior population, which gave me so much joy, helping them in all aspects of the next journey of life. … I have been with Brightview for 12 years.
Working at Brightview: It's amazing! Brightview ensures all their associates are appreciated, have an opportunity for career development and that we have all the tools required to ensure our residents' needs are taken care of. They have shown us their dedication to people over profit.
Making a difference: The most important parts of my job include showing up for work every day, standing side by side with my team when needed, spending time with my residents just having a conversation or competing during an activity and ensuring I have the best possible relationship with my residents, associates and families because it will take all of us to ensure everyone is living their best vibrant life! [When I am] greeted as I walk into the community with smiles on everyone's face, that is the second paycheck everyone talks about and boy does it feel good!
What families should know: My entire management team is so hands-on and will do whatever it takes to ensure a safe, happy adjustment into our community not only for you but for your family also. The associates in our community have an average of 10 or more years of service, which speaks to our ability to achieve consistency of care for our residents.
Jennifer Steen
Executive Director, Brightview Greentree
Why she's in this field: I knew from a young age that I loved helping people (older people in particular) and when it was time to look into options for college my mom found gerontology as a major so I pursued my passion and I have been working in senior living since I graduated in 2002.
Working at Brightview: I have worked at Brightview for four years both here at Greentree and in our Woodbury community as executive director. Working at Brightview is amazing. We have wonderful support from our home office and regional team. Someone is always there to lend a helping hand. Brightview provides us with all the tools to get the job done and be able to care for our residents.
Making a difference: The most important part of my job is being visible and keeping the lines of communication open as well as timely. It's rewarding to have built a strong director team who are not only coworkers but friends and being a part of so many residents' extended families and hearing the stories from families about how Brightview changed their loved ones' lives for the better.
What families should know: We are one big family and we strive each day to make this a great place to live and work.
Tracy Gill
Executive Director, Woodbury Lake
Why she's in this field: I have a clinical background as a speech language pathologist and have spent the last 25 years focused on the care of seniors. My transition to senior living specifically was a progression of my career that allowed me to shift my focus from a medical environment to a vibrant home-like setting where I now see residents living wonderfully active and engaged lives.
Working at ­Bright­view: I've been with the company for 2 ½ years. I am so incredibly happy with my transition to Brightview because I truly feel valued and supported as a director. Brightview has offered so much support to its associates throughout the challenging times of 2020 and continues to seek out ways to further enhance the support and resources available to associates.
Making a difference: I believe it's important to build a culture within the community that always puts our residents first, ensuring our associates are well-trained on Brightview standards and expectations and supporting our directors on holding their associates to these standards. It's rewarding to know I make a difference in the lives of the residents here at Woodbury Lake. Our directors and associates alike are extended family for many of our residents. We make an impact through our words and actions—knowing all the residents by name, knowing their life stories, their likes and dislikes makes them feel loved, valued and appreciated. That's what it is all about.
What families should know: I encourage our potential families or residents to spend some time in our community, walk through the halls, sit through a meal or an activity program. It won't be long before they get a feel for the community. It's a feeling, a vibe, a culture that will set us apart from other communities.
Published (and copyrighted) in Suburban Family Magazine, Volume 13, Issue 1.
For more info on Suburban Family Magazine, click here.
For information about advertising in Suburban Family Magazine, click here.
To find out where to pick up your copy of Suburban Family Magazine, click here.