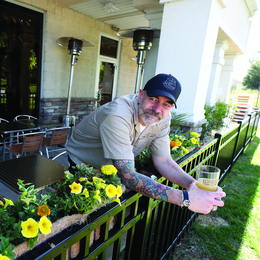 Beyond the Beer
At Swedesboro Brewing Company, quality craft brews and an inviting atmosphere are bringing people together.
In the 12 months since Swedesboro Brewing Company became the latest craft brewery to dot the South Jersey landscape, it has quickly established itself as a prime destination for not only lovers of great beer but also those who appreciate history, making new friends and swapping stories in a welcoming environment. One of the most frequent raconteurs, in fact, is none other than owner Marvin Bowe himself, a man of many interests whose ability to spin a yarn would make most Hollywood screenwriters envious. And one of his favorite tales is the origin of the brewery, a dream that he was first inspired to follow 14 years ago, somewhere between Palo Alto, California, and Chicago.
While helping a friend move halfway across the country, they decided to make a three-week adventure out of it and visit different small towns and as many craft breweries as they could find along the way. The trip turned out to be a game-changer for Bowe.
"By the time we got to Chicago, I had it in my head that someday I was going to own a brewery," he says. "I just fell in love with the owners and the way that they talked to their customers and showed you how beers were made. It piqued my creative interest, it satisfied my social needs and it gave me a whole lot of avenues to do all the things that I love to do. In 2019, I decided to finally pull the trigger."
Bowe put the wheels in motion and eventually overcame the challenges of the pandemic to launch Swedesboro Brewing Company in May 2021 to rave reviews. It was the culmination of a journey that started even before his trip out west, back to his days at Beaver College when he first learned about the fermentation process and began brewing his own beers in his dorm room.
Through the years, as Bowe became successful in the marketing and advertising realm, he continued to brew as a hobby and shared his creations with friends and family. He and his wife Michelle also love to entertain at their home—including a yearly "staycation" event in which they invite dozens of loved ones over for a week of delectable food and drink, fun activities and camping in the backyard—and that was exactly the vibe he was looking for at Swedesboro Brewing Company.
"When we built the brewery, it was real easy for me to understand what success looked like," he says. "All I had to do was duplicate 'staycation.' This is exactly the experience people would have if they came to our home."
Although Bowe is a beer enthusiast who enjoys everything from milkshake IPAs to the latest sours, his aim is not to cater to "beer snobs." Along with head brewer Cory McDonald, his goal is simply to create high-quality beer in all styles, and he believes those who are used to Budweiser or Miller will find something they love.
"When people come into the brewery and say they don't drink craft beer, I say, 'Good, because we don't make craft beer, we make good beer,'" he says. "I'll find them a beer that is similar to what they usually drink and I'll tell them why we think our beer is better. We're going to have something for everyone."
Although the craft brewery trend has exploded in recent years, Bowe is not worried about an oversaturated market. He believes the future of the industry is bright and that Swedesboro Brewing Company is positioned for long-term success.
Part of moving forward is being embraced by bars and restaurants, and they have already been well received by the thriving dining scene in Swedesboro. Bowe encourages those who love their beer to ask for it when dining out, and eventually their offerings will be available in more eateries and even canned for sale at liquor stores down the line.
For now, he is grateful to be doing so well in Swedesboro, a town with a remarkable past that he has called home for more than 10 years. Bowe is a history buff who enjoys finding out about the early stages of the area, and his brewery has embraced those tales, from the owner down to the staff.
In fact, a visit to Swedesboro Brewing Company may include a history lesson, a behind-the-scenes tour into the brewing process, a flight of beer with traditional favorites and bolder options, and a chance to meet local residents. No wonder it has taken off in a short period of time.
"If I was to put a number on it, I would probably say about 300-500 people come here on a routine basis and meet their friends," Bowe says. "There's quite a few groups of people who have met at the brewery and are now best friends—my wife and I included. We have met a lot of nice people who we go to dinner with and even go on vacation with, and we didn't know them 365 days ago. Swedesboro Brewing has enabled that."
Swedesboro Brewing Company
95 Woodstown Road, Swedesboro
(856) 975-5266
SwedesboroBrewing.com
Photography by Tim Hawk
Published (and copyrighted) in Suburban Family Magazine, Volume 13, Issue 1.
For more info on Suburban Family Magazine, click here.
For information about advertising in Suburban Family Magazine, click here.
To find out where to pick up your copy of Suburban Family Magazine, click here.