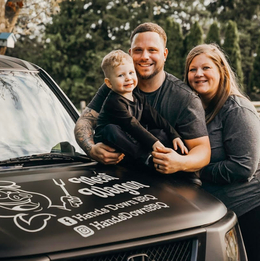 A Taste for Success
The husband-and-wife team behind Hands Down BBQ is serving up something special.
For the majority of the week, you are likely to find Vince Hand under the hood of a car working as a mechanic for a local auto dealership. But by Friday evening, you're bound to find him under the hood of his wood-fired barbecue smoker prepping ribs, brisket, chicken and more as he gets ready to take his food truck out on the road for a weekend of serving up mouthwatering plates to the masses.
Alongside his wife, Gianna, the couple are the owners and operators of Hands Down BBQ, a mobile extension of a catering business they started back in 2018 when they were renting out space inside a friend's pizza shop to fulfill their orders. Thanks to the overwhelmingly positive feedback they received about their food and as word of mouth began to spread, the Hands decided to venture into the food truck world a few short months later and haven't looked back since.
To say Hand is passionate about barbecue and the food he produces would be an understatement, but ironically enough that wasn't always the case. Turns out, his foray into becoming a respected pitmaster was total happenstance.
"I don't have any culinary training and I was never much of a cook before this," Hand admits. "One of the guys I work with [at the dealership] first taught me how to barbecue. The mechanics of the smoker, the fire box; it all intrigued me. It was an unexpected hobby that I picked up."
These days, Hand is fiercely dedicated to the craft. He prefers the "low and slow" method of cooking, often throwing his meats in the smoker over cherry wood for a minimum of 16 hours to achieve the texture and taste that puts his barbecue on par with those who compete on championship levels across the country. And in a true labor of love, he spent three years perfecting his signature dry rub and sauce and the results have been fully embraced by all those lucky enough to chow down on a plate of his pulled pork or loaded mac and cheese.
"We get a lot of good feedback. We'll have people coming back up to us at events and telling us that our food is the best barbecue they've had in the state," Hand says proudly.
Another way Hands Down BBQ looks to differentiate itself is by putting a strong emphasis on providing a personalized level of customer service.
"It definitely pays off," Hand says of the approach he takes with customers. "A lot of these people we encounter, you develop a relationship with them. … You help them plan a party and when it's done, you become friendly."
Of course, no business is without its challenges, especially during the course of the pandemic when so many smaller operations suffered tragic fates. Despite this, Hands Down BBQ was able to successfully pivot to a contactless delivery system and thrived as a result.
"About 80% of our following is local to Williamstown and the Franklinville areas. And so when we lost our catering jobs [because of COVID], we ended up launching a contactless delivery plan. We'd post available time slots for orders on Monday for that weekend, and by Tuesday, we'd be sold out. … We did this for a solid two months and if it wasn't for that approach, I don't think we would have continued to have the food truck," says Hand.
Now with the truck doing quite well, Hand says he doesn't see the future looking much different than it does now. He loves the crew he's hired to assist him and his wife and says while he could potentially see adding another food truck down the line, there's no plans to transition to a more permanent home. "A brick-and-mortar space is not something that interests us."
And while many barbecue purists may closely associate quality barbecue food with other states like Texas or North Carolina for instance, Hand has found it rewarding to open folks' eyes up to discover that the same high level of barbecue can be found right in their backyard here in South Jersey.
"We run into a lot of people who are into barbecue and they ask, 'Are you Memphis style? Texas? The Carolinas?'" Hand says. "I tell them, we are none of those; we are South Jersey. It's a little bit of everything."
Hands Down BBQ
(856) 942-1955
HandsDownBBQ.com
Published (and copyrighted) in Suburban Family Magazine, Volume 13, Issue 1.
For more info on Suburban Family Magazine, click here.
For information about advertising in Suburban Family Magazine, click here.
To find out where to pick up your copy of Suburban Family Magazine, click here.