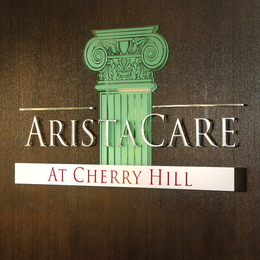 Second to None
AristaCare at Cherry Hill offers quality care in a patient-centered environment
The first thing you'll notice when you walk into an AristaCare facility isn't the décor. It's not the building itself, or the amenities that are offered.
Instead, the first thing you'll notice is the feeling you get of coming home. Of feeling welcome, and of being understood.
Though things like décor and amenities are important to the staff and administrators at AristaCare, which offers post-acute inpatient rehabilitation, memory care and long-term care services, what's more important is making sure every patient, every family member and every staff member feels like family. In fact, this is part of the center's quality experience, says Robert Greenberg, executive director.
"When people come to a building like AristaCare, what happens is—and it's understandable because we're a nursing home so it's a workplace hazard—is that you become so focused on the medicine that you forget to focus on the people," he says. "You forget to talk to the people, and really look at the soul of the people."
Since its inception over 20 years ago, AristaCare has been building on its vision to truly treat the patient by providing a care setting that is warm, luxurious and inviting, while attending to each patient's physical, spiritual and social needs.
This is evidenced particularly at AristaCare at Cherry Hill, where a unique program focused on patients of Indian heritage has been developed.
"A doctor from India approached my brother, [AristaCare Founder] Sidney, and said 'My population is underserved because people don't understand our culture and therefore, they cannot care for us,'" Greenberger explains. "He said, 'If this is your mission—to make people happy and address their cultural needs—we have one that needs to be addressed.'"
And so, an Indian temple for worship was built, 24-hour interpreters were put in place, and a new, vegetarian kitchen was developed. The program has grown beyond expectations, and representatives from other facilities have visited AristaCare to try and replicate it.
"That program has been so successful, not just from the business side of things, but from the human aspect," Greenberger says. "We've expanded it to other buildings and other companies have come to ask us to help get their programs up and running. It's such a valuable thing."
Attention to detail and listening to the concerns of everyone involved with AristiCare has led to the success of other programs and offerings, with strong multidisciplinary focus on prevention and treatment of cardiac disease, memory care and cognitive loss and re-hospitalization prevention, among others.
Greenberger notes AristaCare also was a leader in bringing telemedicine to New Jersey over 15 years ago, so patients could have access to doctors even when they were not in the building.
"What we focus on is identifying needs," he adds. "We find and identify the problems that may be happening in the buildings and use our expertise to fix it."
Addressing concerns is so important to AristaCare that each building has a director of quality experience, and patient concerns are reviewed daily.
"We're always trying to figure out what we can do better," Greenberger says. "We strive for 5. We want five out of five stars. If we have a four, we want to know what we can do better to make it a five."
While patient care is the priority, the recent renovations of AristaCare at Cherry Hill have made the patient experience there truly world class. With private rooms, updated interior, and a new café, the experience is truly like coming home.
"You can have the most beautiful amenities, but if you're not focusing on patient care, you're wasting your time," Greenberger says. "For example, others have tried the Indian program locally but it didn't succeed because it's not just about having Indian food. It's about the attention and care you give."
AristaCare at Cherry Hill
1399 Chapel Avenue
Cherry Hill
(856) 663-9009
AristaCare.com
Published (and copyrighted) in Suburban Family Magazine, Volume 13, Issue 1.
For more info on Suburban Family Magazine, click here.
For information about advertising in Suburban Family Magazine, click here.
To find out where to pick up your copy of Suburban Family Magazine, click here.