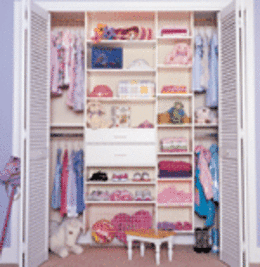 Skeletons in the Closet
Skeletons in the Closet
Organizing solutions that save time and money.
The foyer is clear. The kitchen and bath counters are neat. The bedrooms appear tidy. As long as no guests open a closet door, cabinet or drawer, you are a master of disguise. Closet, pantry and other room organizers are no longer a luxury. They're a necessity, whether you're a family of four or a newlywed couple.
Much of the recent renovation market has been driven by homeowners who, due to the weak housing market, have opted to upgrade their own homes rather than move elsewhere. Costs associated with organizing solutions can be viewed as an investment. "Organization is the foundation for each element of the home," says Kathy Geller, co-owner of Rooms in Bloom in Moorestown. "You cannot live in chaos."
Get a Head Start
A child's bedroom closet is generally a combination of hanging areas, shelves and drawers. Often, these closets may not be as large as those in an adult's room, so the use of two and three tiers of storage is common. In the winter, you can store summer T-shirts and the like on the higher shelves, then replace them with sweaters when the seasons and temperatures change.
"By designing the space in tiers, even the youngest kids can choose what they may like to wear, as well as pick up after themselves," says JoAnne Landis of Closet City in Montgomeryville, Pennsylvania.
Yet, kids are not the only ones with hectic schedules. Today, parents and businesspeople of any age are busier and busier. There is far less time to search out what to wear or find the belt to match your shoes.
"Whether it's for coats or a full wardrobe, an organized closet is an invaluable time-saver," says Bernadette Martinez, co-owner of Storage Creations in Hammonton.
One tool she recommends is a valet rod, a 12- to 14-inch retractable rod that can be installed at virtually any height so as not to interfere with hanging clothes. The valet rod is ideal for hanging a planned outfit for the morning or just-picked up dry cleaned clothing until you have time to put the pieces in their proper place. Such an organizing accessory is also great for laundry rooms and offices.
Other popular additions for bedroom closets include flat or slanted shoe racks, and hanging areas for ties and hooks for belts. "We have also been installing ironing boards within the closet," Martinez adds. "It is usually hidden in a vertical position and visible only when needed."
Beyond the Bedroom
A highly organized pantry can save time and money by letting you see what you need and what you don't as you make your shopping list. As in bedroom closets, tiered shelves are great for pantries. You can differentiate between frequently and infrequently used items, placing the latter on the higher shelves.
For families with young children, a similar use of tiers is also a matter of safety and health. Parents can place dangerous items, or foods that should not be easily accessible, out of kids' reach, while leaving kids access to preferred after-school or morning snacks.
The name "mudroom" speaks for itself in terms of maintaining a tidy home. This multi-person room is often filled with outerwear and other necessary junk.
Using a combination of bins, hooks and shelves, everyone and their respective items are kept in place.
The Closet Showcase "We have found many clients who are interested in transitioning extra rooms into full-fledged dressing areas," says Martinez. "It gives a whole new meaning to 'walk-in closets.'"
Such a boudoir can be designed in any style—ornate, old-fashioned, contemporary or rustic—whatever works best within the home. Many of these rooms incorporate columns and high-end hardware. To complement the showcase concept, glass doors may be used to encase the wardrobe.
"What was once hidden, the closet has become a home showcase," Landis says. "We have designed several that end up looking like a boutique!"
Published (and copyrighted) in Suburban Family, Volume 1, Issue 3 (May, 2010).
For more info on Suburban Family, click here.
For information about advertising in Suburban Family, click here.
To find out where to pick up your copy of Suburban Family, click here.