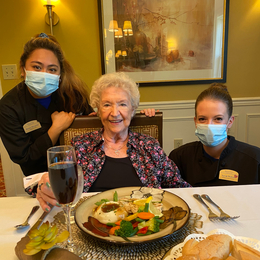 The Faces of Brightview
Surrounded by friends in a worry-free living community, Brightview Senior Living Woodbury Lake creates a welcoming atmosphere where residents can thrive.
It's not an easy decision for our loved ones to leave their home in which they've likely lived for decades. However, everyone involved wants to be able to feel completely confident that the right decision was made. That is exactly how residents and their families feel almost from the moment they enter Brightview Senior Living Woodbury Lake.
Brightview Senior Living is focused on keeping residents safe, inspired and entertained. With 45 communities across eight states, Brightview has been named the BEST Workplace for Aging Services by Fortune Magazine for two consecutive years. "When our associates start working here they see the culture and learn about our STARS values from the start: service, teamwork, action, reputation and success," says Tracy Gill, Woodbury Lake executive director. "When associates are engaged in their duties it translates to residents."
Right from the start new residents are greeted by a member of Brightview's hospitality committee. Prior to their arrival, time and effort is taken to learn the interests and hobbies of new residents, which helps ensure the transition to their new home is a smooth and welcoming one.
Gill knows the residents by name as well as their life stories, as do all of the Brightview associates. Imagine how loved, appreciated and accepted residents feel when everybody knows their name. "Potential families and residents are encouraged to spend some time in our community, walk through the halls and sit through a meal or an activity program," says Gill. "There's a welcoming culture here at Brightview that sets us apart from other communities."
The faces of Brightview will reveal that this community is more than just four walls. Barbara Arbor moved into Woodbury Lake in September 2021 and loves it. When she first saw her new apartment she said it looked just like home. "Everything was all in place. My family fixed it all up for me," says Arbor, who had been living alone and experienced a few falls before coming to Brightview. "I don't know how they did but everyone knew my name," says Arbor. "I felt really welcomed from the start."
The moment Doris Leach fell down her basement stairs was the turning point. Lucky to survive, the reality she had denied for so long could not be ignored—it was time to leave her home and find an assisted living community. Since moving to Brightview Woodbury Lake, Leach is a new person, says her nephew John Wood. "The staff makes her feel at home. It was not long before I could not get her on the phone because she was 'visiting with the ladies.' Her social life was back and so was her appetite."
Renee Miranda, a chef at Brightview Woodbury Lake, noticed the welcoming atmosphere right away when she first started several years ago. Mealtimes are the best times of day and residents look forward to what Miranda will create. "I like to think the residents are my number one critic, but it helps me get better at cooking. I always check to see that they are satisfied."
"Our residents and associates are why we very much encourage potential families and residents to tour Woodbury Lake and to interact with them. They quickly see the happy faces and learn of the culture here that sets us apart from other communities in the industry," says Gill.
Brightview Woodbury Lake
SENIOR ASSISTED LIVING & MEMORY CARE
752 Cooper St. | Woodbury | (856) 324-3447
BrightviewSeniorLiving.com
Published (and copyrighted) in Suburban Family Magazine, Volume 12, Issue 11.
For more info on Suburban Family Magazine, click here.
For information about advertising in Suburban Family Magazine, click here.
To find out where to pick up your copy of Suburban Family Magazine, click here.