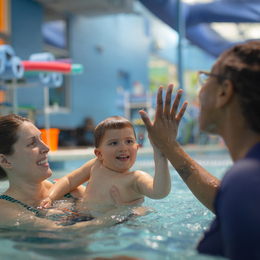 Just Keep Swimming
Lessons from Bear Paddle Swim School build children's water safety skills in a fun environment.
Being in and around water should be one of the most natural things to humans—after all, we're surrounded by fluid in the womb. The older children get without some exposure to being in water, the more likely they are to develop an aversion to it, possibly presenting issues at bath time or showing discomfort with water getting in their ears in a pool, for example.
The right swim program can reconnect your child with the natural joy of being in the water. Using evidence-based methods, Bear Paddle Swim School, a nationally recognized leader in swim lessons, puts progress front and center in its program, ensuring students safely achieve key milestones before moving to the next level.
Director of Swim Operations Caitlin Stoltman, says consistency is the secret sauce at Bear Paddle, and skills are taught and reinforced weekly. But before beginning, Bear Paddle Coaches ask families to discuss what they hope to accomplish through the lessons.
"Some parents come to us to help their child get through bath time, some want them to learn how to safely float on their own without a floatation device," she says. "We want a full understanding of their goals and we will actually set a goal date that aligns with the skills they need to achieve."
Bear Paddle is so confident in its program that it offers a unique promise: If they are unable to get your child to that goal by the selected date, they will offer up to six months of free lessons to get them back on track. "I don't know other swim schools that are willing to do that," she says. "If we even notice a child starting to get off track, we'll step in to course-correct with some extra sessions or one-on-one time."
The curriculum builds on itself, says Stoltman. Children are placed in age-appropriate groups where they begin with foundational elements like blowing bubbles in the water, floating with support and pulling themselves up on the side of the pool.
Until every skill is not only achieved but mastered can children progress to the next stage.
"In the first level, they learn to float with the support of a floatation device and the teacher's hands. Then we slowly work on pulling the teacher's hands away, and once we master that, we remove the floatation. It gradually steps up," Stoltman says. "With the little ones, the focus is teaching them to naturally get on their back to float in the water so they know how to catch their breath, and that progresses into flipping from back to stomach so they can propel themselves to a wall and get out." For parents looking for more peace of mind around pools, these skills alone are invaluable.
Bear Paddle provides monthly report cards for each student, which include data gathered by the pool manager who gets into the water with each child to review their understanding of the skills they are working on. "The report card is a collaborative effort between the manager and teacher to show what the child is doing well or not well, and gives parents feedback on what they can work on," says Stoltman.
Yet, while Bear Paddle absolutely recognizes the reassurance that swim lessons give parents, it's the children who come first. Keeping them engaged and confident is what makes the difference in their progress, and Bear Paddle's lessons are fun and interactive.
Stoltman says lessons follow a storyline and monthly themes are incorporated through decor, costumes and imagery. Looking out into the pool, parents will commonly see the swim instructors singing with the children or offering playful, splashy high-fives. "The kids love it but even more so, we love to celebrate with them and build them up. In many cases, the swim instructor is the child's first interaction with an adult outside of their family and it's fun to watch that relationship happen," she says.
It's not only high-fives that keep them going, though. Progress patches are tangible rewards for their hard work. "Every time they master a skill, they receive a patch with the name of the skill and a paw print on it," Stoltman says. "Kids love getting their patches and showcasing them on towels or sweatshirts."
As summer approaches, pool parties will inevitably pop up on every family's calendar, making the next few months the perfect opportunity to develop these often life-saving skills. Bear Paddle also offers summer clinics with daily, 30-minute lessons for two-week sessions. Stoltman says camp is a great option for children looking to build skills quickly, and is an added value for existing students who want to master skills. Plus, 90% of kids who attend a clinic earn a Progress Patch.
"In a normal month, children have four, 30-minute lessons, but summer clinics are like accomplishing one month of lessons in one week. Parents will definitely see more progress from their children, but it's also a great way to keep them occupied in the summer," Stoltman says.
Families are invited to visit Bear Paddle in Marlton or Turnersville for a complimentary swim lesson. Different membership levels are available, all of which include Family Swim, a free weekly open session for families to swim together for skill building or just for fun.
Bear Paddle Swim School
515 Route 73 S., Unit 170 B, Marlton
(856) 267-3131
5901 Route 42, Unit 3, Turnersville
(856) 373-5697
BearPaddle.com
Published (and copyrighted) in Suburban Family Magazine, Volume 12, Issue 10.
For more info on Suburban Family Magazine, click here.
For information about advertising in Suburban Family Magazine, click here.
To find out where to pick up your copy of Suburban Family Magazine, click here.