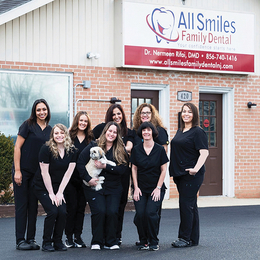 Love the Grin You've Got
At All Smiles Family Dental, Dr. Nermeen Rifai wants patients to arrive at the office feeling warmly welcomed and leave with a restored quality of life worthy of their new megawatt smiles.
Throughout her two decades as a dentist, Dr. Nermeen Rifai has been guided by a simple philosophy: Don't just treat, explain.
"I want my patients to be well-educated," she says. "Not every patient wants to hear the long speech but if you're looking for a dental education and to better understand what's going on in your mouth, I'm definitely that person who explains everything."
A freely offered education is just part of the welcoming warmth and nonjudgmental environment that Dr. Rifai and her team have fostered at All Smiles Family Dental. After all, people are already anxious enough about going to the dentist, and they'll only delay a visit longer if the experience is painful even before they have a seat in the dentist's chair.
"It's more like a family-run business, rather than just getting patients in and out without developing a relationship with them," Dr. Rifai says. "I'm very personable with my patients. A lot of them have my cell number and they'll text me to say they just got engaged or are getting their braces off."
It's easy to fall into half-hearted dental hygiene habits without realizing it: For example, Dr. Rifai notes that most people don't realize they're brushing their teeth for 20 seconds instead of the recommended two minutes. But helping patients see how oral health impacts overall wellness is all part of Dr. Rifai's goal to improve her patients' quality of life.
"Everything that enters through their mouth goes directly into their body, so if they're immunocompromised or have any autoimmune diseases, there can be huge issues impacting their overall health," she explains.
All Smiles doesn't just offer typical dental services like routine cleanings and treating cavities, and Dr. Rifai is proud to be among the few family practices going one step further to improve patients' lives with the likes of surgical implants, surgical extractions, full-mouth reconstruction, laser therapy, and both dermal and Botox fillers, all of which resolve the dental issues at the root of patients' pain, both physical and emotional.
If it's surprising to see injectables among a dentist's services, Dr. Rifai is, of course, happy to explain. "We have a lot of people who come in with severe headaches and facial pain from grinding and clenching their teeth, which can result in those severe headaches. So we'll put Botox on the grinding muscles to relieve all of the tension from the head, the forehead, the neck and upper shoulders. It has amazing results: They just feel an immediate release in pressure that usually lasts about three months."
In a costlier but even more effective treatment, Dr. Rifai also does trigger-point injections of lidocaine, which can produce results for nearly a year. "Sometimes those patients come back for a cleaning and they've completely forgotten they ever had an issue. You don't realize how debilitating it is until you wake up pain-free and appreciate how much pain you had learned to live with," she notes.
For All Smiles patients who want to repair anything from a tooth or two to "a full-mouth renovation" can be accomplished with esthetic crowns. That entails going to a "high-end lab" where crowns or caps are fitted over the part of the tooth visible over the gumline, which restores their shape, size, strength and appearance. "The sky's really the limit," Dr. Rifai says.
Implants are another way All Smiles gives patients a new reason to smile.
"We do all types of implants," Dr. Rifai confirms. "We'll extract the teeth, give them dentures and then they have a healing period. Then we'll put in implants and give them really firm snap-on dentures that go over the implants."
She notes that people who are experiencing tooth loss—especially their lower front teeth, which are the first teeth people lose—is a sign of periodontal problems, or inflammation of the gums, which requires anything from more frequent dental visits to periodontal surgery.
"You need to be going to a proactive dentist, because signs of bone loss requires intervention at the very beginning," she explains. If All Smiles can't treat a more advanced case, there are trusted periodontists patients can be referred to. In-house, though, periodontal diseases can be treated with a laser-bacterial reduction.
Some people just want a brighter smile, which bleaching can accomplish. All Smiles' in-house bleaching is about a one-hour process using a light to achieve results two or three shades brighter, while the take-home option utilizes a gel for similar results.
No matter the service her patients need, Dr. Rifai wants them all to leave All Smiles feeling their best, and come back knowing they're part of the family.
"I've seen people's whole personality and confidence change when they're pain-free and feeling better about themselves: They go from not talking and not smiling to being so outgoing because they're confident they have gorgeous teeth," she says. "It's so rewarding to see that change in people."
All Smiles Family Dental
420 N. Black Horse Pike, Williamstown
(856) 740-1416
AllSmilesFamilyDentalNJ.com
Published (and copyrighted) in Suburban Family Magazine, Volume 12, Issue 10.
For more info on Suburban Family Magazine, click here.
For information about advertising in Suburban Family Magazine, click here.
To find out where to pick up your copy of Suburban Family Magazine, click here.