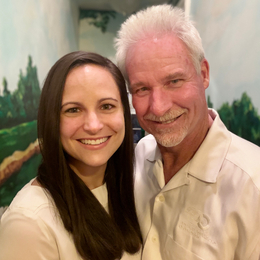 All in the Family
Led by a father-daughter team, Clark Orthodontics extends that family feeling to both its longtime staff and its patients, many of whom have been trusting the practice for multiple generations.
As the oldest of five children, Dr. Allison Clark grew up close to the family practice that her father, Dr. Ronald Clark, had built. Although she was drawn to the idea of being an orthodontist at a young age, she was also mindful of not simply following her father's footsteps out of family obligation.
"I found a note I wrote when I was probably eight years old that said, 'When I grow up, I want to be an orthodontist,'" says the younger Dr. Clark, better known as "Dr. Ally" to her patients. "When I was little, it was something I thought I wanted to do, but as I got older, I needed to pave my own path. I didn't want to do it just because my father did, so I explored the dental world more on my own once I got to college."
"At Dartmouth, I got involved in the Pre-Dental Society, and I did a lot of volunteering and shadowing," she continues. Dr. Ally spent her last undergrad summer as a volunteer dental assistant at free dental clinics in downtown San Diego, an experience that made her realize applying to dental school was the right move.
"I really value the experiences I had in my undergrad years because they let me see dentistry on my own, and it taught me that dentistry is something that truly interested me and fit everything I was looking for in a career," Dr. Ally explains. "I gained exposure to all of the different dental fields and specialties but, in the end, I kept thinking to myself, 'I just wish I could move everyone's teeth to the perfect spot!'"
Between watching her father build a South Jersey orthodontic practice and her time spent at the University of Maryland School of Dentistry and the Temple University Department of Orthodontics, Dr. Ally brings a high level of care to the patients who trust Clark Orthodontics.
"I'm not doing this just because it's a job: I'm doing it because I love it. I love the relationships I get to build with people and the difference I can make in their lives," says Dr. Ally. "There's a lot of passion behind what I'm doing."
That professional passion and focus on relationships—rather than treating patients like another set of teeth to straighten—has been the hallmark of Clark Orthodontics since it opened more than three decades ago. It's a constant that both Drs. Clark, associate orthodontist Dr. Tabitha Barnabei and the entire staff endeavor to uphold.
"My dad and my life experiences taught me how to treat people well, and our doctors and our staff all bring that mindset to the practice," Dr. Ally says. "We're very lucky that we have such an incredible and dedicated staff as the backbone of Clark Orthodontics. Most of our staff have been with us for over 30 years, so they have extensive experience in orthodontics and patient care. It also means that our patients get to see the same friendly, familiar faces, which can help them feel much more comfortable and welcome. We really are like a family—not just the doctors and staff, but the patients, too."
The longevity of the Clark Orthodontics team is mirrored by a patient loyalty that often spans generations.
"Patients my dad treated when they were kids are now bringing in their kids. We even have some families where we're working with the third generation," says Dr. Ally. "It's really nice when those parents bring in their kids and they say, "Oh, wow, everyone's still here!'"
As the orthodontic field continues to evolve, Clark Orthodontics adopts new technology to deliver the best patient experiences and results. But the team believes developing relationships, establishing trust and providing personalized solutions are at the heart of patient care.
"Orthodontic care isn't just a product: It's a service," Dr. Ally notes. "We're a smaller practice, so we're able to get to know patients as individuals and offer them a treatment plan customized to their case. All of our doctors are also board-certified, which helps us look at our cases more critically to offer our patients better care."
To support their patients throughout South Jersey, Clark Orthodontics has a presence in Haddonfield, Voorhees and Woodbury Heights, and the staff and doctors travel to each office so that patients can visit whichever location is most convenient and still see the same friendly faces.
For more than three decades, Clark Orthodontics has focused on community, personalized care and convenient treatment options to support their patients' needs—and they'll continue to do so in the next three decades as well. Because, as Dr. Ally says, it's more than just straightening teeth: It's about helping people reclaim their quality of life. "You can really change someone's life with what we're doing. And I love putting a smile on people's faces."
Clark Orthodontics
Serving South Jersey with three locations
Haddonfield: (856) 428-1444
Voorhees: (856) 770-9200
Woodbury Heights: (856) 845-1144
Clark-Ortho.com
Published (and copyrighted) in Suburban Family Magazine, Volume 12, Issue 10.
For more info on Suburban Family Magazine, click here.
For information about advertising in Suburban Family Magazine, click here.
To find out where to pick up your copy of Suburban Family Magazine, click here.